Dortmund hosts four 1st round games, a second round match and the first semi-final in Westfalenstadion - the home of Borussia Dortmund.
Originally built for the 1974 World Cup in Germany, Dortmund's Westfalenstadion was considered the German Football Association's (DFB) 'trump card' in its application to host the finals of the 2006 World Cup - all spectators have a view of the pitch, as the yellow pylons hold up the roof from the outside.
With room for 83,000 supporters Westfalenstadion's capacity is reduced to 66,000 for international matches, when the stadium needs to be all-seater.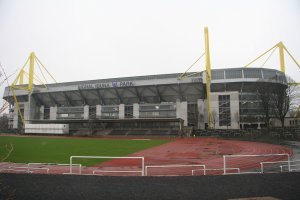 Dortmund Westfalenstadion
Saturday 10th June
Group B
Trinidad and Tobago vs Sweden (0:0)
Wednesday 14th June
Group A
Germany vs Poland (1:0)
Monday 19th June
Group G
Togo vs Switzerland (0:2)
Thursday 22nd June
Group F
Japan vs Brazil (1:4)
Tuesday, 27th June
Second Round (Match 55)
Brazil vs Ghana (3:0)
Tuesday, 4th July
Semi Final
Germany vs Italy (0:2 aet)
Getting to the Stadium:
The Westfalenstadion lies south of Dortmund city centre. The U45 (from Dortmund Hauptbahnhof) and U46 both run to Westfalenstadion.
Distances from Dortmund:
Berlin: 500km by car, 3hrs 15mins by train, 1hr by plane.
Frankfurt: 210km by car, 2hrs 40mins by train.
Gelsenkirchen: 35km by car, 35 minutes by train.
Hamburg: 340km by car, 3 hours by train.
Hannover: 210km by car, 1hr 40mins by train.
Kaiserslautern: 330km by car, 4 hours by train.
Köln: 96km by car, 1hr 10mins by train.
Leipzig: 470km by car, 5 hours by train, 1hr by plane.
München: 600km by car, 5hrs 50mins by train, 1hr 30mins by plane.
Nürnberg: 430km by car, 4hrs 45mins by train, 1hr by plane.
Stuttgart: 420km by car, 3hrs 30mins by train, hr by plane.
City of Dortmund:
Tourist information for visitors to Dortmund.
Dortmund Airport:
The Airport Express travels between Dortmund main railway station and Dortmund Airport.
Museums in Dortmund:
If you want to take time out from the football and explore some of the local culture, why not visit a museum in Dortmund.
Please take a moment to like us on Facebook and share with your friends on social media.