Nuernberg hosts four 1st round games and a second round match in the Frankenstadion - the home of FC Nürnberg.
The Frankenstadion in Nuremberg has a seating capacity of 44,308 and is located in Dutzendteich public park, south of the city, by the former Nazi rally grounds.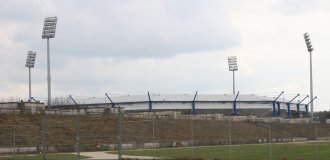 Nürnberg Frankenstadion
Sunday, 11th June
Group D
Mexico vs Iran (3:1)
Thursday, 15th June
Group B
England vs Trinidad and Tobago (2:0)
Sunday, 18th June
Group F
Japan vs Croatia (0:0)
Thursday, 22nd June
Group E
Ghana vs USA (2:1)
Sunday, 25th June
Second Round
Portugal vs Holland (1:0)
Getting to the Stadium:
Exit the A9 at Fischbach or the A6 at Nürnberg-Langwasser.
From the south-west, on the A73, exit at Nürnberg-Zollhaus or Nürnberg-Zentrum and follow the signs to the stadium.
Public Transportation in Nürnburg:
The S2 leaves Hauptbahnhof for Franken Stadium. From the inner city, trams 6 or 9 and busses 44 or 65 also go to the stadium.
Distances From Nürnberg (By Train)
Berlin: 4hrs 50mins.
Dortmund: 5hrs 45mins.
Frankfurt: 2hrs 5mins.
Gelsenkirchen: 4hrs 30mins (via Duisburg).
Hamburg: 4hrs 15mins.
Hannover: 2hrs 55mins.
Kaiserslautern: 3hrs 50mins (via Stuttgart).
Köln: 4hrs 30mins.
Leipzig: 3hrs 15mins.
München: 1hr 40mins.
Stuttgart: 2hrs 15mins.
Nuremberg Airport:
It takes 12 minutes on the U2 to Hauptbahnhof.
The towering imperial castle overlooks the old town of Nuremberg, with its Gothic churches, splendid patricians' houses and romantic spots.
Nürnberg Attractions:
Albrecht Dürer's House: (Albrecht-Dürer-Strasse 39)
The residence of the famous Nuremberg painter and graphic artist Albrecht Dürer is situated close to Tiergärtnertor, right below the Castle.
Historische Meile:
Highlights the major architectural and artistic landmarks of an historic city whose Golden Age was the late Middle Ages and which has been substantially rebuilt since the devastation of the Second World War.
Kaiserburg:
Nuremberg's hallmark, the Imperial Castle, crowns the hill above the old town. One of the most important imperial palaces of the Middle Ages, it was used between 1050 to 1571 by every emperor of the Holy Roman Empire.
Nuremberg City Panoramas:
View beautiful panorama images of Nuremberg.
Sightseeing in Nürnberg:
Cultural attractions and places of interest in Nuremberg.
Please take a moment to like us on Facebook and share with your friends on social media.