Berlin hosts four 1st round games, a quarter-final match and the 2006 World Cup Final in the Olympiastadion - the home of Hertha Berlin.
The refurbishment of Berlin's Olympic Stadium took four years to complete and when it officially re-opened on 31st July, 2004 the stadium boasted a capacity of 74,500 seats.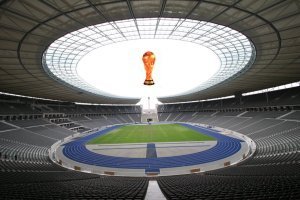 Berlin Olympiastadion
Tuesday, 13th June
Group F
Brazil vs Croatia (1:0)
Thursday, 15th June
Group B
Sweden vs Paraguay (1:0)
Tuesday, 20th June
Group A
Ecuador vs Germany (0:3)
Friday, 23rd June
Group H
Ukraine vs Tunisia (1:0)
Friday, 30th June
1/4 Final
Germany vs Argentina (1:1 aet) (4:2 pens)
Sunday, 9th July
2006 World Cup Final
Italy vs France (1:1 aet) (5:3 pens)
Italy win the World Cup for the 4th time.
Getting to the Stadium:
The S9 and S75 (direction Spandau) and the U2 (direction Ruhleben) leave the Berlin Zoologischer Garten (Berlin's main train station) for Berlin's Olympiastadion.
Trains run every 5-10 minutes and the journey takes about 13 minutes to the stadium.
Distances From Berlin Ostbahnhof (By Train)
Dortmund: 3hrs 30mins.
Frankfurt: 4hrs 15mins.
Hamburg: 2hrs 40mins.
Hannover: 3hrs 50mins.
Kaiserslautern: 1hr 45mins.
Köln: 4hrs 30mins.
Leipzig: 1hr 30mins.
München: 6hrs 35mins.
Nürnberg: 4hrs 50mins.
Stuttgart: 5hrs 15mins.
Flying Between Matches:
Germanwings fly from Berlin-Schonefeld to Cologne, Munich and Stuttgart.
Berlin might seem a long way from the other World Cup venues, apart from Leipzig, but it is once again Germany's capital and will of course hold the World Cup Final on July 9th, 2006.
Berlin first became Germany's capital in 1871 but at the end of World War II (on July 11th, 1945), the city was split up into four sectors: American, British, French and Soviet; with the Soviet sector eventually becoming Communist East Berlin.
The capital of West Germany was moved to Bonn and remained there until re-unification. On June 20th, 1991 the German Bundestag (Parliament's lower house) voted to move the federal government back to Berlin.
It took eight years to get the city ready for the politicians and on September 1st, 1999 Berlin was once again the seat of Germany's federal government.
A city state, located on the rivers Spree and Havel in the north-east of Germany, Berlin is itself encircled by the state of Brandenburg.
BVG:
How to get around Berlin using public transport.
Berlin City Panoramas:
View beautiful panorama images of Berlin.
Berlin Museums:
Listings and links to Berlin's many museums.
Berlin Wall:
The Berlin Wall was erected on August 13th, 1961 and finally opened by East Germans on November 9th, 1989.
New Berlin Magazine:
English-language weekly magazine with up-to-date information for visitors to Germany's capital city.
Visiting Berlin:
Practical guide for visitors to Berlin.
Please take a moment to like us on Facebook and share with your friends on social media.