Cologne hosts four 1st round games and a second round match in the Rhein Energy Stadion - the home of 1. FC Köln.
The RheinEnergie Stadion in Cologne has a 46,134 seating capacity for international matches which can be increased to 50,997 for domestic games; when fans are allowed to stand.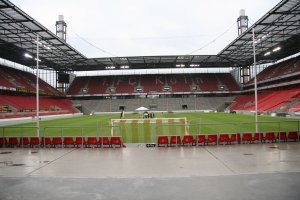 Köln RheinEnergie Stadion
Sunday, 11th June
Group D
Angola vs Portugal (0:1)
Saturday, 17th June
Group E
Czech Republic vs Ghana (0:2)
Tuesday, 20th June
Group B
Sweden vs England (2:2)
Friday, 23rd June
Group G
Togo vs France (0:2)
Monday, 26th June
Second Round (Match 54)
Switzerland vs Ukraine (0:0 aet) 0:3pens
Getting to the Stadium:
Cologne's RheinEnergie Stadium is a little way out from the center, near the intersection of the A1 and A4 motorways, to the west of the city.
Köln Transportation Map:
Cologne has a large network of U and S Bahns so you'll be wise to have a map with you. Getting to the stadium from Hauptbahnof (Dom) means changing at Neumarkt (two stops) for the U1 (direction Weiden Schulstr).
Public Transportation Around Cologne:
The VRS (Verkehrsverbund Rhein-Sieg) mobilises the urban districts of Cologne, Bonn, Leverkusen and the city of Monheim in the rural district of Mettmann, as well as the rural districts of Euskirchen, Rhein-Erft, Rhein-Sieg, Rheinisch-Bergisch and Oberbergisch.
Distances From Cologne (By Train)
Berlin: 4hrs 15mins (Zoo).
Dortmund: 1hr 10mins.
Frankfurt: 1hr 20mins.
Gelsenkirchen: 1hr.
Hamburg: 4hrs.
Hannover: 2hrs 40mins.
Kaiserslautern: 2hrs 30mins (via Mannheim).
Leipzig: 4hrs 50mins (via Frankfurt).
München: 4hrs 35mins.
Nürnberg: 4hrs 30mins (quicker via Frankfurt).
Stuttgart: 2hrs 15mins.
Flying Between Matches:
Germanwings fly from Cologne-Bonn to Berlin, Leipzig and Munich.
Köln-Bonn Airport:
From the airport the S13 and RE8 both go to the city centre.
Situated on the Rhine, Köln is famous as Germany's carnival hotspot (no wonder the Brazilian fans want to base themselves here).
You'll also have heard of Eau de Cologne (Kölnish Wasser) and Kölsch, in case you didn't know, is the local beer.
City of Köln:
Founded by the Romans (as Colonia), Cologne is the oldest of the major German cities and still characterised by its 2,000 years of history. It is also the fourth largest city in Germany.
Cologne - City of Culture:
The Museum Ludwig is the most famous of the ten municipal and the many ecclesiastical and private museums in this cathedral city and provides an overview of major international works of 20th century art while the Römisch-Germanisches Museum gives an impressive account of the history of the Romans along the Rhine.
Cologne City Panoramas:
View beautiful panorama images of Cologne.
Attractions in Köln:
The number one attraction in Cologne is the Cathedral (Dom) and you'll see it as soon as you come out of the main train station.
From the cathedral a walk down Hohe Strass (the pedestrian-only shopping area) will bring you to Neumarkt, where you can catch the U1 direct to the World Cup stadium.
Historical Cologne:
There are a number of Roman remains in Cologne.
Eating and Drinking in Cologne:
The city of Köln offers an unparalleled selection of more than 3,000 bars, restaurants and breweries; the highest number per capita than anywhere else in Germany.
Please take a moment to like us on Facebook and share with your friends on social media.