Apostolic Voyage 25
Pope John Paul II made his 25th Papal Journey from January 26th to February 6th.
In South America, the Pope visited Caracas, Maracaibo, Mérida and Ciudad Guayana (Venezuela); Quito, Latacunga, Cuenca and Guayaquil (Ecuador); Lima, Arequipa, Cuzco, Ayacucho, Callao, Piura, Trujillo and Ilquitos (Peru); and Port of Spain (Trinidad and Tobago).
In February, Pope John Paul II received the Israeli Prime Minister, Simon Peres (on the 19th) and the Foreign Minister of the USSR, Andrei Gromyko (on the 27th).
On April 11th, Pope John Paul II travelled to Loreto to meet with the Italian Bishops.

Loreto, Italy - Pilgrimage Destination: © Michel - Travel Notes
Apostolic Voyage 26
Pope John II travelled to the Benelux countries in late Spring, visiting Eindhoven, 's-Hertogenbosch, Den Haag, Utrecht, Maastricht, Amersfoort, Schiphol (The Netherlands); Luxembourg, Esch-Alzette and Echternach (Luxembourg); Brussels, Antwerp, Ypres, Ghent/St. Denijs Westrem, Mechelen, Beauraing, Namur, Liege, Leuven, Louvain la Neuve, Tilff, Banneux and Bierset (Belgium); from May 11th to May 21st.
Apostolic Voyage 27
Pope John Paul II made his third trip to Africa in the Summer, visiting Lome, Pya, Kara, Togoville (Togo); Abidjan (Ivory Coast); Yaounde, Garoua, Bamenda and Douala (Cameroon); Bangui (Central African Republic); Kinshasa and Lubumbashi (Zaire), Nairobi and Masai Mara Park (Kenya); and Casablanca (Morocco); from August 8th-19th.
Apostolic Voyage 28
On September 8th, Pope John Paul landed at Zurich's Kloten Airport for a visit to Vaduz (Liechtenstein); making this his third visit to Switzerland.
On November 17, Pope John Paul II sent a personal message to Ronald Reagan and Mikhail Gorbachev for the Geneva Summit.
Apostolic Voyage 29
From January 31st to February 10th, Pope John Paul II travelled to India, visiting New Delhi, Ranchi, Calcutta (meeting Mother Teresa on February 3rd), Guwahati, Shillong, Madras, Goa, Mangalore, Cochin, Trichur, Kottayam, Trivandrum, Bombay, Vasai and Pune.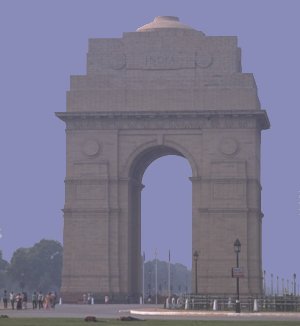 India Gate, New Delhi: Michel - Travel Notes
Pope John Paul II and Mother Teresa:
Pope John Paul II put his arm around Mother Teresa as they rode in the Popemobile outside the Home of the Dying in Calcutta, India, in February 1986.
On his return to Italy, the Pope's plane was diverted from Rome to Naples, because of fog.
John Paul II received the President of Lebanon, Amin Gemayel (on February 19th) and the Governor General of Canada, Jeanne Sauve (on March 6th).
On April 13th, Pope John Paul II visited Rome's main Synagogue; the first by a Pope since the time of St. Peter, and addressed the Jewish community.
Apostolic Voyage 30
From July 1st to July 8th, Pope John Paul II returned to South America and The Caribbean, visiting Bogota, Chiquinquira, Cali, Tumaco, Popayan, Pereira, Chinchina, Rionegro, Medellin, Palanquero, Armero, Lerida, Bucaramanga, Cartagena and Barranquilla (Colombia); Castries and Hewanorra (St Lucia).
Apostolic Voyage 31
Pope John Paul's third visit to France took him to the East-Central region.
From October 4th to October 7th The Pope travelled to Lyon, Taizé, Paray le Monial, Dardilly, Ars and Annecy.
Then on October 27th, Pope John Paul II gathered together the Heads and Representatives of the Christian Churches and Ecclesial Communities and of the World Religions, in Assisi, for a World Day of Prayer for Peace. A colourful event, by all accounts.
The President of the Republic of Cameroon, Paul Biya, visited The Pope on October 31st, shortly before the Pontiff prepared himself for another trip to Asia.
Apostolic Voyage 32
From November 18th to December 1st, Pope John Paul II went walkabout Down Under.
The six country visit took him to Dhaka (Bangladesh); Singapore; Nadi and Suva (Fiji Islands); Auckland, Wellington and Christchurch (New Zealand); Canberra, Brisbane, Sydney, Hobart, Melbourne, Darwin, Alice Springs, Adelaide and Perth (Australia); and Victoria (Seychelles).
Pope John Paul II World Traveller:
79-80 81-82 83-84 85-86 87-88 89-90 91-92 93-94 95-96 97-98 99-01 02-05
Marktl am Inn:
Birthplace of Benedict XVI; successor to Pope John Paul II.
By Michel.
TravelTweet Directory:
Directory of travel tweeps on Twitter.

Add a Business Listing - Add a Destination Guide - Add a Place to Stay.


If you find Travel Notes useful, please take a moment to like us on Facebook and share with your friends on social media.
Meta-Travel Blogging - Top Travel Blogs - Travel Notes Directory.