Bansoa, Cameroon by Edouard Tamba on Unsplash.
Travel Notes: Africa - Cameroon Travel Notes.
Short URL: https://tnot.es/CM
Cameroon Travel and Tourism on Travel Notes
Embrace eco-friendly travel and contribute to conservation efforts by enjoying an immersive and responsible travel experience in Cameroon.
About Cameroon
Cameroon is a country in Central Africa known for its varied terrain and wildlife. There are several tour guides available to help travellers explore the country.
Countries neighbouring Cameroon: Nigeria, Chad, Central African Republic, Republic of the Congo, Gabon and Equatorial Guinea.
Map of Cameroon
Cameroon is bordered by Nigeria to the west, Chad to the north-east, the Central African Republic to the east, Equatorial Guinea, Gabon, and the Republic of the Congo to the south.
The capital of Cameroon is Yaoundé.
Home to over 26 million people, Cameroon links West Africa with the continent's centre and is sometimes called Africa in miniature, because of its great geographical and cultural variety.
Coastal Plain
A coastal plain with dense equatorial rainforests occupy the south of Cameroon.
The Portuguese explored the coast in the late 15th century and called the estuary to the south of Mount Cameroon the river of prawns, or rather Rio dos Cameroes.
Culture
Cameroon is known for its rich culture, music, and art.
The country has produced many renowned musicians, including Manu Dibango, who popularized the 'soul Makossa' style of music, and Richard Bona, a jazz bassist and singer.
Economy
The economy of Cameroon is largely based on agriculture, with cocoa, coffee, cotton, and bananas being major export crops.
The country also has significant deposits of oil, natural gas, and other minerals.
Language
The native language in the south is Bantu, while the tongue of the north is more Sudanic.
English and French are both official languages; although French is the more widely spoken, while English is restricted to the west.
From 1961 until June 2nd, 1972 Cameroon was a federation of the former French Cameroons in the east, and the former British Cameroons in the west.
Population
Cameroon has a diverse population, with over 250 ethnic groups, each with their own unique customs and traditions.
Wildlife
Cameroon has a diverse wildlife, including elephants, gorillas, chimpanzees, and other primates, as well as a variety of bird species.
Cameroon is a beautiful country known for its diverse landscapes, vibrant culture, and warm and friendly people.
Visit Cameroon
If you are planning a visit to Cameroon, here are some things you might want to consider.
With proper planning and precautions, you can have a safe and enjoyable trip in Cameroon; a fascinating country with a lot to offer visitors.
Climate
Cameroon has a tropical climate with two main seasons, a rainy season from May to October and a dry season from November to April.
Depending on the time of year you plan to visit, make sure to pack appropriate clothing.
Currency
The official currency of Cameroon is the Central African CFA franc, which is used in several other African countries as well.
Safety
As with any international travel, it is important to take precautions to ensure your safety.
It is recommended to avoid traveling alone at night, to stay aware of your surroundings, and to follow local customs and laws.
Vaccinations
It is recommended that travellers to Cameroon get vaccinated for yellow fever, hepatitis A and B, typhoid, and meningitis.
Visa Requirements
Before traveling to Cameroon, you will need to obtain a visa.
Where to Go in Cameroon
Cameroon has a lot to offer, from the stunning beaches of Limbe and Kribi to the lush rainforests of the Dja Reserve and the wildlife in the Waza National Park.
You might also want to visit the vibrant markets in Yaounde or Douala, or take a cultural tour to learn more about the country's history and traditions.
Local Encounters With Cameroon's Warm and Welcoming People
Make sure to connect with the friendly locals of Cameroon.
Experience the warmth of Cameroonian hospitality and gain insights into traditions and daily life from your welcoming hosts.
Before the outbreak of World War I, the Germans initiated road-building in Cameroon and began the construction of a railway at the port of Douala, on the Atlantic coast.
Where to Stay in Douala
Ibis Douala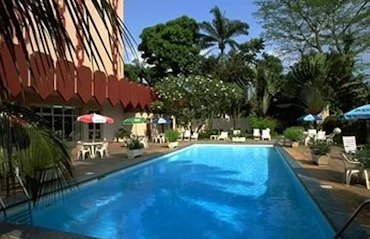 Ibis Douala: Rue Pierre Loti, Bonanjo, Douala, Cameroon.
Situated in the heart of Banajo business centre, the Ibis Douala is a modern, superior tourist class hotel with free fenced parking, restaurant, bar and swimming pool. There's also a free shuttle to the airport - 7km away.
Guests at the Ibis Douala rated the clean rooms, excellent service and great location.
The capital of Cameroon was founded in 1888, under the German colonial administration.
Map of Yaoundé
Where to Stay in Yaounde
Hilton Yaounde
Hilton Yaounde: Boulevard du 20 Mai, Yaounde, Cameroon.
Well known for its high level of security, personal service, and excellent cuisine, the Yaounde Hilton has become the meeting place for businessmen, government officials, and international organisation missionaries.
Guests at the Hilton Yaounde enjoyed the clean rooms, excellent service and great location.
Adamawa Massif is a plateau region in the centre of Cameroon, with elevations over 1,000 metres above sea level.
In the north of Cameroon, forest gives way to savannah, and changes to marshland around Lake Chad.
The west of Cameroon is high, forested mountains of volcanic origin, with Mount Cameroon, an active volcano and the highest peak in western Africa; at 4,095 m.
Bamenda
Bamenda is the provincial capital of Cameroon's North West Province and is a popular area for hiking.
Budget Accommodation in Bamenda.
Cameroon News
Cameroon Tribune:
Daily news from Cameroon; in French.
Cameroon Travel Guides - Cameroon Maps.
Weather in Africa:
Local weather forecasts for destinations around Africa.
Travel Notes Online Guide to Travel
Africa - Asia - Caribbean - Europe - Middle East - North America - Oceania - South America.

The Travel Notes Online Guide to Travel helps visitors plan their trip with country and city travel guides, local tourist information, reviewed web sites, and regular travel articles.
Travel and Tourism Guides on Travel Notes
If Travel Notes has helped you, please take a moment to like us on Facebook and share with your friends on social media.


Travel & Tourism With Industry Professionals.
Cape Verde.