Short URL: https://tnot.es/SC
Seychelles Travel and Tourism Information on Travel Notes
Find Seychelles Travel and Tourist Information with links to official travel and tourism websites and state resources for visitors to Seychelles.
About Seychelles
Seychelles consists of 115 coral and granite islands scattered in the middle of the Indian Ocean, between The Equator and Comoro Islands.
Tourism is vital to the economy of the Seychelles; bringing in three quarters of the foreign exchange and making up more than half of the gross domestic product.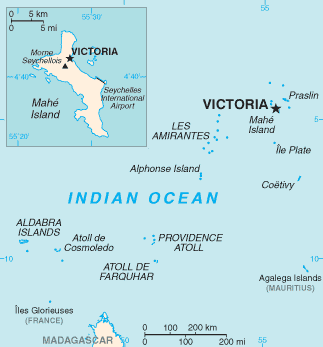 Although you will enjoy the cool juices of locally grown tropical fruits, the rice with your fish has to be imported.
Arab traders were probably the earliest visitors to the islands; long before the Portuguese sailed by in 1502.
France claimed the uninhabited islands some two hundred and fifty years later, and moved in with their slaves in the late 1700's.
The expanding power of Great Britain annexed the Seychelles in 1814; controlling them from Mauritius for most of the century.
Independence was achieved on June 29th, 1976.
Weather in Africa:
Local weather forecasts for destinations around Africa.
If it's beaches you want, you'll find plenty of them in the Seychelles.
The principal islands are Mahe, Praslin, Silhouette, and La Digue.
Hotels in Seychelles:
Find hotels in Seychelles with special online rates.
There are around 75 beaches on the main island of Seychelles, even though it's only 17 miles long.
Victoria, the capital of Seychelles, is on Mahe Island.
The airport was completed in 1971, on reclaimed land south-east of the capital. Be sure to have a window seat when you come in to land.
British High Commission in Victoria:
Oliaji Trade Centre 3rd Floor, Francis Rachel Street, Victoria.
Seychelles offers an holiday experience as unique as it is varied, drawing on the amazing diversity of 115 pristine islands to ensure that every visitor goes back with his or her very personal memories.
Seychelles Island Hopping
What sets Seychelles apart from so many other holiday destinations is its wide variety of islands; each one with its own particular geography, character and history.
Seychelles Transportation
With relatively short travelling times between the islands and/or places of interest, the regular network of air and sea transportation operating out of the principal island, Mahe, makes moving around in Seychelles easy and hassle-free.
Seychelles Ministry of Tourism:
The Tourism Department's website was launched in 2017, declared as the International Year of Sustainable Tourism for Development by the United Nations.

Add a Business Listing - Add a Destination Guide - Add a Place to Stay.


If you find Travel Notes useful, please take a moment to like us on Facebook and share with your friends on social media.
Africa Index - Africa Tourism - Africa Travel Websites.