Short URL: https://tnot.es/CF
CAR Travel and Tourism on Travel Notes
Find CAR Travel and Tourist Information with links to official travel and tourism websites and state resources for visitors to Central Africa Republic.
About Central African Republic
Central African Republic is a landlocked country in Central Africa.
Countries neighbouring Central African Republic are: Republic of Congo, Cameroon, Chad, Sudan and Democratic Republic of Congo.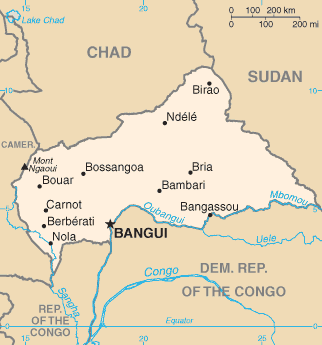 The former French colony became independent on August 31st, 1960.
Under Jean Bedel Bokassa, who crowned himself emperor and fathered some 50 children, the country had the illusory name of Central African Empire (1976/79).
Travel in Central African Republic
The Central African Republic has no railways, so the Oubangui River is used to transport goods to and from the River Congo.
From Brazzaville there is a rail link to the seaport of Pointe-Noire.
Weather in Africa:
Local weather forecasts for destinations around Africa.
The capital of Central African Republic is situated on the Oubangui River that forms the southern border with Democratic Republic of the Congo.
The French established a military post in Bangui around 1890, and made it their administrative centre for Ubangi-Shari.
Central African Republic News:
Top news stories from the Central African Republic.

Add a Business Listing - Add a Destination Guide - Add a Place to Stay.


If you find Travel Notes useful, please take a moment to like us on Facebook and share with your friends on social media.
Africa Index - Africa Tourism - Africa Travel Websites.