Short URL: https://tnot.es/TT
Trinidad and Tobago, located off the coast of Venezuela, are the southernmost of the Caribbean islands.
Quick Links
Trinidad and Tobao Travel and Tourist Information with links to official travel and tourism websites and state resources for visitors to Trinidad and Tobago.
Around The Islands, Beaches on Trinidad and Tobago, Map of Trinidad and Tobago, Port of Spain, Trinidad and Tobago, Trinidad and Tobago Travel Guides, Trinidad Carnival.
Christopher Columbus landed on Trinidad during his third voyage, on 31st July, 1498.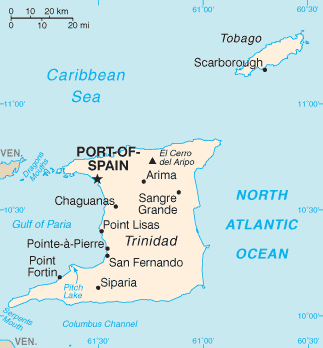 Weather in the Caribbean:
Local weather forecasts for destinations around the Caribbean region.
The island of the Arawaks and Caribs was then colonised by Spain.
The indigenous population soon disappeared, and slaves from Africa were captured to replace them on the plantations.
After successive raids by the Dutch and French, during the 17th century, the island fell to the British in 1797, and was finally ceded to them following the Treaty of Amiens, in 1802.
Tobago was also ceded to Britain at the end of the Napoleonic Wars.
After slavery was abolished in 1833, the British imported more than 150,000 Muslim and Hindu Indian guest-workers, between 1845 and 1917.
Trinidad and Tobago became an independent state in the Commonwealth of Nations on August 31, 1962.
In April 1970 Trinidad suffered serious rioting and a mutiny by part of the army. The state of emergency was finally ended in June 1972.
The capital is situated on the island of Trinidad.
When the Spanish settled in the area in 1595, they renamed the Native American village of Conquerabia to Puerto de Espana.
Then the British Anglicised it to Port of Spain when they took control of the island in 1797.
Carnival in Trinidad is always a special time, although rooms fill up quickly. Mas and Calypso go together like rum and coconut.
Things to see in Port of Spain
The Royal Botanical Gardens; the National Archives; the National Museum and Art Gallery, an Anglican cathedral (1816-1823); and a Roman Catholic cathedral.
Airlines and Airports:
Listing of Airlines and three letter airport codes. Flights arrive at Piarco International Airport.
Trinidad and Tobago:
What to do in Trinidad and Tobago.
The Turtle Beach by Rex Resorts Hotel is directly on a mile-long sandy beach at Great Courland Bay, on the north-west coast of Tobago. The beach is regularly visited by nesting Leatherback turtles, usually between March and July, who turn the beach into home to lay their eggs. The hotel is 7 miles from Tobago`s capital Scarborough and 2 miles from the Mount Irvine golf course.
Tobago Beaches:
Pigeon Point has one and a half kilometres of tourist brochure white sand, but you might prefer one of the smaller bays.
Trinidad Beaches:
View the beaches on the map, and click to where you want to go.
Trinidad Carnival:
Carnival is not a parade. You don't just stand on the side and watch it go by. You see it, hear it, smell it, taste it, breathe it and live it - and here you can read it.

Add a Business Listing - Add a Destination Guide - Add a Place to Stay.


If you find Travel Notes useful, please take a moment to like us on Facebook and share with your friends on social media.
Caribbean Index - Caribbean Tourism - Caribbean Travel Websites.