Sydney, Australia by Caleb Russell on Unsplash.
Travel Notes: Oceania - Australia Travel Notes - Updated 04 August, 2023.
Short URL: https://tnot.es/AU
Australia Travel and Tourism on Travel Notes
Find Australia Travel and Tourist Information with links to official travel and tourism websites and state resources for visitors to Australia.
About Australia
Australia is so full of superlatives that the best way to appreciate them all is to get Down Under and see for yourself mate.
Map of Australia showing the states around the Australian continent.
Australian Capital Territory (ACT), New South Wales, Northern Territory, Queensland, South Australia, Tasmania, Victoria, Western Australia.
Australia by Rail
From the vast emptiness of the Nullarbor Plain, on the longest straight rail line in the world, to the twisting tracks of outback Queensland and the rainforests of the north, Australia's railways offer a rich variety of contrasting experiences.
Taking the train is an ideal way to explore the Australian continent in comfort and style.
Australia is a country and continent located in the southern hemisphere, surrounded by the Indian and Pacific Oceans.
It is the world's sixth-largest country by land area and has a population of over 25 million people.
Australia's Indigenous People
The indigenous people of Australia are the Aboriginal and Torres Strait Islander peoples, who have lived on the continent for over 60,000 years.
Today, Australia is a diverse country with a multicultural population and a thriving economy.
Australia's Major Cities
Australia's capital city is Canberra, and its largest city is Sydney, which is known for its iconic Opera House and Harbour Bridge.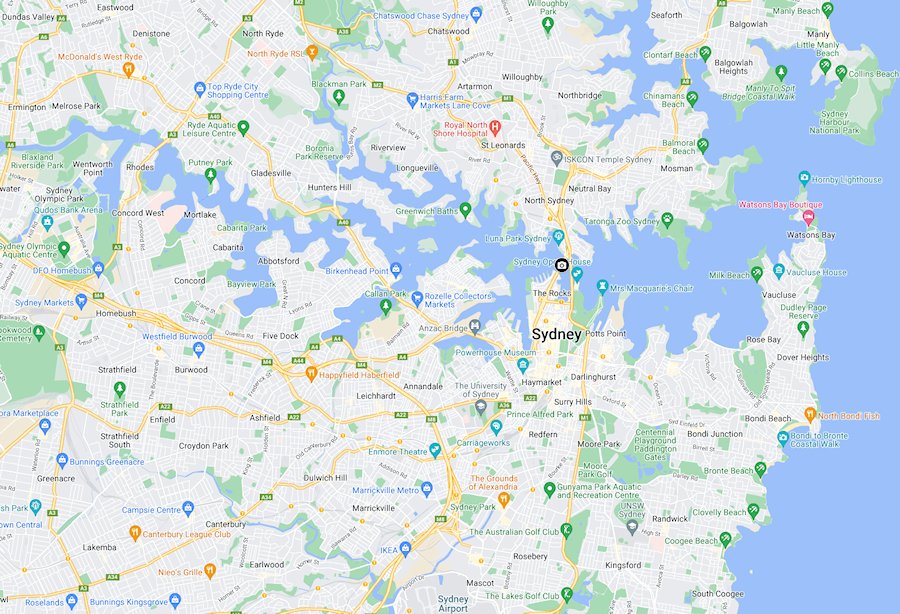 Map of Sydney, Australia.
Other major cities include Melbourne, Brisbane, Perth, and Adelaide.
Australia is a member of the United Nations, G20, Commonwealth of Nations, ANZUS, and the World Trade Organization.
It is also a popular destination for tourists, who come to experience the country's unique culture, stunning natural beauty, and vibrant cities.
Constitutional Monarchy
Australia is a constitutional monarchy with a parliamentary democracy, and its political system is based on the Westminster system.
English is the official language, and the currency is the Australian dollar.
Flora and Fauna
Australia is known for its unique flora and fauna, with many native species found nowhere else in the world, such as kangaroos, koalas, and the platypus.
The country is also home to stunning natural landscapes, including the Great Barrier Reef, Uluru (Ayers Rock), and the beautiful beaches along the coastline.
Visit Australia
The chances are that you will arrive in Australia by air.
Many people choose to fly to Sydney first, but Melbourne, Perth or Darwin also make excellent starting points to travel around Australia.
Australia Offers So Much to See and Do
Australia is a vast and diverse country with so much to see and do, so it's important to plan your trip carefully to make the most of your time there.
Some things to consider when planning a trip to Australia.
Decide on the Length of Your Trip
Australia is a large country, so it's important to allocate enough time to explore it properly.
Depending on your interests and the places you want to visit, a minimum of two weeks is recommended.
Research the Visa Requirements
Visitors to Australia need a valid visa, so it's important to check the visa requirements before booking your trip.
The type of visa you need will depend on your nationality and the purpose of your visit.
Where to Go in Australia
Decide on the places you want to visit as Australia has many iconic destinations: Sydney, Melbourne, the Great Barrier Reef, Uluru, and the Great Ocean Road.
Book Your Flights
Once you have decided on the places you want to visit, book your flights to Australia.
Depending on where you are coming from, you may need to book connecting flights within Australia.Pack Appropriately
Australia has a wide range of climates, so pack accordingly.
Bring comfortable clothing, sturdy shoes, sunscreen, and insect repellent.
Research these places and decide which ones you would like to visit above the other.
Book Your Accommodation
Australia has a wide range of accommodation options, from budget hostels to luxury hotels.
Book your accommodation in advance, especially during peak season.
Plan Your Activities
Australia has a lot of outdoor activities to offer such as hiking, surfing, snorkeling, and wildlife watching.
Plan your activities according to your interests and the places you're visiting.
Transportation in Australia
Depending on your itinerary, you may need to rent a car, take public transportation or book a tour to get around Australia.
Research your options and book in advance to save money.
Australian Tourist Commission:
The official promotions to get you going walkabout Down Under.
Getting Around Australia:
General travel information about getting around Australia.
Museums and Galleries:
Search the Australian cultural heritage collections online.
Smart Traveller:
The Australian Government's travel advisory and consular assistance service.
Driving Around Australia
Not everyone has it themselves to hitch-hike around Australia, but many travellers on a budget do buy a cheap car to drive around Australia and later sell it on; if they're lucky and the wheels haven't fallen off.
A hire car is also an option, for visitors to Australia who have a bigger budget to travel with.
Hiring a campervan is a good middle road to take; offering free accommodation on the road Down Under, in the bargain.
Australia Campervan Rentals:
Spaceships Campers offer a versatile, compact, fun and fuel efficient way to travel around Australia. There's also a friendly community of Space Travellers, or Space Mates, ready to swap DVDs and offer travel tips.
Australian Department of Foreign Affairs and Trade.
A cult classic with an ever-growing audience, Tracks is the brilliantly written and frequently hilarious account of a young woman's odyssey through the deserts of Australia, with no one but her dog and four camels as companions. Davidson emerges as a heroine who combines extraordinary courage with exquisite sensitivity.
Outback Travel Tips
Having the right information on this region can mean the difference between a good or great holiday. It can also mean the difference between life and death. Like all of the world's remote regions, this one needs to be treated with respect and care.
Australia Weather Warnings:
The weather can affect your outback experience. Be sure to check ahead; especially the reports and weather warnings for northern and western South Australia.
Flinders Ranges and Outback Tourism:
Discover a vast and ancient land filled with startling colours, amazing wildlife and stories as spellbinding as the location itself.
Outback Road Warnings:
Before setting off or heading back, check this regularly updated website for the latest info on open, restricted and closed roads.
Coober Pedy
Coober Pedy, in the heart of the South Australian outback, is the Opal capital of the world; a fascinating place if you're interested in these colourful gemstones and the underground culture that surrounds them.
Coober Pedy is around 10 hours drive north of Adelaide or 6 hours drive south of Alice Springs.
Over 100,000 tourists from Australia and around the world visit Coober Pedy each year to enjoy this unique and cosmopolitan outback opal mining town.
Mud Hut Motel:
Built of rammed earth in a style sympathetic to the Australian outback landscape, the Mud Hut Motel provides fine accommodation in a friendly atmosphere and at a reasonable price.
Opal Capital of the World:
The Coober Pedy Retail Business and Tourism Association invite you to include Coober Pedy as a destination during your stay in South Australia. The Tourist Information Centre is located on Lot 773, Hutchison Street.
Opal Inn:
Through the ever-increasing demand for economical, family style accommodation, Coober Pedy's Opal Inn was developed as a Hotel, a Motel and a Caravan Park - to cater for the needs of the growing number of tourists attracted to this unique area.
Coward Springs
Coward Springs is a permanent wetland caused by a free flowing bore sunk for railway use, in 1886, and now a crucial water source, feeding and breeding area for over 100 species of birds.
Coward Springs Campground:
The camping area is beside the old Ghan railway line and was previously known as Coward Springs Siding.
The Oodnadatta Track
The Oodnadatta Track closely follows a major Aboriginal trade route, the Overland Telegraph Line and the Old Ghan Line. Add to this unique mound springs, the largest lake in Australia and the biggest cattle station in the world and this becomes one of the most important outback heritage areas in Australia.
The road travels from Marree to Oodnadatta, via Coward Spring, Curdimurka, Lake Eyre, William Creek, Algebuckina and numerous red and white sand dunes.
William Creek
Travel 160km east of Coober Pedy, along the historic Oodnadatta Track, and you will find William Creek; halfway between Oodnadatta and Maree.
William Creek Campground and Store:
If you see the sign 'Cappuccino 3km' you know you're on the right track. Situated at the edge of fascinating Lake Eyre, Peter and Bev have made this an ideal stop for people exploring the beautiful outback of South Australia.
Australia Outback Tours
Aussie Heritage Tours:
Aussie Heritage Tours has a range of pre-planned, fully accommodated tours to popular South Australian outback destinations. Tour in a comfortable, specially equipped, modern 4WD Station Wagon with a personal tour guide.
Lake Eyre & the Oodnadatta Track:
This tour is a unique journey to the far north of South Australia in the company of Arabunna guides. Learn about bush tucker and other desert resources and hear stories about the old Ghan railway, the Overland Telegraph, the Afghans, the missions and the mines.
Outback Camel Safaris:
Explore the Outback camel safaris are based in the central Australian deserts at William Creek (Lake Eyre, South Australia), and operate from April through to October every year.
Wrightsair:
Specialises in outback scenic flights and aircraft charter from William Creek and Coober Pedy. Fly over Lake Eyre, William Creek, Dalhousie Springs and Anna Creek Station to appreciate what makes the outback so special.
Australian Outback Travel Tips
That the Australian East coast is the most marketed part of Australia doesn't mean it is the most beautiful.
Between the Northern Territory and northern Western Australia you can have your reef and beaches and all your adventure activities but get away from mass tourism, to experience what makes Australia so unique and different from other continents.
ExplorOz:
ExplorOz supports the entire Australian 4WD industry without bias, ensuring you get the best free and useful information available.
Diamantina Touring Company:
Tours and expeditions into Outback Australia covering vast areas not accessible to regular vehicles. These 4WD tours take you to remote deserts, gorges, Aboriginal communities and alpine wilderness.
Book Australia hotels online to save yourself time and money.
Popular Destinations in Australia
Adelaide, Alice Springs, Brisbane, Cairns, Canberra, Darwin, Hobart, Melbourne, Perth and Sydney.

Australia Index:
Miscellaneous information about Australia.
Australia Excursion
Cruise Sale Finder:
Find the perfect ocean getaway within Australia or cruise off to foreign shores.
Rocky Travel:
Michela Fantinel provides useful travel advice for independent travellers who wish to visit Australia; especially women travelling alone.
Australia Travel Guides - Australia Maps.
Travel Notes Online Guide to Travel
Africa - Asia - Caribbean - Europe - Middle East - North America - Oceania - South America.

The Travel Notes Online Guide to Travel helps visitors plan their trip with country and city travel guides, local tourist information, reviewed web sites, and regular travel articles.
Cook Islands.
Travel and Tourism Guides on Travel Notes
If Travel Notes has helped you, please take a moment to like us on Facebook and share with your friends on social media.


Travel & Tourism With Industry Professionals.