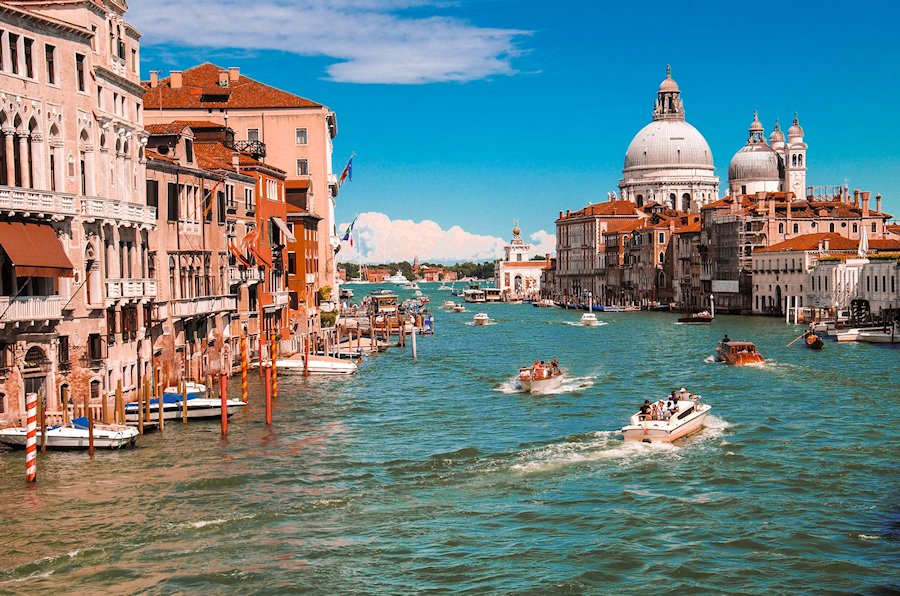 Venice, Italy by Dan Novac on Unsplash.
Travel Notes: Europe - Italy Travel Notes.

Short URL: https://tnot.es/IT
Italy Travel and Tourism on Travel Notes
Find Italy Travel and Tourist Information with links to official travel and tourism websites and state resources for visitors to Italy.
About Italy
Home to many tourist attractions, Italy is a popular destination known for its stunning architecture, rich history, delicious cuisine, and beautiful landscapes.
The country is home to many famous attractions, including the Colosseum, the Leaning Tower of Pisa, the canals of Venice, and the rolling hills of Tuscany.
Countries neighbouring Italy: France, Switzerland, Austria and Slovenia.
Driving Distances in Europe
Driving From Brindisi - Driving From Catania - Driving From Florence - Driving From Genoa - Driving from Milan - Driving From Naples - Driving From Palermo - Driving From Rome - Driving From Venice.
Map of Italy
Italy shares land borders with France to the north-west, Switzerland to the north, Austria and Slovenia to the north-east, and is surrounded by the Mediterranean Sea.
Italy, officially known as the Italian Republic, is a country located in Southern Europe.
Easily remembered by geography students as the country shaped like a boot, kicking Sicily further into the Mediterranean, Italy is a vibrant and culturally rich country that offers a blend of ancient history, artistic treasures, scenic landscapes, and delicious cuisine.
Italy continues to be a popular destination for travellers seeking an unique and unforgettable experience.
Cities
Italy has numerous cities that are renowned for their historical sites, art, and beauty.
Rome, the capital city, is home to iconic landmarks like the Colosseum, the Roman Forum, and Vatican City, which houses St. Peter's Basilica and the Sistine Chapel.
Florence is known for its Renaissance art and architecture, including the Duomo and the Uffizi Gallery.
Venice is famous for its canals, gondolas, and the annual Carnival.
Other notable cities include Milan, Naples, Turin, and Bologna.
Cuisine
Italian cuisine is celebrated worldwide for its variety and quality.
Each region of Italy has its own culinary specialties, but popular Italian dishes include pasta, pizza, risotto, gelato, espresso, and a wide range of cheeses and cured meats.
Italian cuisine emphasises fresh, high-quality ingredients and simple yet flavourful recipes.
Cultural Heritage
Italy has a rich cultural heritage, historical significance, and is known for its contributions to art, architecture, literature, fashion, and cuisine.
Geography
Italy has a diverse landscape that includes the Italian Peninsula, which extends into the Mediterranean Sea, as well as two large islands, Sicily and Sardinia.
The country is home to the Apennine Mountains, which run down the center of the peninsula, and it has several volcanoes, including Mount Etna and Vesuvius.
Italy also has many beautiful lakes, such as Lake Como and Lake Garda; in the north of the country.
History
Italy has a long and complex history.
It was the birthplace of the Roman Empire, which was one of the most powerful and influential civilisations in history.
The Renaissance, a period of great cultural and intellectual achievement, originated in Italy, with artists and thinkers like Leonardo da Vinci, Michelangelo, and Galileo Galilei.
Italian Language
The official language of Italy is Italian, which is spoken by the majority of the population.
Italian is a Romance language and has influenced many other languages in the region
There are also several regional languages and dialects spoken throughout the country, such as Sicilian, Sardinian, Neapolitan, and Venetian.
Sports
Football (soccer) is the most popular sport in Italy, and the country has a strong tradition of success in the sport.
The Italian national team has won the FIFA World Cup four times.
Italy also has a passionate fan culture, with Serie A being the top professional football league in the country.
Other popular sports in Italy include basketball, volleyball, cycling (Giro d'Italia), motorsports, and skiing.
Italy was unified as a modern nation-state in 1861.
Tourism
Italy is a popular tourist destination, attracting millions of visitors each year.
The country has a well-developed tourism industry, with many options for travellers, including all-inclusive tours, cruises, and independent travel.
Travellers can explore Italy's rich cultural heritage, sample its amazing food and wine, and enjoy its beautiful beaches and countryside.
Tourists often visit historical sites like the Colosseum and Pompeii, as well as cities like Venice, Florence, and Rome.
The Amalfi Coast, the Italian Riviera, and the picturesque countryside of Tuscany are also major attractions.
Destination Management Companies in Italy.
It is worth noting that some popular destinations in Italy are becoming so overwhelmed with tourists that local authorities are slapping extra taxes and fines on them; so be sure to respect local customs and traditions.
The independent states of San Marino and Vatican City are enclaves within the Italian Peninsula.
The two largest islands in the Mediterranean Sea are Italian: Sicily and Sardinia.
Campione d'Italia is an Italian commune (municipality) of the Province of Como in the Lombardy region, occupying an enclave within the Swiss canton of Ticino.
Italy is known for its rich history, stunning architecture, vibrant culture, delicious cuisine, and beautiful landscapes.
Whether you're interested in exploring ancient ruins, indulging in authentic Italian pizza and pasta, or marveling at world-renowned art and architecture, Italy has something to offer for everyone.
Amalfi Coast
This stunning coastal region in the south of Italy offers breathtaking views of cliffs, crystal-clear waters, and charming towns like Positano, Amalfi, and Ravello.
Enjoy the Mediterranean vibes, relax on the beaches, and savor the local cuisine.
Cinque Terre
Located on the Italian Riviera, Cinque Terre is a picturesque collection of five colourful fishing villages; Monterosso al Mare, Vernazza, Corniglia, Manarola, and Riomaggiore.
Hike along the coastal trails and soak in the breathtaking views.
Florence
Known as the birthplace of the Renaissance, Florence is a treasure trove of art and architecture.
Visit the iconic Duomo, admire Michelangelo's David at the Galleria dell'Accademia, and explore the Uffizi Gallery.
Local Festivals
Italy is known for its festivals, so check if any local events or celebrations are taking place during your visit.
And don't forget to try authentic Italian dishes like pizza, pasta, gelato, and espresso during your travels.
Pompeii
Explore the ancient city of Pompeii, which was buried under volcanic ash from the eruption of Mount Vesuvius in 79 AD.
Witness the remarkably preserved ruins and get a glimpse into the daily life of ancient Romans.
Rome
As the capital city, Rome is brimming with historical landmarks such as the Colosseum, Roman Forum, and Pantheon.
Don't miss the Vatican City, home to St. Peter's Basilica and the Sistine Chapel.
Sicily
Italy's largest island, Sicily, offers a blend of history, culture, and stunning landscapes.
Visit the ancient Greek ruins in Agrigento, explore the charming streets of Taormina, and indulge in Sicilian cuisine.
Tuscany
Known for its rolling hills, vineyards, and medieval towns, Tuscany is a haven for wine lovers.
Visit cities like Siena, Pisa, and San Gimignano, and indulge in wine tastings in the famous Chianti region.
Venice
Famous for its canals, gondolas, and romantic ambiance, Venice is an unique city built on water.
Take a gondola ride along the canals, visit St. Mark's Square and Basilica, and get lost in the narrow alleyways of this enchanting city.
Italian Road Trips
Just about anywhere makes an interesting drive in Italy, so forget the train and hire a car to really discover Italy at its best.
Some of the smaller villages in Italy hardly get a mention because so many visitors on the Italian tourist circuit pass them by.
The scenery in and around the sleepy Italian villages is often quite amazing.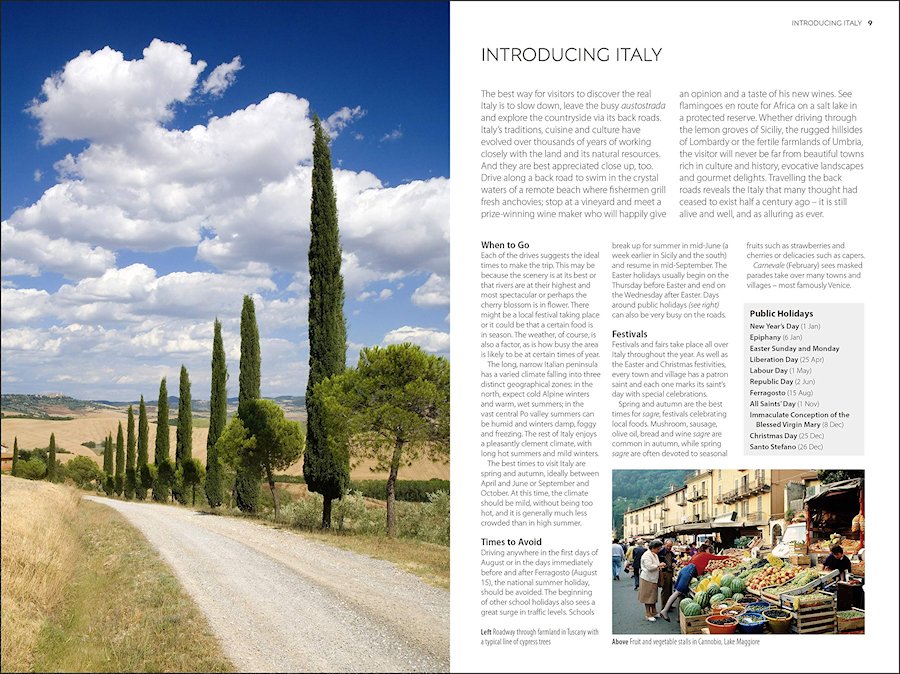 Stretching from the snow-capped mountain ranges in the north to the sun-baked beaches and scirocco-scorched towns of the south, Italy is an ideal destination for a road trip.
Regions to Visit Around Italy
Apulia Coast, Capri, Chianti Region, Cinque Terre, Dolomites, Italian Riviera, Lake Garda, Portofino, Riviera dei Fiori, Sicily Coast and Islands, Tuscany.
Where to Stay in Italy
Choose a place to stay in Amalfi, Assisi, Bologna, Como, Florence, Genoa, Lucca, Milan, Naples, Palermo, Pisa, Rimini, Rome, Siena, Sorrento, Taormina, Turin, Venice, or Verona; to discover more of Italy.
Italian Experiences
The Amalfi Coast, or 'Costiera Amalfitana' (in Italian), is a stretch of coastline in the southern part of Italy (Province of Salerno), extending from Positano in the west to Vietri sul Mare in the east.
The towns lying on the Amalfi Coast are Vietri sul Mare, Cetara, Maiori, Minori, Ravello, Scala, Atrani, Amalfi, Conca dei Marini, Furore, Praiano and Positano.
The nearest airports and train stations are in Naples and Salerno.
Starting from Naples, it is possible to reach Sorrento by a local train called 'Circumvesuviana'. The SITA bus company, connects the Amalfi Coast to Salerno, Sorrento and Naples.
Beauty in Italy
Located in Bagno a Ripoli, overlooking Firenze, Violetta Buti specialises in walking tours of Florence.
Through her travel company, Beauty in Italy, cruise visitors to Italy can also book shore excursions from Livorno, Civitavecchia, Naples and Venice.
Michaelangelo
Michaelangelo, whose David is a symbol of Florence, is buried in the city's Basilica di Santa Croce.
Uffizi Gallery
Be prepared for long queues for a personal encounter with great Western art unless you book a B-ticket in advance to skip the line.
Commissioned by Cosimo I de' Medici, first Grand Duke of Tuscany, the building, was conceived to house the 'Uffizi', the administrative and legal offices of Florence.
The Gallery now occupies the entire first and second floors of the large building.
Be sure to download a PDF map of the rooms to better plan your Uffizi visit.
Official tickets for the Uffizi Galleries are available at half price in the low season (1st of November to end of February).
Free Admission
Admission to the museums belonging to the Uffizi Galleries (Uffizi; Palazzo Pitti and Boboli Gardens) are available free of charge on Liberation Day (25th April), Republic Day (2nd June) and Armed Forces Day (4th November) as well as the first Sunday of the month.
Works of Art
Enjoy works of art by Giotto, Simone Martini, Piero della Francesca, Fra Angelico, Filippo Lippi, Botticelli, Mantegna, Correggio, Leonardo da Vinci, Raphael, Michelangelo and Caravaggio.
German, Dutch and Flemish masters are also well represented with important works by Durer, Rembrandt and Rubens.
Milan, the fashion capital, is the second largest Italian city, after Rome, and home to two of Italy's most famous football clubs, Internazionale and AC Milan.
There is lot to see around the Gulf of Naples and the distance between the sights can be deceiving, when trying to organise your visit on public transportation. Allow more time than you think you'll need; if you don't want to be disappointed.
You can fly into Pisa, for easy access to Florence.
The Cathedral Square is the heart of Pisa and stands as the immortal symbol of the splendour and power of the golden age of the Republic of Pisa.
Pisa International Airport:
Pisa and Florence International Airport - Galileo Galilei. Provides real time flight schedules, information about airlines, cargo services, ground transportation, parking, car rental, shops and duty free, restaurants and airport news.
Rome is the capital of Italy and once the nucleus of an Empire.
Map of Rome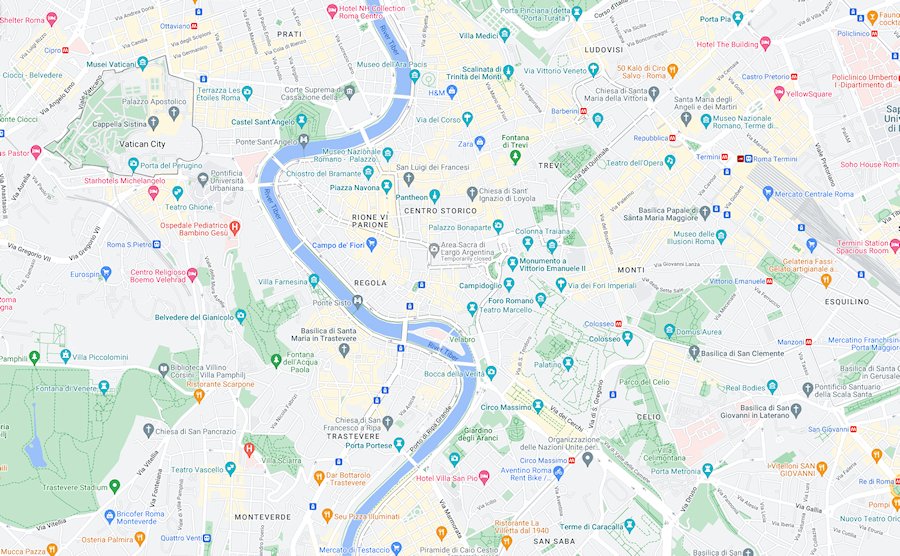 Dark Rome Tours:
Taking small groups of visitors around the historic center of Rome; bringing the ancient streets to life with little-known stories, mysteries, and legends.
Rome Travels:
The Pellegrini family - Cristiano, Sandro and Federico - are official Rome guides and can help you with Rome tours, Italy cruise excursions and services related to the religious holidays and pilgrimages in Italy.
Via Francigena:
Originallly known as the Lombard Way, this historical pilgrim's route connects the English cathedral city of Canterbury with the Holy Seat in Rome; passing through France and Switzerland on its way south.
With a well-rounded team of art historians, archeologists, and other experts on board, What a Life Tours offers a wide range of tours in and around Rome.
Tuscany Travel Tips
Bypass the high-priced, crowded but beautiful Chianti area of Tuscany and instead go to the Etruscan Coast and Pisan Hills area in Western Tuscany.
Accommodations cost a lot less, and fewer tourists come here than the more famous Tuscan spots.
There are excellent places like Volterra and Campiglia Marittima and numerous other worthwhile hill towns and wine areas to check out.
By David Freda.
Bed and Breakfast in Florence:
Provides rooms and apartments for holiday rentals in the historic centre of Florence, as well as accommodation in typical Tuscany villas located in the Chianti countryside.
Montecatini Terme is close to Florence, Siena, Chianti, Lucca and Pisa - an ideal base to discover Tuscany at your leisure.
Rent a self-catering villa in Tuscany with swimming pool; nestled in a landscape of olive groves and vines.
Within Italy are two independent countries: San Marino and the Vatican City.
Summer on the beach is very popular in Italy, but most travellers visit the country for the culture.
Italy holds one of the major positions in world culture. Their nationals have presented us with masterpieces in architecture, painting, sculpture, literature, and opera.
Museums in Italy:
Italian culture at its best.
Pasta, Pizza and Parmigiano...... Please, there's a lot more to Italian Food.
Fancy tasting the grape in Italy?
Then maybe you should try one of the Wine Tours.
The Northern part of Italy is generally more prosperous, and most Italians associate themselves with their particular region.
Some of those around Lombardia even want a federal republic of Padania, independent from Rome and the rest of Italy.
Autostrade:
Italy has one of the most extensive toll-paying highway networks in Europe, with 3,020km serving 15 Italian regions and 60 provinces.
Gira Bologna:
Bologna was founded by the Etruscans under the name of Felsina. As a Roman metropolis it was known as Bononia. Later Bologna became a free Commune and then a papal city. Today, Bologna offers visitors one of the best preserved historic centers in Europe.
Italian Tourism:
Regional listings for Italian tourist boards; mostly just an address and telephone number.
Italy For Real:
Rem Malloy and Deborah de Maio offer small group tours and luxury Italy vacations for those seeking a truly authentic trip to Italy.
Parks in Italy:
National parks and protected areas in Italy.
Siena - The Palio:
Continuing in ancient tradition, the contradas compete on horses around the town square of Siena, Italy, every July 2nd and August 16th.
Travel by Train:
Italian train timetables can only give you a rough idea, as the long distance trains often run late.
Welcome to Italy:
As stylish as the passagio on a Sunday. Stroll through the site by itinerary, region, or province. (In English, Italian, German, and Japanese).
Cinque Terre
Eighteen kilometres of sheer rocky coastline in northern Italy, terraced hills and vineyards sloping steeply down to the sea. Five little villages are built into the rocks between the beach and the hills.
Emilia Romagna:
From the Apennines to the Adriatic Coast.
Local Sites in Emilia Romagna (some in Italian only):
Bologna; Brisighella; Cervia; Ferrara; Lizzano; Modena; Parma; Piacenza; Ravenna; Reggio Emilia; Rimini Commune; Rimini Turismo; Sestola.
Verdi Country
Giuseppe Verdi was born in Roncole, on the 10th of October, 1813.
Castles of Parma:
Constructed in strategic points throughout the province of Parma, the castles are a wonderful sight.
Parma Tourist Information:
From the Parma Municipal Administration Tourist Information and Assistance Offices.
Parmesan Cheese:
The world's favourite cheese to top spaghetti comes from Parmigiano-Reggiano; a true aristocrat among cheeses. And doctors claim it's good for you.
The City of Ravenna boasts many sights in the World Heritage List: The Mausoleum of Galla Placidia, Neonian Baptistry, Sant'Apollinare Nuovo, Arian Baptistry, The Archiepiscopal Chapel, Mausoleum of Theodoric, The Basilica of San Vitale, and Sant'Apollinare in Classe.
One of the best ways to get around Ravenna is by bicycle. Four locations where you can get one of the yellow tourist bikes for the day.
The Lake Garda region is close to Brescia.
Barodino, Lazise and Garda are just a few of the main resorts offering a wide selection of hotels, restaurants and entertainment for the whole family all year round.
Situated between Lombardia, Veneto and Trentino, Lake Garda is the largest Italian lake.
Lake Garda:
A whole collection of Lake Garda websites rolled in to one Garda World.
Other popular lakes in northern Italy are Lago di Como and Lago Maggiore.
Navigazione Laghi
:
Getting around the lakes couldn't be easier.
Le Marche is Italy's secret region. Everyone has heard of Tuscany. Le Marche is near by, and more rugged. Actually, it is more everything. We have higher mountains, more lakes, more truffles, more mushrooms, more wild boar, more sheep, more small farmers, more beautiful scenery, more delicious fish....the only thing we have less of, is people and tourism!
Fly to Ancona (with cheap flights from London). Visit Urbino, Loretto, Ascoli Piceno, Macerata, Tolentino, Camerino and Matelica for art, culture, churches, food and wine, but don't forget to visit the rural parts too. Stay in agriturrismi (farm house hotels run by a local family) to sample the rustic way of life.
By Angeline Davies.
Marche Holidays:
With beaches, mountains and medieval villages, holidaying in Marche can be planned at anytime of the year; depending on your interests.
5-Day Italy Trip: Florence, Pisa and Venice.
If you're short on time and fancy a taste of Italy, then five days exploring three of Italy's most romantic cities - Florence, Pisa and Venice - is the perfect way to combine aspects of Italy's rich culture: art, history and authentic cuisine.
Italy Farmhouse Rentals:
Not just farmhouses, but villas, castles, cottages, apartments, houses in Tuscany, Umbria or Lazio. The site also offers useful tourist information about Italy.
Italy Travel Guides - Italy Maps.
Weather in Europe:
Local weather forecasts for destinations around Europe.
Travel Notes Online Guide to Travel
Africa - Asia - Caribbean - Europe - Middle East - North America - Oceania - South America.

The Travel Notes Online Guide to Travel helps visitors plan their trip with country and city travel guides, local tourist information, reviewed web sites, and regular travel articles.
Travel and Tourism Guides on Travel Notes
Travel Professionals Based in Italy.
If Travel Notes has helped you, please take a moment to like us on Facebook and share with your friends on social media.


Travel & Tourism With Industry Professionals.
Kosovo.