Short URL: https://tnot.es/LU
Luxembourg Travel and Tourism on Travel Notes
Find Luxembourg Travel and Tourist Information with links to official travel and tourism websites and state resources for visitors to Luxembourg.
About Luxembourg
Luxembourg became a sovereign nation with perpetual neutrality, in 1867.
Countries neighbouring Luxembourg are: Belgium, Holland, Germany and France.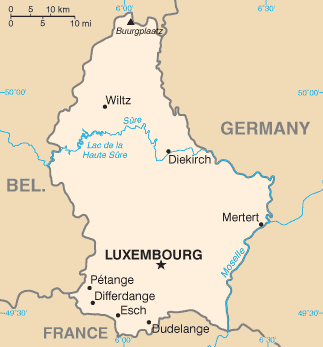 Luxembourg-Ville is the capital of the Grand Duchy of Luxembourg.
The old medieval city is built on the rocky Bock Peninsula, between the Alzette and Petrusse rivers.
From the ruins of a Roman settlement, Luxembourg built itself up into a fortress community during the 10th century.
The large fort was no longer needed when Luxembourg became a sovereign nation with perpetual neutrality, in 1867.
During the two World Wars, however, Germany disregarded the country's neutrality by invading and occupying it.
Weather in Europe:
Local weather forecasts for destinations around Europe.
The Grand Duchy
The Grand Duchy of Luxembourg is sometimes called the Gibraltar of the North.
Things To See in Luxembourg
The Grand Ducal Palace (built in the1500's) and the 17th-century Gothic Cathedral of Notre Dame are major attractions in Luxembourg.
Luxembourg Hotels:
Suggestions of places to stay in the Grand Duchy.
Visit Luxembourg:
Luxembourg City is a lively and bustling capital with a lot of great touristic attractions to visit and a multitude of things to do.
Nowhere else in Europe you will find such an outstanding mixture of historic sites and contemporary architecture. The old city of Luxembourg and its fortress has for long been part of the UNESCO World Heritage.
Tageblatt:
The Luxembourg Daily; in French.

Add a Business Listing - Add a Destination Guide - Add a Place to Stay.


If you find Travel Notes useful, please take a moment to like us on Facebook and share with your friends on social media.
Europe Index - Europe Tourism - Europe Travel Websites.