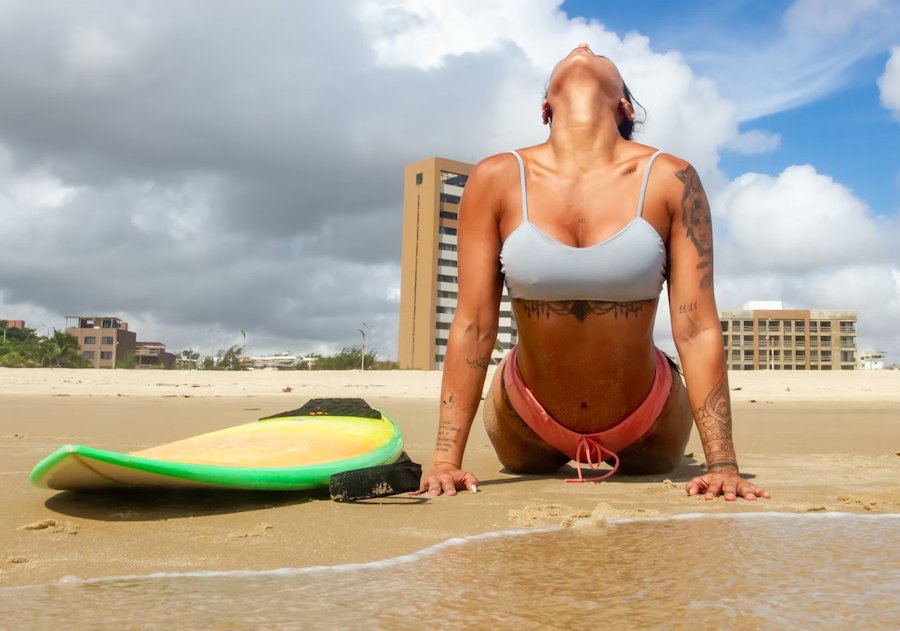 Fortaleza by Luiz Gustavo on Unsplash.
Football Index: World Cup Finals: Brazil 2014: Fortaleza - Estadio Castelao.
Estadio Castelao in Fortaleza played hosts to six World Cup matches, including a quarter-final.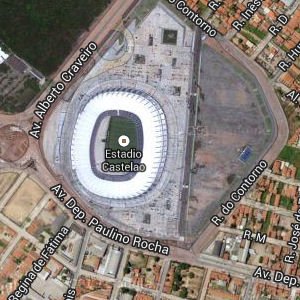 Fortaleza - Estadio Castelao
In the group stage, Fortaleza hosted fans from

Côte d'Ivoire,

Costa Rica,

Germany,

Ghana,

Greece,
Mexico and

Uruguay.

Local fans could also see Brazil play.
Founded in 1726, Fortaleza became the capital of Ceara in 1799.
Fortaleza has some 34 kilometres of beaches, with Praia do Futuro the popular one nearest to the city.
Iracema is the place to go for bars and nightclubs while Mucuripe Beach offers you a chance to see the typical fishing boats of the region; the jangadas.
Football in Fortaleza
Ceara Sporting Club and Fortaleza Esporte Clube are two of the most popular clubs in the north-east of Brazil.
2014 World Cup Finals fixtures played at Estadio Castelao.
Saturday, 14th June
Group D


Uruguay vs Costa Rica

(1:3)
Tuesday, 17th June
Group A


Brazil vs Mexico
(0:0)
Saturday, 21st June
Group G


Germany vs Ghana

(2:2)
Tuesday, 24th June
Group C


Greece vs ôte d'Ivoire

(2:1)
Sunday, 29th June
Second Round


Netherlands vs Mexico
(2:1)
Friday, 4th July
Quarter-final


Brazil vs Colombia

(2:1)
Where to Stay in Fortaleza
The main drag in Fortaleza is along the Beira Mar.
A popular place to visit outside of Fortaleza is Jericoacoara.
Getting to Fortaleza
Fortaleza by Air
The airport for flights to Fortaleza is the Pinto Martins International Airport (FOR).
Fortaleza by Bus
The Rodoviária de Fortaleza is located at Av. Borges de Melo, 1630 in Fatima.
Brazil Travel Notes:
Brazil tourist information with details about travel to and around the country. Where to stay and what to see is made easier with insider tips and hand-selected Brazil links, by dedicated editors and visitors to TravelNotes.org - The Online Guide to Travel.
2014 World Cup Cities
Belo Horizonte: 1st Round (4) - Second Round - Semi-final.
Brasilia: 1st Round (4) - Second Round - Quarter-final - Third Place Match.
Cuiaba: 1st Round (4).
Curitiba: 1st Round (4).
Fortaleza: 1st Round (4) - Second Round - Quarter-final.
Manaus: 1st Round (4).
Natal: 1st Round (4).
Porto Alegre: 1st Round (4) - Second Round.
Recife: 1st Round (4) - Second Round.
Rio de Janeiro: 1st Round (4) - Second Round - Quarter-final - 2014 World Cup Final.
Salvador: 1st Round (4) - Second Round - Quarter-final.
Sao Paulo: 1st Round (4) - Second Round - Semi-final.
The Road to Rio
2014 World Cup Finals - Knockout Stage.
Uruguay 1930:
Uruguay trailed Argentina at half-time (1:2) but replied with three goals in the second half; to win the first ever World Cup Final (4-2) on July 30th, 1930.
Italy 1934:
Italy were one of the countries who missed out on the vote to host the first World Cup but managed to win the prestigious golden trophy for the home fans.
France 1938:
The third World Cup was held in Europe for a second time, although Germany had annexed Austria, and Spain was in civil turmoil.
Brazil 1950:
Although no cup-final as such, Uruguay and Brazil went into their final game with the winner guaranteed to be champions; a draw would be enough for Brazil.
Switzerland 1954:
The fifth World Cup tournament produced a record number of goals, including a 7:5 encounter between Austria and Switzerland in Lausanne.
Sweden 1958:
Brazil presented a 17 year-old Pele to the world; who went on to claim a hat-trick in Brazil's 5:2 semi-final win over France and bag another two in the final.
Chile 1962:
Czechoslovakia overcame Hungary in the quarter-finals and Yugoslavia in the semis, while Brazil took care of England and the host nation, Chile.
England 1966:
Geoff Hurst scored a hat-trick, in the final against West Germany, as England triumphed in a thrilling game watched by Her Majesty, Queen Elizabeth II.
Mexico 1970:
1970 belonged to Pelé, who earned his third World Cup winners' medal when Brazil got their hands on the Jules Rimet Cup.... for keeps.
W. Germany 1974:
Johan Cruyff was the player of the tournament as total football became the buzzword of the day, even though Holland lost to West Germany in the 1974 final.
Argentina 1978:
Holland contested the 1978 World Cup Final, in Argentina, for the second time in a row. As in West Germany, they again finished runners-up; to the hosts.
Spain 1982:
The Spain 82 World Cup finals increased to 24 teams and the format was changed to have two group stages, with four second-round groups of three.
Mexico 1986:
In 1986, Mexico became the first nation to stage the World Cup Finals for a second time; having only staged the competition sixteen years previously.
Italy 1990:
In 1990, Italy became the World Cup of stalemates. Both semi-finals were drawn out through penalty kicks. In the final itself, the only goal came from the spot.
USA 1994:
Once Team US had played a few games most of the nation began to understand they were hosting the greatest show on earth and how the game was played.
France 1998:
France became the sixth nation to win the World Cup on home soil. Thirty-two teams competed in the 16th World Cup; better known as France 98.
Korea-Japan 2002:
The 17th World Cup, held in Korea and Japan, was the first World Cup finals to be shared by two hosts and the first to be held in Asia.
Germany 2006:
The 2006 World Cup Finals ran from 9th June to 9th July; the opening match in Munich and the final in Berlin. Munich and Dortmund hosted the semi-finals.
South Africa 2010:
Eighty years after the First World Cup Finals in Uruguay, the world's most prestigious football competition was finally hosted on the African continent.
Brazil 2014:
Five times World Cup Champions, Brazil, get a second chance to hold the prestigious World Cup Finals; 64 years after they last hosted the tournament.
Russia 2018:
VAR made its World Cup debut and set out to change the course of a game with some crucial rule infringement watching and vital on the spot decisions.
Qatar 2022:
When FIFA executives met in Zurich to decide on who would host the 2018 and 2022 World Cup Finals, Qatar was probably the biggest surprise to many.
United 2026:
The 2026 FIFA World Cup Finals will be jointly hosted by Canada, Mexico and the United States. The United Bid won the hosting rights ahead of Morocco.
Travel Notes Online Guide to Travel
The Travel Notes Online Guide to Travel helps visitors plan their trip with country and city travel guides, local tourist information, reviewed web sites, and regular travel articles.

Join Michel on Meta-Travel.
Airlines and Airports.

Add a Business Listing - Add a Destination - Add a Place to Stay - Add URL.


If you find Travel Notes useful, please take a moment to like us on Facebook and share with your friends on social media.