Short URL: https://tnot.es/DE
Germany Travel and Tourism on Travel Notes
Find Germany Travel and Tourist Information with links to official travel and tourism websites and state resources for visitors to Germany.
About Germany
The Federal Republic of Germany - known as Germania in Roman times - is the seventh largest country (by area) in Europe.
Driving From Berlin, Driving From Bonn, Driving From Essen, Driving From Frankfurt, Driving From Hamburg, Driving From Hannover, Driving From Koln, Driving From Leipzig, Driving From Munich, Driving to Nuremberg, Driving From Stuttgart.
Countries neighbouring Germany are: Holland, Belgium, Luxembourg, France, Switzerland, Austria, Czech Republic, Poland and Denmark.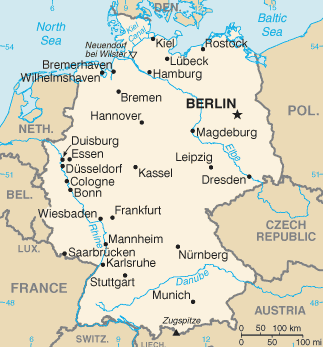 Weather in Europe:
Local weather forecasts for destinations around Europe.
Find and Book a Hotel in Germany.
Berlin, Cologne, Dusseldorf, Frankfurt am Main, Heidelberg, Munich.
Accommodation in Munich
Munich Airport:
Timetables and public transport information, if you are flying into, or out of, Munich.
Munich Tourism:
Find more about the city of Munich at the official pages of the Munich Tourist Office.
Oktoberfest:
Each year, the Oktoberfest is attended by around 6 million visitors, who drink around 5 million litres of beer and consume over 200,000 pairs of pork sausages - mostly in the beer tents; put up by the traditional Munich breweries.
Black Forest:
The Black Forest panorama route from Waldkirch to Hinterzarten is a must see if you are in the south of Germany. This site offers you a taste of the Schwarzwald, but is not the same as real life contact with unpolluted scenic vistas. Includes hotel listings in the area.
Titisee:
Titisee-Neustadt includes the towns of Titisee, Neustadt, Waldau, Langenordnach, Schwarzenbach and Rudenberg. The lake is the centre of attraction, and of course you can taste some excellent smoked hams from the region.
The Rhine Land:
Explore the fascination of the Rhine and the Loreley Valley with tourist information on the surroundings.
Airlines and Airports:
Lufthansa is the award-winning German airline.
Travel by Rail:
DB issues tickets to the huge network of German Railways. Check the schedules, or find out about special offers.
Berlin Tourist Information:
Berlin Tourismus Marketing GmbH (BTM) is charged with the world-wide promotion of Berlin as a tourist destination.
Friedrich-Strasse:
Checkpoint Charlie was the former border crossing at the Berlin Wall. Ten years after the fall of the Wall, one can pass freely again.
Kennedy in Berlin:
120,000 Berliners gathered in front of the Schoneberg Rathaus (City Hall) to hear President Kennedy speak on 26th June, 1963.
Map of Berlin:
Interactive street map that lets you search for addresses. If you type the address wrong you'll get alternatives to choose from. Zoom out to view the neighbouring area.
Hamburg Tourist Board:
Get tickets for Hamburg's wide-ranging leisure time activities from the Hamburg Tourist Board.
German Beer
A kilogram of sturdy glass, half full of beer and hundreds of sweaty strangers 'prosting' to the oompah; Germans are proud of the drink that oils the Oktoberfest, and drink plenty of it.
The Aisch Valley Beer Trail, between Bad Windsheim and Uehlfeld, has eight traditional breweries along its 50 kilometres.
German Wine
Heidelberg
An impressive castle dominates the Heidelberg skyline. But there's plenty more to see and do in Heidelberg, even if you don't make it for the wine festival.
Goethe Institute:
Learning and teaching German from the Goethe Institute.
Bosenberg Motorcycle Excursions:
Scheduled 12-day tours on 3 Alpine routes start at Frankfurt/Main, Germany. Tours are for discriminating motorcyclists where the destination is almost as important as the ride itself.
Facts About Germany:
Germany is a federation. The federation and the 16 Länder (states) each have areas of responsibility of their own.
German Embassy in Washington DC:
4645 Reservoir Road NW.
German Tourist Board:
The German National Tourist Board invites you to explore their cities.

Add a Business Listing - Add a Destination Guide - Add a Place to Stay.


If you find Travel Notes useful, please take a moment to like us on Facebook and share with your friends on social media.
Europe Index - Europe Tourism - Europe Travel Websites.