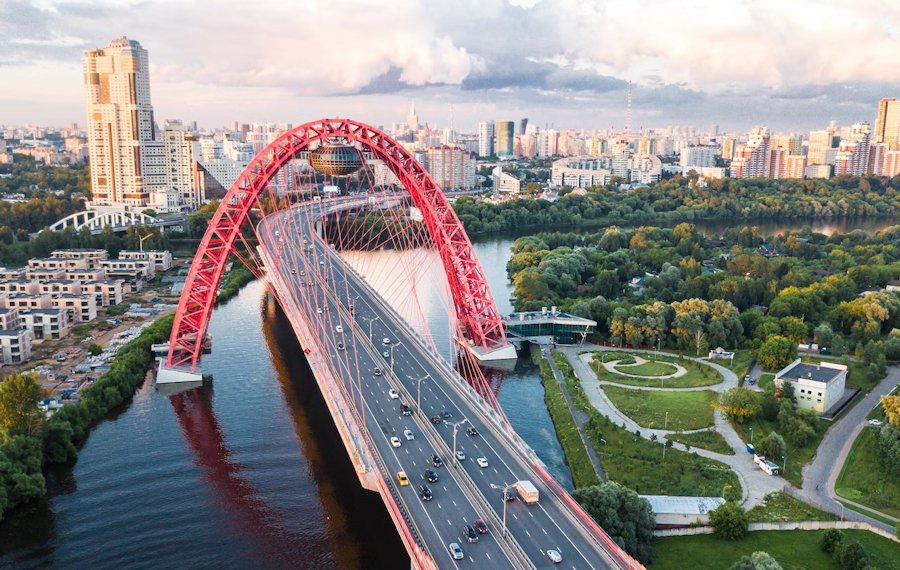 Zhivopisny Bridge, Moscow by Alexander Smagin on Unsplash.
Football Index: World Cup Finals: Russia 2018: Group A.
Coverage of Group A matches during the 2018 World Cup Finals in Russia between Egypt, Russia, Saudi Arabia and Uruguay.
Uruguay
3
3

0

0
5/0
+5
9
Russia
3
2
0

1

8/4
+4
6
Saudi Arabia
3
1
0

2

2/7
-5
3
Egypt
3
0

0

3
2/6

-4

0
Group A Games
Thursday, 14th June

Russia vs Saudi Arabia

in Moscow Luzhniki (5:0)
Russia kicked off the 2018 World Cup Finals, against Saudi Arabia, as the lowest ranked team in the tournament.
In the twelfth minute, Yuri Gazinsky headed the hosts in front.
Ten minutes later, Alan Dzagoev pulled up with a strained hamstring and was replaced by Denis Cheryshev.
Two minutes before the break, Russia doubled their lead through substitute Denis Cheryshev; a wonderful left foot strike from just inside the penalty area.
Half-Time: Russia 2 - Saudi Arabia 0
Another substitute, another header and another goal; as Artem Dzyuba made it three for Russia, with twenty minutes left on the clock.
Denis Cheryshev doubled his tally as the time added on ticked down.
Then just to cap it all off, a fine free-kick from Aleksandr Golovin, just before the final whistle, made it a high five on day one.
A comfortable win for the hosts to get the ball rolling but Saudi Arabia weren't really much of a test.
Friday, 15th June
Egypt vs Uruguay

in Ekaterinburg (0:1)
The second game of the 2018 World Cup Finals didn't start too well, with both teams almost waiting for the first-half to end and praying for an inspiring team talk in the changing room.
Luis Suarez scuffed a shot at the side-netting, but that was about it.
The fans whistled their disappointment towards the pitch but the players didn't even lift their heads.
Half-time: Egypt 0 - Uruguay 0
Cavani and Suarez combined better right after the break, only for swifty Suarez to be denied by the Egyptian goalkeeper's knee.
Egypt's rookie goalkeeper, Mohamed El Shenawy, made another couple of crucial saves - robbing the ball from the feet of Suarez and flying to his left to keep out a Cavani scorcher - to keep Egypt in the game.
Then, two minutes from time, Cavani's free-kick, hit the post as Uruguay looked to break the deadlock.
Uruguay ended on a strong note. From a free-kick out on the right wing, the ball is floated into the Eygptian penalty area and Jose Maria Gimenez rises above the defenders to head the ball past a stranded El Shenawy.
An important goal for Uruguay, as they try to keep pace with the five-goal hosts.
Tuesday, 19th June

Russia vs Egypt
in St Petersburg (3:1)
An open first-half that neither side could take advantage of.
A flash or two from Mo Salah for Egypt, and some lively movement down the Russian left from the hosts. But no bulging net.
Haf-time: Russia 0 - Egypt 0
An Ahmed Fathy own goal, two minutes after the break got Russia off and running.
Twelve minutes later, Denis Cheryshev scored his third goal of the tournament to put Russia firmly in the driving seat.
Artem Dzyuba made it three with his second of the tournament, just three minutes later as Russia looked like heading for their second victory and a place in the Second Round.
Mohamed Salah pulled one back for Egypt, from the penalty spot, with seventeen minutes left to go.
Russia virtually guaranteed their place in the Second Round after winning their second game on home soil.
Wednesday, 20th June

Uruguay vs Saudi Arabia

in Rostov-on-Don (1:0)
Uruguay had to wait twenty minutes for their first corner.
A couple of minutes later Uruguay had another corner. With the Saudi defence in a mess, the ball floated over everyone's head for Luis Suarez to tap in at the back; his 52nd international goal in 100 appearances.
Otherwise the Saudi goalkeeper had little to do in the first-half.
Half-time: Uruguay 1 - Saudi Arabia 0
Not the most exciting of matches, with Uruguay doing just enough and Saudi Arabia not.
Uruguay join Russia n the Second Round.
Monday, 25th June

Uruguay vs Russia

in Samara (3:0)
Luis Suarez scored his second of the tournament from a direct free-kick, inside ten minutes.
Denis Cheryshev almost equalised at the other end.
From a corner, in the 23rd minute, Uruguay scored their second; thanks to a wicked deflection off Cheryshev. Diego Laxalt would like to claim it though.
Ten minutes from the break Russia were reduced to ten men when Igor Smolnikov earned a second yellow card for a foul on Diego Laxalt.
Half-time: Uruguay 2 - Russia 0
Edinson Cavani scrambled scrambled in Uruguay's third just before the final whistle.
The home side can be thankful they had a couple of easy openers in the group. Russia will probably be hoping that Iran can beat Portugal and Spain draw with Morocco.

Saudi Arabia vs Egypt
in Volgograd (2:1)
Egypt took the lead through Mo Salah, but Al Faraj equalised from the spot, just before the break, and Salem Al Dawsari scored for Saudi Arabia before the final whistle; to win the Arabic exhibition match in stoppage time.
Saturday, 30th June

Uruguay vs Portugal
in Sochi (2:1)
The game started brightly and within seven minutes Uruguay were in front; a crossfield pass cross from Edinson Cavani to Luis Suarez , who crossed it back from the left to connect beautifully with Edinson Cavani's face.
Then Rui Patricio had to get down well to keep out a Suarez free-kick that flew through the wall in the 22nd minute.
The Uruguay defence held solid for the rest of the half.
Half-time: Uruguay 1 - Portugal 0
It took a while coming, but from a short corner on the left the ball was whipped in by Raphael Guerreiro. Pepe was allowed a clean run into the area and powered the header past Fernando Muslera, while all eyes were still on Ronaldo.
Edinson Cavani gave Uruguay the lead again, just after the hour mark,wrapping his foot beautifully around the ball to curl it past Patricio.
Twenty minutes from time, Ronaldo helped Cavani from the pitch as the double goalscorer struggled to limp.
Portugal continued to search for an equaliser but Uruguay held out; Luis Suarez even looking to set up Cristian Rodriguez for Uruguay's third, in stoppage time.
Sunday, 1st July
Spain vs Russia

in Moscow Luzhniki (1:1 aet 3:4 pens)
Russia may have started with five at the back but they made some good front running early on, to excite the home crowd.
From an Isco free-kick, out on the right, Sergei Ignashevich had his back to the ball as he tried to rugby tackle Sergio Ramos to the ground. Justice was dealt, without the need for VAR, when the ball bounced off the Russian's achilles tendon and into the net without him knowing anything about it; the tenth own goal at Russia 2018.
Russia were awarded a penalty in the 40th minute when the ball was headed on to Gerard Pique's outstretched arm.
After a slight delay, Artyom Dzyuba made no mistake from the spot to send the home crowd wild.
Diego Costa almost slipped through for Spain, just before the break but he's had very little of the ball. Then Russia broke forward again.
Half-time: Spain 1 - Russia 1
Russia were content to sit behind the ball and Spain seemed to think it was World Class just to pass the ball around in front of them. Watching a game of chess in Moscow's Red Square would have been more exciting.
Diego Costa was pulled off with ten minutes to go; replaced by Iago Aspas.
Iniesta tried a little one-two with Aspas. Then again, Iniesta's shot was palmed away by Igor Akinfeev.
The two substitutes certainly added a little more energy and creativity to Spain in the final minutes.
Another Russia break with substitute Cheryshev looking for the ball on the left.
Three minutes to go and we almost had a football match in front of us; some urgency finally being shown by both sides, interspersed with signs of cramp.
Fyodor Smolov, another Russian substitute, came closest in stoppage time.
Thirty Minutes of Extra-Time.
First real chance for Spain in the 12th minute of extra-time as Iago Aspas sent Marco Ascencio forward. That was Ascenscio's last touch.
In the second period of extra-time, after 108 minutes of open play, Rodrigo Moreno provided the first real sign of creative, attacking football from Spain. Great save from Akinfeev to keep Russia on course for a stalemate.
Another attack from Spain and the Russian players on the bench encouraged the fans to make more noise. The extra man echoed around the stadium.
In the 24th minute of extra-time, VAR was called in to look at a holding in the Russian area. Appeal turned down. Close call and then the heavens opened.
PENALTIES - Russian Roulette.
First time ever penalty shootout for the Russians.
Andres Iniesta - Scored, down the middle. 1:0
Fyodor Smolov - A kiss for the ball then planted just above de Gea. 1:1
Gerard Pique - Hits post on the way in. 2:1
Sergei Ignashevich - Easy. 2:2
Koke - Saved by Igor Akinfeev. 2:2
Aleksandr Golovin - Scored, through de Gea. 2:3
Sergio Ramos - Stuttered on the run up, and scored. 3:3
Dmitry Cheryshev - Lived in Spain since he was 5 years old. Scored. 3:4
Iago Aspas - Long delay. Iniesta couldn't watch. Saved. Spain are out.
Friday, 6th July

Uruguay vs France

in Nizhny Novgorod (0:2)
Uruguay couldn't muster enough creative spark to pull back France and take the game into extra-time.
Saturday, 7th July

Russia vs Croatia
in Sochi (2:2 aet 3:4p ens)
Russia did well to reach the quarter-finals and were very close to meeting England in the semi-final.
Russia 2018 World Cup Groups
Group A - Group B - Group C - Group D - Group E - Group F - Group G - Group H.
Uruguay 1930:
Uruguay trailed Argentina at half-time (1:2) but replied with three goals in the second half; to win the first ever World Cup Final (4-2) on July 30th, 1930.
Italy 1934:
Italy were one of the countries who missed out on the vote to host the first World Cup but managed to win the prestigious golden trophy for the home fans.
France 1938:
The third World Cup was held in Europe for a second time, although Germany had annexed Austria, and Spain was in civil turmoil.
Brazil 1950:
Although no cup-final as such, Uruguay and Brazil went into their final game with the winner guaranteed to be champions; a draw would be enough for Brazil.
Switzerland 1954:
The fifth World Cup tournament produced a record number of goals, including a 7:5 encounter between Austria and Switzerland in Lausanne.
Sweden 1958:
Brazil presented a 17 year-old Pele to the world; who went on to claim a hat-trick in Brazil's 5:2 semi-final win over France and bag another two in the final.
Chile 1962:
Czechoslovakia overcame Hungary in the quarter-finals and Yugoslavia in the semis, while Brazil took care of England and the host nation, Chile.
England 1966:
Geoff Hurst scored a hat-trick, in the final against West Germany, as England triumphed in a thrilling game watched by Her Majesty, Queen Elizabeth II.
Mexico 1970:
1970 belonged to Pelé, who earned his third World Cup winners' medal when Brazil got their hands on the Jules Rimet Cup.... for keeps.
W. Germany 1974:
Johan Cruyff was the player of the tournament as total football became the buzzword of the day, even though Holland lost to West Germany in the 1974 final.
Argentina 1978:
Holland contested the 1978 World Cup Final, in Argentina, for the second time in a row. As in West Germany, they again finished runners-up; to the hosts.
Spain 1982:
The Spain 82 World Cup finals increased to 24 teams and the format was changed to have two group stages, with four second-round groups of three.
Mexico 1986:
In 1986, Mexico became the first nation to stage the World Cup Finals for a second time; having only staged the competition sixteen years previously.
Italy 1990:
In 1990, Italy became the World Cup of stalemates. Both semi-finals were drawn out through penalty kicks. In the final itself, the only goal came from the spot.
USA 1994:
Once Team US had played a few games most of the nation began to understand they were hosting the greatest show on earth and how the game was played.
France 1998:
France became the sixth nation to win the World Cup on home soil. Thirty-two teams competed in the 16th World Cup; better known as France 98.
Korea-Japan 2002:
The 17th World Cup, held in Korea and Japan, was the first World Cup finals to be shared by two hosts and the first to be held in Asia.
Germany 2006:
The 2006 World Cup Finals ran from 9th June to 9th July; the opening match in Munich and the final in Berlin. Munich and Dortmund hosted the semi-finals.
South Africa 2010:
Eighty years after the First World Cup Finals in Uruguay, the world's most prestigious football competition was finally hosted on the African continent.
Brazil 2014:
Five times World Cup Champions, Brazil, get a second chance to hold the prestigious World Cup Finals; 64 years after they last hosted the tournament.
Russia 2018:
VAR made its World Cup debut and set out to change the course of a game with some crucial rule infringement watching and vital on the spot decisions.
Qatar 2022:
When FIFA executives met in Zurich to decide on who would host the 2018 and 2022 World Cup Finals, Qatar was probably the biggest surprise to many.
United 2026:
The 2026 FIFA World Cup Finals will be jointly hosted by Canada, Mexico and the United States. The United Bid won the hosting rights ahead of Morocco.
Travel Notes Online Guide to Travel
The Travel Notes Online Guide to Travel helps visitors plan their trip with country and city travel guides, local tourist information, reviewed web sites, and regular travel articles.

Join Michel on Meta-Travel.
Airlines and Airports.

Add a Business Listing - Add a Destination - Add a Place to Stay - Add URL.


If you find Travel Notes useful, please take a moment to like us on Facebook and share with your friends on social media.