Kazan, Russia by Timur Romanov on Unsplash.
Travel Notes: Europe - Russia Travel Notes - Updated 16 July, 2023.


Short URL: https://tnot.es/RU
Russia Travel and Tourism on Travel Notes
Find Russia Travel and Tourist Information with links to official travel and tourism websites and state resources for visitors to Russia.
About Russia
From the bustling cities of Moscow and St. Petersburg to its beautiful countryside and wilderness areas, Russia is a vast and diverse country with much to explore.
Countries neighbouring Russia: Norway, Finland, Estonia, Latvia, Belarus, Ukraine, Kazakhstan, Mongolia, China, North Korea and Alaska, USA; across the Bering Straight.
Map of Russia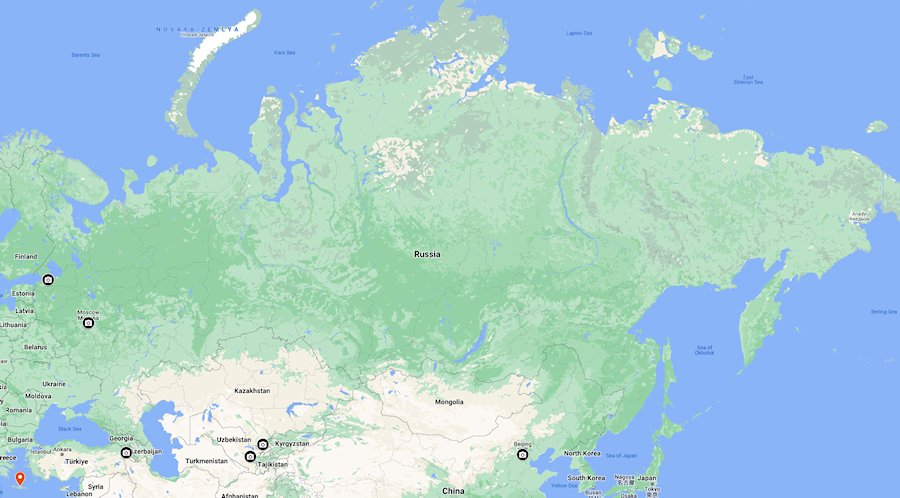 Russia, or the Russian Federation as it's officially known, is by far the largest country in the world - covering more than one ninth of the Earth's land area.
Russia Travel Pics
On Arbatskaya, the main pedestrian street in Moscow, the red flag is a tourist commodity worthy of currency, along with other Lenin memorabilia and former soviet uniforms, Russian dolls, tin-badges and revolution-era cameras.

Turn back the clock with this piece of Soviet Memorabilia.
This original Soviet clock can only be purchased in the Sovietski Store.
From Russia With Love:
The thawing of attitude saw people of St. Petersburg and Moscow take to the streets; Lenin statues fell and individual traders sprouted up like new shoots in the spring.
Embassies in Moscow
British Embassy in Moscow:
Smolenskaya Naberezhnaya 10, 121099 Moscow, Russia.
Federal Agency for Tourism
The Federal Agency for Tourism (Rostourism) was a federal executive body of the Russian Federation, created by Presidential Decree No. 1453 of November 18, 2004 and dissolved on October 20, 2022. Its functions were reportedly delegated to the Ministry of Economic Development.
Inbound Tourism
Founded in 1929, Intourist remains the leading company in the inbound tourism market in Russia.
International Russian Travel Market
Held in Moscow each year, OTDYKH Travel Market is Russia's leading travel and tourism event.
Since 1995 OTDYKH is the must attend event for travel professionals interested in Russia.
Held in September, before it gets too cold in Moscow, the offers the best time and place to negotiate with Russian partners about winter programmes and pre-sell summer packages.
Ministry of Culture
The Ministry of Culture of the Russian Federation is the federal executive body which deals with culture and arts issues.
Russian Convention Bureau
The Russian Federation offers a huge range of opportunities for business and cultural events organisation.
The Russian Convention Bureau was established in November 2017 with the support of the Government of the Russian Federation for the effective development of the country's event industry, integration into the global meeting industry
Russian National Tourist Office
Based in New York, the Russian National Group represents the Russian National Tourist Office and Russian Association of Travel Agencies in the United States.
As such, RNG provides a full range of travel and travel related services through professional and reliable ground operators in Mother Russia.
Visit Russia
The Visit Russia website is run by a private travel company, Optima travel, headquartered in Saint Petersburg, Russia.
For those interested in actually visiting Russia, suggested tours are then promoted on their Russia Tours website.
The Trans-Siberian Handbook:
The must-have guide for travellers contemplating travelling overland through Russia by train.
Getting a Russian Visa
All foreign nationals are required to have an entry visa to visit the Russian Federation.
At a Meeting of the State Council Presidium on Tourism Development on September 6th, 2022, where development of the national tourism industry in current conditions was discussed, Russian President Vladimir Putin again toyed with the idea that visa-free travel to Russia be looked into.
The Embassy of the Russian Federation to the United Kingdom of Great Britain and Northern Ireland is located at 6/7 Kensington Palace Gardens, London. The Residence of the Ambassador is at number 13 and the Consular Section at 5 Kensington Palace Gardens.
The Russian Visa Application Center in London is located at Suite 203 – 205, Second floor, Davina House, 137-149 Goswell Road.
Some foreign nationals may be able to schedule an appointment online, depending on where they live.
The Ministry of Foreign Affairs of the Russian Federation Consular department may or may not be issuing unified e-visas.
Visa House has been working in the field of Russian visas since 1993.
Russia in Transit
If you are transiting through Moscow Sheremetyevo airport, you may also purchase a visa at the airport, to visit Red Square and The Kremlim while you wait for your connecting flight. And believe me, there can be some very long waits.
If you're staying in Russia for more than 3 days, you'll need to register your visa through your hotel or sponsor.
For those travelling to a number of Russian cities, all points of entry and all itinerary stops in Russia need to be printed on the visa.
It's also a good idea to make photocopies of your passport and visa and carry them with you at all times.
Travel Advice to Russia
The British Government's travel advice for British citizens planning a visit to Russia.
Russian Customs Regulations
You need to fill out a customs declaration upon arrival in Russia with the amount of currency brought into the country declared and all valuable items listed (including your mobile phone).
Make sure that the declaration is officially stamped by customs officers on entry, to prevent difficulties in taking currency and valuables out.
Russian Consulates:
Listings of Russian Consulates around the world.
Russian Phrasebook:
You're in Russia. Chances are you'll have to stand in line at least once. With this book in hand, this potentially dreary experience could become a social event. Talk politics, meet the love of your life or simply ask where the toilets are.
Russia Today:
English-language news channel based in Moscow.
Russian Visa Guide:
It is possible to arrange your own Russian visa. In practice, however, most travellers choose to hire a professional visa travel agency to do the groundwork. For an extra $30-$70, agencies will prepare, proof-read, and submit your paperwork to a consulate on your behalf and mail your passport along with Russian visa back.
Russian Folk Show
Enjoy an exotic Russian folk show in the former Ballroom of the Nikolayevsky Palace. Featuring the best folk companies in St. Petersburg with delicious Russian appetisers served in the intermission.
The State Hermitage Museum occupies six magnificent buildings situated along the embankment of the River Neva, right in the heart of St. Petersburg.
The Hermitage collections of works of art (over 3,000,000 items) present the development of the world culture and art from the Stone Age to the 20th century.
One of the largest and oldest museums in the world, the State Hermitage in Saint Petersburg was founded by Catherine the Great, in 1764, and has been open to the public since 1852.
Although badly damaged by fire in 1837, the original plans from architect Francesco Bartolomeo Rastrelli were used for the reconstruction of this grand state entrance.
The Jordan Staircase of the Winter Palace leads up to the exhibition rooms.
Pulkovo/Rossiya
Passengers travelling through St. Petersburg, on Rossiya flights, get a free hotel stay if their connecting flight is the following day or they have more than a six hour wait.
Pulkovo Airport has two air terminals: Pulkovo-1 for domestic and charter flights; and Pulkovo-2 for international flights.
Park Inn Pulkovskaya Hotel:
The hotel is situated close to the Moskovskaya metro station, in one of the most beautiful St. Petersburg districts. Only 10 minutes, free shuttles can also whisk you into the city within 20 minutes. The hotel is especially convenient for guests planning to visit the famous royal estates: Peterhof, Pushkin, Pavlovsk and the residence of the Russian President - Constantinovsky Palace.
Rossiya Airlines:
The regional airline of St Petersburg operates charter flights to some 86 cities abroad and 35 cities within Russia.
Tit For Tat Diplomacy
The British Consulate in St Petersburg was shut down by Russia on 17th March, 2018; in retaliation for Britain's expulsion of Russian diplomats, after a nerve agent attack in Salisbury, suspected to have been curried out under Russian orders.
Russia and the UK:
News relating to the special relationship between Russia and the United Kingdom.
Known as 'the country of lakes' Karelia is located along Russia's border with Finland.
Petrozavodsk, the capital city of Karelia, can be reached by overnight train from Saint Petersburg; leaving around 10pm and arriving in Petrozavodsk around 7am.
Karelia Tourism
The Tourist Information Centre of Karelia is located at Kuibysheva Street 5, in Petrozavodsk.
Around Karelia
The Republic of Karelia consists of 16 metropolitan regions and two urban districts, with 808 inhabited localities.
Belomorsky, Kalevalsky, Kemsky, Kondopozhsky, Kostomuksha, Lahdenpohsky, Louhsky, Medvezhegorsky, Muezersky, Olonetsky, Petrozavodsk, Pitkyarantsky, Prionezhsky, Pryazhinsky, Pudozhsky, Segezhsky, Sortavala, Suojarvsky.
The Ural Mountains are stuffed with gems and precious stones.
You can buy fantastic handmade jewellery and souvenirs in Ekaterinberg: malachite, garnet, turquoise and jasper made into colourful, sparkling rings, necklaces, key chains and jewellery boxes.
Ekaterinberg
Founded in 1723 by Tzar Peter the Great (and named after his wife, Catherine), Ekaterinburg (Yekaterinburg) is the third largest Russian city, administrative centre of Sverdlovsk oblast and the capital of the Urals.
The city witnessed the death of monarchy in Russia, as it was in Ekaterinburg that the last Russian tsar, Nicholas II and his family was assassinated; in Ipatiev house by the Bolsheviks on July 16, 1918.
When Josef Stalin ruled the Soviet Union, Ekaterinburg became the largest passing point for the so called political criminals, who were sent to develop the lands of Siberia and the Far East; the inhuman work was another name for a death sentence.
There are many outstanding historical monuments in the area. Maybe take a one-day tour to Verkhoturje - a truly amazing village not far from Ekaterinburg, where you can see the most beautiful churches in Russia and listen to stunning legends about the famous ancient monastery.
Ural Airlines:
Located at Sputnikov str., 6 in Ekaterinburg.
Tel: +7 /3432/ 242-850, 266-789
Fax: +7 /3432/ 266-416
Information phone +7 /3432/ 268-845.
Driving Across Siberia - Vladivostok to Moscow
The 10,000 kilometre road journey is probably best taken from west to east, as the most arduous part of the journey is undertaken first and the vehicle's resale value is higher in Moscow.
Belgorod
Visit Belgorod - the Golden Gate of Southern Russia - to find old Orthodox cathedrals, cloisters, and buildings that witnessed the steps of Peter the Great and other Russian historical figures. View the unique Russian landscapes and memorials commemorating historical events from the ancient ages to the biggest tank battle that took place near the village of Prokhorovka, in 1943.
Discover the wonders of Lake Baikal in the Republic of Buryatia, on the Russian-Mongolian border.
Cruising To Russia
Cruising The Baltics:
Enjoy a cruise of Russia, the Baltic States and Scandinavia.
Russia Travel Guides - Russia Maps.
Weather in Europe:
Local weather forecasts for destinations around Europe.
Travel Notes Online Guide to Travel
Africa - Asia - Caribbean - Europe - Middle East - North America - Oceania - South America.

The Travel Notes Online Guide to Travel helps visitors plan their trip with country and city travel guides, local tourist information, reviewed web sites, and regular travel articles.
San Marino.
Travel and Tourism Guides on Travel Notes
If Travel Notes has helped you, please take a moment to like us on Facebook and share with your friends on social media.


Travel & Tourism With Industry Professionals.