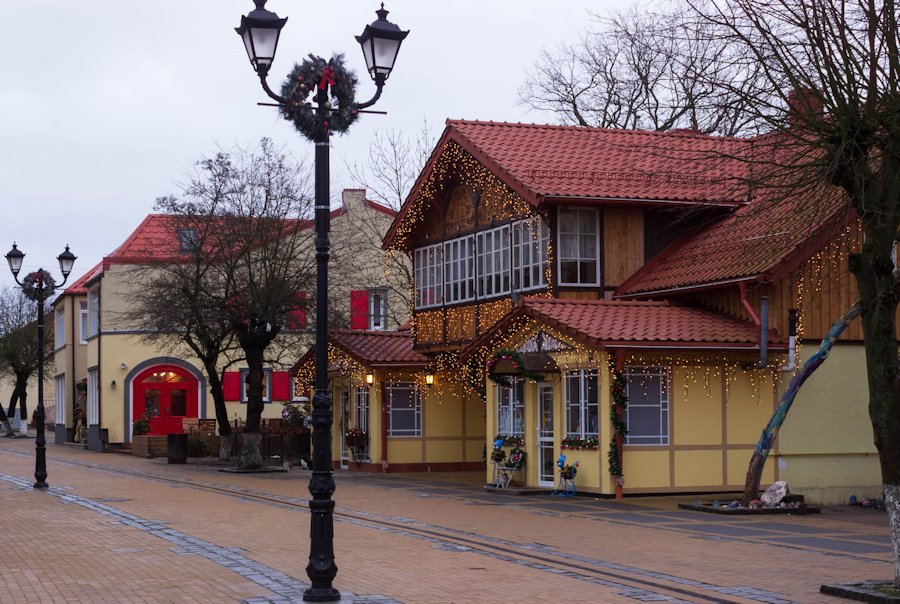 Kaliningrad, Russia by Andrey Vavilkin on Unsplash.
Football Index: World Cup Finals: Russia 2018: Group E.
Coverage of Group E matches during the 2018 World Cup Finals in Russia between Brazil, Costa Rica, Serbia and Switzerland.
Brazil

3

2
1

0

5/1
+4
7
Switzerland
3
1
2

0

5/4
+1
5
Serbia
3
1

1

1
2/4
-2
3
Costa Rica
3
0

1

2
2/5

-3

1
Group E Games
Sunday, 17th June

Brazil vs Switzerland

in Rostov-on-Don (1:1)
Philippe Coutinho gave Brazil the lead in the 20th minute.
Half-time: Brazil 1 - Switzerland 0
Steven Zuber levelled for Switzerland in the 50th minute to earn a point against Brazil.

Costa Rica vs Serbia
in Samara (0:1)
The first-half began at a frantic pace but ended on a more relaxed note.
Serbia made their physical presence felt early in the game but failed to impress with their footballing talent even though they appeared to have more of the possession; although a spectacular overhead kick by Serbia's Sergej Milinkovic-Savic almost changed that, just before half-time.
For the most part, Costa Rica looked a little niftier of foot on their forays forward.
Half-time: Costa Rica 0 - Serbia 0
Aleksandar Mitrovic had a great chance to put Serbia ahead, early in the second-half, but side-footed the ball at Navas' knee.
Aleksandar Kolarov then powered in a left-foot curler, from a free-kick out on the right wing, in the 56th minute.
VAR delayed the game deep in stoppage time as an incident on the touchline needed to be checked for infringements; not once, but twice.
Friday, 22nd June

Brazil vs Costa Rica

in St Petersburg (2:0)
Brazil vs. Costa Rica in St Petersburg looked as though it was going to be the first game of the tournament without a goal.
Plenty of play-acting and cheating going on, how these players can watch themselves on the highlights must be embarrassing.
The referee called a penalty wrong, then overturned it after watching the show again on the video monitor; and denied Neymar the penalty.
Brazil left it late, as Philippe Coutinho ran in to the area to toe-poke the ball into the net during stoppage time.
Neymar added Brazil's second, just before the final whistle, to make the end result look a little more respectable.
Costa Rica are eliminated.
Serbia vs Switzerland

in Kaliningrad (1:2)
From a Dusan Tadic cross on the right, Aleksandar Mitrovic headed Serbia ahead in the fifth minute, having come close just a minute or two earlier.
Serbia continued to attack the Swiss goal and should have gone in to the break at least two goals ahead.
Switzerland tried to slow the game down but never real showed the desire to get level; although they did create a couple of chances.
Some good leg-grabbing going on though.
Half-time: Serbia 1 - Switzerland 0
Seven minutes into the second-half and Switzerland were back on level terms; after a quick break on the left, some action in the box, a block by Kolorav and a swerving foot to net rocket lauched by Granit Xhaka of Arsenal.
VAR missed a call for a Serbian penalty; a full on rugby tackle by two Swiss players, a la Harry Kane.
Xherdan Shaqiri won the game for Switzerland in the 90th minute, with a break away from the halfway line.
A much better second-half by far; Switzerland a completely different team - full of desire.
Wednesday, 27th June
Serbia vs Brazil

in Moscow Spartak (0:2)
Brazil gave their fans what they wanted; a ticket to a Second Round match-up with Mexico in Samara, thanks to a Paulinho lob in the 36th minute and a powerful Thiago Silva header from a Neymar corner in the 68th.

Switzerland vs Costa Rica

in Nizhny Novgorod (2:2)
Costa Rica were already out but they made a game of it against Switzerland; to pick up a World Cup Finals point, by twice coming from behind to level the score.
Monday, 2nd July

Brazil vs Mexico
in Samara (2:0)
An energetic start to the game with Mexico having the early advantage, then Brazil upped a gear after the twentieth minute.
Mexico were equal to Brazil; the sombreros keeping samba football in the shade for good parts of the first-half, although the heat and humidity in Samara could soon take it's toll.
Half-time: Brazil 0 - Mexico 0
Rafael Marquez, probably showing his age, didn't come out for the second-half.
Some lazy defending from Mexico forced Guillermo Ochoa to make a save from Philippe Coutinho, just after the break.
Then, in the 51st minute, Brazil caught Mexico having a siesta; a sweet back-heel released Willian down the left. The Chelsea midfielder drove the ball low towards the far post and of the two players sliding in, it was Neymar's outstretched leg that connected with the ball to stud it over the line.
Just over an hour played and Mexico were keen to get back on level terms; forcing a corner.
Then the sucker punch for a tiring Mexico; as Neymar toe-poked square to substitute Roberto Firminho for a simple tap-in, two minutes from time.
With six minutes added on, Mexico made a light effort to at least pull one goal back; but it was not to be. A seventh consecutive quarter-final for Brazil, and a seventh consecutive last sixteen exit for Mexico.
Tuesday, 3rd July

Sweden vs Switzerland

in St Petersburg (1:0)
One team had to win, and it wasn't Switzerland.
Friday, 6th July

Brazil vs Belgium

in Kazan (1:2)
When Brazil dropped out, the 2018 World Cup became a soley European affair.
Russia 2018 World Cup Groups
Group A - Group B - Group C - Group D - Group E - Group F - Group G - Group H.
Uruguay 1930:
Uruguay trailed Argentina at half-time (1:2) but replied with three goals in the second half; to win the first ever World Cup Final (4-2) on July 30th, 1930.
Italy 1934:
Italy were one of the countries who missed out on the vote to host the first World Cup but managed to win the prestigious golden trophy for the home fans.
France 1938:
The third World Cup was held in Europe for a second time, although Germany had annexed Austria, and Spain was in civil turmoil.
Brazil 1950:
Although no cup-final as such, Uruguay and Brazil went into their final game with the winner guaranteed to be champions; a draw would be enough for Brazil.
Switzerland 1954:
The fifth World Cup tournament produced a record number of goals, including a 7:5 encounter between Austria and Switzerland in Lausanne.
Sweden 1958:
Brazil presented a 17 year-old Pele to the world; who went on to claim a hat-trick in Brazil's 5:2 semi-final win over France and bag another two in the final.
Chile 1962:
Czechoslovakia overcame Hungary in the quarter-finals and Yugoslavia in the semis, while Brazil took care of England and the host nation, Chile.
England 1966:
Geoff Hurst scored a hat-trick, in the final against West Germany, as England triumphed in a thrilling game watched by Her Majesty, Queen Elizabeth II.
Mexico 1970:
1970 belonged to Pelé, who earned his third World Cup winners' medal when Brazil got their hands on the Jules Rimet Cup.... for keeps.
W. Germany 1974:
Johan Cruyff was the player of the tournament as total football became the buzzword of the day, even though Holland lost to West Germany in the 1974 final.
Argentina 1978:
Holland contested the 1978 World Cup Final, in Argentina, for the second time in a row. As in West Germany, they again finished runners-up; to the hosts.
Spain 1982:
The Spain 82 World Cup finals increased to 24 teams and the format was changed to have two group stages, with four second-round groups of three.
Mexico 1986:
In 1986, Mexico became the first nation to stage the World Cup Finals for a second time; having only staged the competition sixteen years previously.
Italy 1990:
In 1990, Italy became the World Cup of stalemates. Both semi-finals were drawn out through penalty kicks. In the final itself, the only goal came from the spot.
USA 1994:
Once Team US had played a few games most of the nation began to understand they were hosting the greatest show on earth and how the game was played.
France 1998:
France became the sixth nation to win the World Cup on home soil. Thirty-two teams competed in the 16th World Cup; better known as France 98.
Korea-Japan 2002:
The 17th World Cup, held in Korea and Japan, was the first World Cup finals to be shared by two hosts and the first to be held in Asia.
Germany 2006:
The 2006 World Cup Finals ran from 9th June to 9th July; the opening match in Munich and the final in Berlin. Munich and Dortmund hosted the semi-finals.
South Africa 2010:
Eighty years after the First World Cup Finals in Uruguay, the world's most prestigious football competition was finally hosted on the African continent.
Brazil 2014:
Five times World Cup Champions, Brazil, get a second chance to hold the prestigious World Cup Finals; 64 years after they last hosted the tournament.
Russia 2018:
VAR made its World Cup debut and set out to change the course of a game with some crucial rule infringement watching and vital on the spot decisions.
Qatar 2022:
When FIFA executives met in Zurich to decide on who would host the 2018 and 2022 World Cup Finals, Qatar was probably the biggest surprise to many.
United 2026:
The 2026 FIFA World Cup Finals will be jointly hosted by Canada, Mexico and the United States. The United Bid won the hosting rights ahead of Morocco.
Travel Notes Online Guide to Travel
The Travel Notes Online Guide to Travel helps visitors plan their trip with country and city travel guides, local tourist information, reviewed web sites, and regular travel articles.

Join Michel on Meta-Travel.
Airlines and Airports.

Add a Business Listing - Add a Destination - Add a Place to Stay - Add URL.


If you find Travel Notes useful, please take a moment to like us on Facebook and share with your friends on social media.