Dubrovnik, Croatia by Ivan Ivankovic on Unsplash.
Travel Notes: Europe - Croatia Travel Notes.
Short URL: https://tnot.es/HR
Croatia Travel and Tourism on Travel Notes
Find Croatia Travel and Tourist Information with links to official travel and tourism websites and state resources for visitors to Croatia.
About Croatia
Croatia is a beautiful country with a rich history and culture that makes it a popular tourist destination.
Some of the top destinations for first-time visitors to Croatia include the islands of Brac, Hvar, and Korcula, the walled medieval city of Dubrovnik, and the stunning Plitvice Lakes National Park.
Countries neighbouring Croatia: Slovenia, Hungary, Serbia, Bosnia and Montenegro.
Driving Distances in Europe
Driving From Dubrovnik - Driving From Rijeka - Driving From Zagreb.
Map of Croatia
Croatia is bordered by Slovenia to the north-west, Hungary to the north-east, Serbia to the east, Bosnia and Herzegovina to the south-east, Montenegro to the south, and the Adriatic Sea to the west.
Croatia (Hrvatska) is a country located in south-east Europe.
Economy
Croatia has a diverse economy, with industries ranging from tourism and agriculture to manufacturing and technology.
The country has also made significant strides in recent years in terms of infrastructure development and innovation.
Landscape
Croatia has a diverse landscape that includes the Dinaric Alps mountain range, forests, plains, and coastline along the Adriatic Sea.
The capital and largest city of Croatia is Zagreb.
Language and Customs
The official language of Croatia is Croatian, and the country has a population of approximately 4 million people.
Croatians are known for their hospitality and warmth, and traditional customs.
Festivals such as the Dubrovnik Summer Festival and the Sinjska Alka remain an important part of Croatian culture.
Rich History
Croatia has a rich history and culture, with influences from the ancient Illyrian tribes, the Roman Empire, the Byzantine Empire, and the Venetian Republic.
The country has also been shaped by the Austro-Hungarian Empire, which ruled over Croatia for much of the 19th and early 20th centuries, and by Yugoslavia.
On June 25th, 1991, Croatia declared its independence from the Socialist Federal Republic of Yugoslavia.
Serbian Conflict
Civil war broke out in the republic as ethnic Serbs, backed by the federal Yugoslav People's Army (JNA), battled with the Croats for territory.
Tourists Return
Tourists have long returned to the Adriatic Coast of Croatia; and what a beautiful coast it is too.
Travelling The Croatian Coast Road
Croatia is known for its beautiful coastline, which stretches along the Adriatic Sea and includes over a thousand islands.
Popular destinations include Dubrovnik, Split, and Hvar.
The country is also home to numerous national parks, such as Plitvice Lakes National Park and Krka National Park.
The coastal road is very windy and does get crowded in high season.
To enjoy the Croatian coastline at it's best, try and plan a drive along the rocky coast before the peak season of July and August.
The Croatian Adriatic coast is one of the world's most friendliest naturist destinations - with the first naturist beach opened on the island of Rab, in 1934.
Tourists visit Croatia for its stunning coastline, crystal-clear waters, historic cities, and national parks.
Visit Croatia
If you're planning to visit Croatia, you won't be disappointed.
Destination Management Companies in Croatia.
Now firmly back on the tourist map, Croatia offers visitors the choice of some of Europe's finest coastal and mountain scenery as well as historic and vibrant cities such as Dubrovnik, Zadar and Zagreb.
Whether you're interested in history, nature, food, or just soaking up the sun on a beautiful beach, Croatia is definitely worth a visit.
Croatia on a Budget
If you're travelling around Croatia on a budget there are plenty of private apartments and rooms along the coast that are inexpensive, clean, good quality and a great way to meet the locals.
Some of the places are even above restaurants; for good value seafood and other traditional Croatian dishes.
Croatia Island Hopping
Croatia has over a thousand islands, each with its own unique character and charm.
Some of the most popular islands to visit include Hvar, Brac, and Korcula.
Discover Old Dubrovnik
Dubrovnik is an historic port with impressive city walls located on the southern coast of Croatia
Its beautiful old town is an UNESCO World Heritage Site.
Take the cable car up to the top of Mount Srd for breathtaking views of the city and the Adriatic Sea.
Explore the Istrian Peninsula
The Istrian peninsula is a region located in the northwest corner of Croatia, known for its picturesque towns, stunning coastline, and delicious food and wine.
Some of the top attractions in Istria include the Roman amphitheater in Pula, the hilltop town of Motovun, and the Brijuni Islands.
Relax on Croatia's Beaches
Croatia has some of the most beautiful beaches in Europe, with crystal-clear waters and stunning scenery.
Some of the best beaches to visit include Zlatni Rat, Punta Rata, and Banje Beach.
Try Croatian Cuisine
Croatian cuisine is a mix of Mediterranean and Central European influences, with plenty of fresh seafood, grilled meats, and delicious pastries to try.
Be sure to sample traditional dishes like cevapi, burek, black risotto, and of course the octopus salad.
Visit the City of Split
Split is a vibrant city located on the central coast of Croatia.
It's known for its historic old town, which is home to the UNESCO-listed Diocletian's Palace, as well as its beaches, nightlife, and museums.
Walk Around Plitvice Lakes National Park
Plitvice Lakes National Park is an UNESCO World Heritage Site and one of Croatia's most popular attractions.
It's known for its cascading waterfalls and crystal-clear lakes, which are connected by a series of wooden footbridges and hiking trails.
Beaches of Croatia
Croatia's main tourist attraction has always been its coastal beaches.
The Adriatic coast and islands are lined with amazing beaches, abounding in natural harbours, with its countless bays, ports and marinas.
Croatian Counties
Bjelovar and Bilogora - Brod and Posavina - City of Zagreb - Dubrovnik and Neretva - Istria - Karlovac - Koprivnica and Križevci - Krapina and Zagorje - Lika and Senje - Međimurje - Osijek and Baranja - Požega and Slavonija - Primorje and Gorski Kotar - Šibenik and Knin - Sisak and Moslavina - Split and Dalmatia - Varaždin - Virovitica and Podravina - Vukovar and Srijem - Zadar - Zagreb County.
Croatia Tourism:
Find out more about the top tourist destinations in Croatia, from the Croatia National Tourist Board.
Croatia Traveller:
A complete guide to planning a holiday in Croatia including sightseeing, transportation and accommodation by Jeanne Oliver.
Dubrovnik-Neretva County
Known for its fascinating landscapes, mild climate and interesting smaller settlements, the Dubrovnik coastal region is now marketed as the Dubrovnik Riviera.
Dubrovnik
The city of Dubrovnik is situated in the very south of the Republic of Croatia, surrounded by a group of islands known as the Elaphite archipelago.
A world heritage site, Dubrovnik is definitely worth a visit. Walk around the walls of the old city and think of all the history that's passed through her narrow streets.
If you're in the area from around July 10th to August 25th, you'll be treated to numerous street performances as part of the Dubrovnik Summer Festival.
Korcula
Korčula is a fortified town on the protected east coast of the island of Korčula.
Lastovo
Lastovo, once a part of the Dubrovnik Republic, is situated south of the island of Korčula.
Mljet
Mljet is the first large island we come upon while sailing in Croatian waters the from the southeast.
The Island of Mljet has a daily ferry connection with Dubrovnik and in the summer, with the Islands of Korčula and Lastovo.
Pelješac Peninsula
Ston was one of the most important towns in the Dubrovnik Republic.
Novalja - Island of Pag
Located on the island of Pag, Novalja is famous for its wonderful beaches.
Ferries run from Prizna to the island of Pag, or you can travel by land via the Pag bridge.
Buses link Novalja with Rijeka, Zagreb and Split.
Rab
A typical day on The Island of Rab starts with a healty breakfast before going to the beach and enjoying the sun and sea; followed by a light lunch and a nice nap in the shade of pine trees. Of course, some people prefer to bike, hike, and even kayak around the island.
Split-Dalmatia County
Split-Dalmatia County is the largest county in Croatia.
Enjoy the Croatian coast from Zadar to Dubrovnik.
Split
Located on the Adriatic Coast, Split is the largest city in Dalmatia and second largest city in Croatia.
Many of Split's historical and cultural buildings can be found within the walls of Diocletian's Palace so it's a great place to start a walking tour of Split.
Zadar
Zadar has a nicer sunset than California - so said Alfred Hitchcock in 1964, thanks to its position on the East Adriatic.
Zadar Airport is located 8km from the city of Zadar.
Croatia Attractions
Map of Zagreb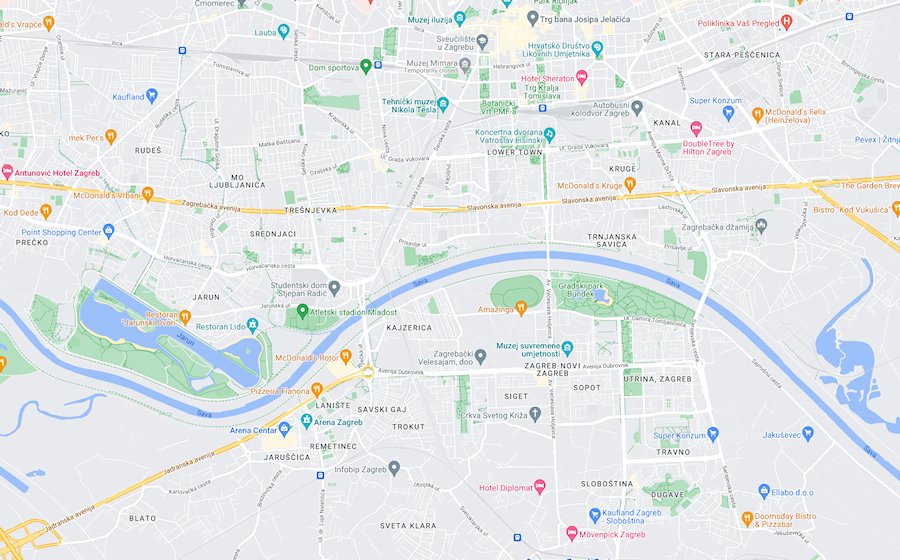 Experience the past and the present of Zagreb by passing through the streets of the Lower and Upper Town; by visiting the famous arcades and sculptures of Mirogoj Park Cemetery; by entering inside the Zagreb Cathedral; or by taking in the everyday lively atmosphere of Dolac Market.
Budget Hotels and Hostels in Croatia.
Croatian Villa Holidays:
Family run British/Croatian business founded by Laida and Nigel Nowell.
Cities in Croatia
Baska Voda, Biograd na Moru, Bol, Cavtat, Dubrovnik, Hvar, Makarska, Mali Losinj, Opatija, Osijek, Pag, Plitvicka Jezera, Pula, Rab, Rovinj, Sibenik, Split, Trogir, Tucepi, Zadar, Zagreb.
Even though there are four tenses in Croatian that express the past (perfect, pluperfect, imperfect, and aorist), only one is commonly used in everyday conversations. This is the perfect tense or 'perfekt' as it is called in Croatian.
How to Speak Croatian:
It's handy to get a few Croatian phrases under your belt before you travel to Croatia.
Croatia, the land of 1,000 islands, makes quite an impression with its beautiful coastline, fascinating national parks and Venetian-style harbour towns.
An Island Hopping tour by bike and boat is the ideal holiday for anyone wishing to stay close to the sea and explore the diverse regions of Croatia while staying active.
Unforgettable Croatia:
Croatia's largest luxury travel specialists with offices in the US, UK and an operations hub in Croatia.
Discover the Adriatic with affordable sailing trips from a growing number of departure points along the Croatian Coast.
The Dalmatian coast, with its many unspoilt islands and crystal clear waters, ranks high amongst the best cruising areas in the world.
ABA VELA Charter:
Renting bareboat sailing boats and charter yachts in Split since 1997.
Cruise Croatia:
One of the largest Croatia small ship cruises companies.
Croatia Travel Guides - Croatia Maps.
Weather in Europe:
Local weather forecasts for destinations around Europe.
Travel Notes Online Guide to Travel
Africa - Asia - Caribbean - Europe - Middle East - North America - Oceania - South America.

The Travel Notes Online Guide to Travel helps visitors plan their trip with country and city travel guides, local tourist information, reviewed web sites, and regular travel articles.
Travel and Tourism Guides on Travel Notes
Travel Professionals Based in Croatia.
If Travel Notes has helped you, please take a moment to like us on Facebook and share with your friends on social media.


Travel & Tourism With Industry Professionals.
Cyprus.