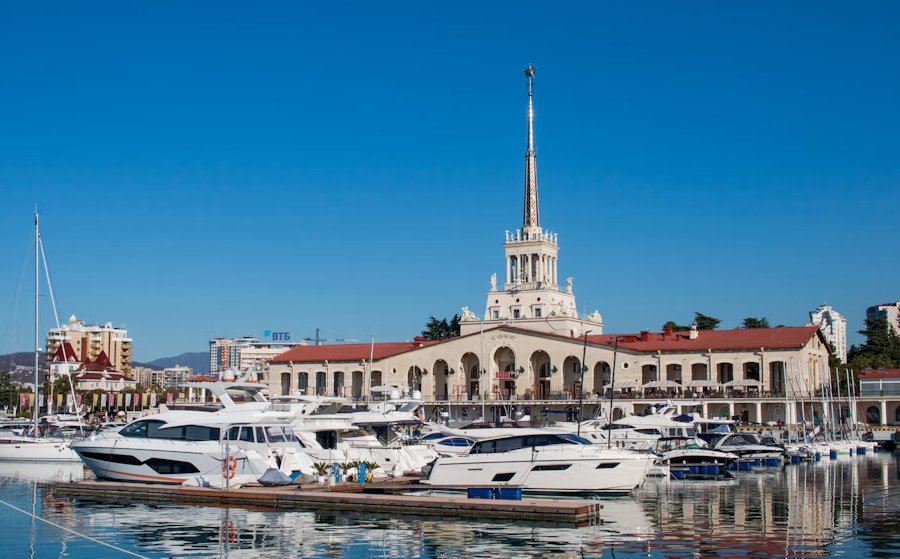 Sochi, Russia by Elina Sitnikova on Unsplash.
Football Index: World Cup Finals: Russia 2018: Group D.
Coverage of Group D matches during the 2018 World Cup Finals in Russia between Argentina, Croatia, Iceland, Nigeria.
Croatia
3
3

0

0
7/1

+6

9
Argentina

3

1
1

1

3/5
-2
4
Nigeria
3

1

0

2
3/4
-1
3
Iceland
3
0
1
2
2/5
-3
1
Group D Games
Saturday, 16th June

Argentina vs Iceland

in Moscow Spartak (1:1)
Argentina started by playing the ball around to get a feel for the roll of the grass; while frustrating Iceland into chasing shadows.
Messi then signalled for a new ball, before taking a free-kick.
But it wasn't all one-way traffic, as Iceland came close to taking the lead; with less than ten minutes on the clock.
Five minutes later, Iceland were again weaving themselves in and around the Argentina penalty area.
A little chance for Sergio Aguero was all Argentina needed; and the ball was in the back of the net, quicker than the Iceland fans could finish a thunderclap.
Within five minutes, Iceland were level. Willy Caballero palmed one shot away, only for Alfred Finnbogason to fire the ball back; through the legs of Nicolas Otamendi.
A first World Cup goal for Aguero and a World Cup first for Iceland too.
Half-time: Argentina 1 - Iceland 1
Iceland looked dangerous at the start of the second-half but failed to make their attacking raids count.
A tangle of legs, in the 63rd minute, resulted in a penalty decision for Argentina; although on closer inspection, the referee might have had to overule VAR.
Messi stepped up to take the penalty; but fillm director Hannes Thor Halldorsson hadn't read the script, and gave himself the starring role; correctly diving to his right, to make a double handed save.
Iceland held off Argentina's frantic push forward in the final minutes; even a last effort, Messi free-kick was thwarted by the Icelandic wall.
VAR aside, Iceland thoroughly deserved their first World Cup Finals point; and Messi will have to prove himself better than Ronaldo, another day.
Croatia vs Nigeria

in Kaliningrad (2:0)
Russia's little enclave on the Baltic Sea has the smallest arena of all the host cities in the 2018 World Cup.
There was little to divide the two sides in the first half-hour and it took a set piece to finally break the deadlock.
Ivan Perisic and Mario Mandzukic both flicked Luca Modric's 32nd minute corner on, before Oghenekaro Etebo turned the ball into his own net.
Half-time: Croatia 1 - Nigeria 0
Croatia doubled their lead after William Troost-Ekong brought down Mandzukic in the area, and captain Modric stepped up to convert the 71st-minute penalty.
No goal from open play in Kaliningrad, but Croatia ended the game on top of the group.
Thursday, 21st June

Argentina vs Croatia
in Nizhny Novgorod (0:3)
Messi vs Modric; if you believe the hype.
In reality, Ivan Perisic was the first to test Willy Caballero in the fourth minute.
For a good twenty five minutes, Croatia seemed to have the upper hand.
Then in the 27th minute, it was Sergio Aguero down the left for Argentina. Ensuing corner wasted.
A couple of minutes later and the Croatia defence was all over the place. Lucky for the Europeans, Enzo Perez shot wide of their empty goal.
A few minutes later, Mario Mandzukic headed wide at the other end.
Half-time: Argentina 0 - Croatia 0
Yet another defensive mistake - and Argentina were made to pay in the 53rd minute. Willy Caballero mistimed his kick on a back pass from Gabriel Mercado and chipped the ball high. Ante Rebic, eyes totally on the ball, volleyed the ball back, past the hapless Caballero.
Lionel Messi did not look happy; Luca Modric all smiles.
Messi tried to run through the wall of Croatian black shirts in the 62nd minute; Maradona it wasn't.
A minute later and Danijel Subasic was all knees to deny Meza and Messi in a goalmouth scramble; helped by Rakitic.
How a goal can add a sudden urgency to a game. Then Argentine nerves started to frazzle and players were kicked more than the ball.
Sensing a lack of team spirit in the Argentina camp, Croatia pushed on.
Ten minutes from time, Luca Modric called for the ball in the middle; touched it right; dummied to the left; pulled his body back to the right; and watched as the ball curled around Tagliafico on the rise, then dipped low to Caballero's left.
A fine save by Caballero was only palmed to the black shirt of Mateo Kovacic. The ball was squared back to Rakitic, who just had to choose his spot.
Croatia through to the Second Round. Argentina in trouble.
Friday, 22nd June

Nigeria vs Iceland

in Volgograd (2:0)
Time for some long throws, viking hats, and thunderclaps. Nigerian fans watch on with bemusement.
Other than that, not much doing; although Nigeria looked in danger just before the break.
This is the twelfth game to end goaless at half-time.
Half-time: Nigeria 0 - Iceland 0
Nigeria started a little more positive in the second-half.
Within four minutes of the re-start, the West Africans were in front. A quick break out of defence and Victor Moses was racing down the right. A cross in to Ahmed Musa, who flicked the ball up to bring it under control then hit it past Hannes Halldorsson on the half-volley.
Ragnar Sigurdsson received a knock on the head, as Musa turned to celebrate.
Musa hit the crossbar in the 74th minute; Iceland thawing out completely.
Within a minute, Ahmed Musa was back with a great solo effort running down the left with the ball at speed, and rounding Halldorsson with ease; before taking another touch just to pick his spot.
Referee made a visit to the monitor and gave a penalty to Iceland. But the normally ice cool Gylfi Sigurdsson took too long trying to get his mind right and melted under the pressure of a nation in the 83rd minute.
Croatia are through but the second qualificion spot from Group D is all to play for.
Tuesday, 26th June

Iceland vs Croatia
in Rostov-on-Don (1:2)
Milan Badelj opened the scoring for Croatia in the 53rd minute only for Gylfi Sigurdsson to reply for Iceland, from the penalty spot, in the 76th minute.
A draw wouldn't have been enough for Iceland, then Ivan Perisic made it three out of three for Croatia in the last minute of normal time.

Nigeria vs Argentina

in St Petersburg (1:2)
The whole of Argentina breathed a sigh of relief and Diego Maradona demonstrated how much he prayed from the stands when Lionel Messi opened his 2018 World Cup account within the first fifteen minutes of this crucial game against Nigeria.
Nigeria were back in the game with a Victor Moses penalty just after the break but Marcos Rojo gave Argentina plenty to cheer about just before the final whistle; another four minutes without scoring and Argentina would have been flying home.
Saturday, 30th June

France vs Argentina

in Kazan (4:3)
Messi failed to score in a World Cup Finals knockout game again.
Sunday, 1st July
Croatia vs Denmark

in Nizhny Novgorod (1:1aet 3:2pens)
Denmark were ahead from a long throw-in, inside the first minute; as Mathias Jorgensen's shot seemed to go in off the arm of floored goalkeeper, Danijel Subasic.
Croatia were right back in the game, with just four minutes on the clock; Mario Mandzukic making no mistake, when the chance fell at his feet.
Two scrappy goals in a furious first five minutes and then the game stuttered towards extra-time and penalties; two European teams cancelling each other out.
Corner in; header out; swift return towards the goal; keeper punts it back upfield.
Long throw; long boot out; back to goalkeeper. Of nineteen shots towards the opposition's goal, only five were on target in ninety minutes.
Thirty Minutes of Extra-Time.
A fourth substitution is now allowed in extra-time. Something needed to change.
Russian fans watching this must be fancying their chances in the quarter-finals.
The Croatian genius finally split the two full-backs with a perfect through ball for Ante Rebic to cruise in on goal.
Having rounded the goalkeeper, Mathias Jorgensen tackled Rebic from behind and a penalty was given.
Kasper Schmeichel saved the penalty from Luca Modric, with 26 minutes of extra-time on the clock to add another dramatic twist to Russia 2018.
PENALTIES - On The Spot.
The two goalkeepers, Danijel Subasic and Kasper Schmeichel, stood in the middle and had a few light-hearted words before getting down to business.
Kasper Schmeichel saved two penalties in the shootout, but Danijel Subasic saved three for Croatia.
Saturday, 7th July

Russia vs Croatia
in Sochi (2:2 aet 3:4 pens)
The match started positively.
A lively half-hour of football was crowned by a wonder strike from Denis Cheryshev; his left-foot screamer struck the back of the net to send the home fans wild. If the atmosphere was loud, it just got louder.
Eight minutes later the crowd was silenced, as Mario Mandzukic served the ball up for Andrej Kramaric to head Croatia level.
Half-time: Russia 1 - Croatia 1
Both teams needed to dig deep and find something special.
On the hour, Ivan Perisic saw his shot bounce back off the inside of the post then heard the Russian hearts beat again.
Perisic was then replaced by Marcelo Brozovic.
Denis Cheryshev soon followed; with Fedor Smolov taking his place.
Extra Time - Another tiring thirty minutes.
Danijel Subasic looked in trouble just before the ninetieth minute and when an extra substitution became available in extra-time, the Croatia goalkeeper elected to continue.
Many Russian players looked shattered and needed work on tired legs.
Eleven minutes into extra-time, Domagoj Vida headed in a Luca Modric corner to give Croatia hope of making the semi-finals for the first time since France 98.
The Croatian president, Madam Kolinda Grabar-Kitarovic looked rather ridiculous dancing with joy while the FIFA President and Russian Prime Minister sat diplomatically.
Into the second period of extra-time and Subasic had to make a double save from Alan Dzagoev's corner; eventually holding the ball to his chest from Daler Kuzyayev.
The whole of Russia held their breath and prayed in the 25th minute of extra-time when Alan Dzagoev floated in a free-kick from the right. Brazilian-born, Marion Fernandes rose highest to head Russia level.
Penalty Time Again.
Subabasic and Akinfeev both made penalty saves; then Marion Fernandes sent his spot kick wide; and Luca Modric saw his shot saved on to the post and then bounce in the net.
Croatia pulled it off by four penalties to three.
Wednesday, 11th July
Croatia vs England

in Moscow Luzhniki (2:1 aet)
The big test for both teams; the winner to play France in the 2018 World Cup Final.
Although the game looked like it started slowly, England were ahead inside five minutes, after Croatia conceded a free-kick just outside the penalty area; Dele Alli taking the tumble at the feet of Luka Modric.
Kieran Trippier took the free-kick, lifting the ball over the wall with pace; then then it curled and dipped just under the bar, to leave Danijel Subasic stranded.
England continued to attack in search of a second goal. On the half-hour, Harry Kane really should have added to his goal tally; hitting a shot straight at Subasic while trying to put some curl on the ball.
Then Croatia applied some sustained pressure of their own; with an extra added scare just before the whistle.
Half-time: Croatia 0 - England 1
Shaky moments for England at the start of the second-half as a collective defensive effort was needed to block and stop Croatia's push for an equaliser.
It was a long time since the first goal was scored and Croatia sensed they had a chance to get back in the game.
Then it came. A switch of play out to the right, a cross from Sime Vrsaljko in to the box and Ivan Perisic lifted his boot high to meet the ball and stab it home.
Perisic then hit the post some four minutes later.
England started to look like the rubber chickens they played around with in training and Croatia sought to take advantage of the role changing.
England brought on Markus Rashford for Raheem Sterling in the 74th minute.
Jordan Pickford had to work overtime to keep England on course for extra-time.
England required a free-kick or corner; but to earn one, they needed to be in and around the Croatian area.
Another Thirty Minutes of Trial and Tribulation.
Danny Rose on for Ashley Young.
Corner for England in the ninth minute of extra-time. Trippier's ball was headed goalwards by John Stones; then headed off the line by Sime Vrsaljko.
Then Jordan Pickford had to be alert to get his foot in on the ball as Mario Mandzukic tried to attack the leather with the same intent.
Mario Mandzukic replied a few minutes later by putting the ball past the England goalkeeper after Ivan Perisic headed the ball forward.
The usual time wasting followed, but England can't complain; they had plenty of time to make a place in the Final theirs.
Sunday, 15th July:
2018 World Cup Final
Moscow Luzhniki:

France vs Croatia
(4:2)
1:0 (Mario Mandzukic, own goal, 18)
1:1 (Ivan Perisic, 28)
2:1 (Antoine Griezmann 38pen)
3:1 (Paul Pogba 59)
4:1 (Kylian Mbappe 65)
4:2 (Mario Mandzukic 69)
Russia 2018 World Cup Groups
Group A - Group B - Group C - Group D - Group E - Group F - Group G - Group H.
Uruguay 1930:
Uruguay trailed Argentina at half-time (1:2) but replied with three goals in the second half; to win the first ever World Cup Final (4-2) on July 30th, 1930.
Italy 1934:
Italy were one of the countries who missed out on the vote to host the first World Cup but managed to win the prestigious golden trophy for the home fans.
France 1938:
The third World Cup was held in Europe for a second time, although Germany had annexed Austria, and Spain was in civil turmoil.
Brazil 1950:
Although no cup-final as such, Uruguay and Brazil went into their final game with the winner guaranteed to be champions; a draw would be enough for Brazil.
Switzerland 1954:
The fifth World Cup tournament produced a record number of goals, including a 7:5 encounter between Austria and Switzerland in Lausanne.
Sweden 1958:
Brazil presented a 17 year-old Pele to the world; who went on to claim a hat-trick in Brazil's 5:2 semi-final win over France and bag another two in the final.
Chile 1962:
Czechoslovakia overcame Hungary in the quarter-finals and Yugoslavia in the semis, while Brazil took care of England and the host nation, Chile.
England 1966:
Geoff Hurst scored a hat-trick, in the final against West Germany, as England triumphed in a thrilling game watched by Her Majesty, Queen Elizabeth II.
Mexico 1970:
1970 belonged to Pelé, who earned his third World Cup winners' medal when Brazil got their hands on the Jules Rimet Cup.... for keeps.
W. Germany 1974:
Johan Cruyff was the player of the tournament as total football became the buzzword of the day, even though Holland lost to West Germany in the 1974 final.
Argentina 1978:
Holland contested the 1978 World Cup Final, in Argentina, for the second time in a row. As in West Germany, they again finished runners-up; to the hosts.
Spain 1982:
The Spain 82 World Cup finals increased to 24 teams and the format was changed to have two group stages, with four second-round groups of three.
Mexico 1986:
In 1986, Mexico became the first nation to stage the World Cup Finals for a second time; having only staged the competition sixteen years previously.
Italy 1990:
In 1990, Italy became the World Cup of stalemates. Both semi-finals were drawn out through penalty kicks. In the final itself, the only goal came from the spot.
USA 1994:
Once Team US had played a few games most of the nation began to understand they were hosting the greatest show on earth and how the game was played.
France 1998:
France became the sixth nation to win the World Cup on home soil. Thirty-two teams competed in the 16th World Cup; better known as France 98.
Korea-Japan 2002:
The 17th World Cup, held in Korea and Japan, was the first World Cup finals to be shared by two hosts and the first to be held in Asia.
Germany 2006:
The 2006 World Cup Finals ran from 9th June to 9th July; the opening match in Munich and the final in Berlin. Munich and Dortmund hosted the semi-finals.
South Africa 2010:
Eighty years after the First World Cup Finals in Uruguay, the world's most prestigious football competition was finally hosted on the African continent.
Brazil 2014:
Five times World Cup Champions, Brazil, get a second chance to hold the prestigious World Cup Finals; 64 years after they last hosted the tournament.
Russia 2018:
VAR made its World Cup debut and set out to change the course of a game with some crucial rule infringement watching and vital on the spot decisions.
Qatar 2022:
When FIFA executives met in Zurich to decide on who would host the 2018 and 2022 World Cup Finals, Qatar was probably the biggest surprise to many.
United 2026:
The 2026 FIFA World Cup Finals will be jointly hosted by Canada, Mexico and the United States. The United Bid won the hosting rights ahead of Morocco.
Travel Notes Online Guide to Travel
The Travel Notes Online Guide to Travel helps visitors plan their trip with country and city travel guides, local tourist information, reviewed web sites, and regular travel articles.

Join Michel on Meta-Travel.
Airlines and Airports.

Add a Business Listing - Add a Destination - Add a Place to Stay - Add URL.


If you find Travel Notes useful, please take a moment to like us on Facebook and share with your friends on social media.