Short URL: https://tnot.es/EG
Egypt Travel and Tourism Information on Travel Notes
Find Egypt Travel and Tourist Information with links to official travel and tourism websites and state resources for visitors to Egypt.
About Egypt
Egypt, the land of pharaohs, pyramids and bible history, is watered by the Nile, the longest river on earth.
Countries neighbouring Egypt are: Libya, Sudan, Jordan and Israel.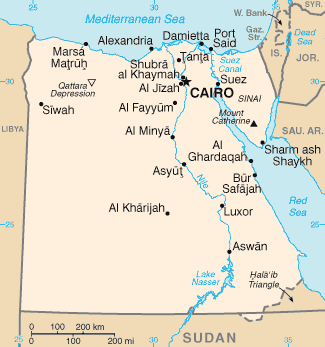 Ancient Nubia
Nubia was an ancient civilisation of northern Sudan that existed along with the Egyptian Kingdom. The Nubian civilisation had it's own distinct culture, and even ruled over Egypt for a short period.
Touring Egypt:
Most visitors to Egypt are greeted by hospitable people, proud to share their land and its history with them.
Ministry of Tourism:
A complete Egyptian History, resources on Kings and Ancient Gods, and plenty of facts for the modern traveller too.
Adventures of Egypt
LookLex Egypt:
With more than 90% of all attractions lined up along the river Nile, Egypt is one big invitation to come and visit.
Egypt Today
Egyptian Photo Gallery:
Egyptian photographs at Magun's Compass.
Egyptian Pyramids:
Explore the inside of these wonders with Quick Time movies.
Egypt State Tourist Information:
Although cultural and archaeological tourism are considered the traditional kind of tourism in Egypt, Egypt offers some 3,000 km of fascinating beaches on the Mediterranean and Red Sea coasts.
Egypt Today:
The magazine of Egypt rounds up this week's news and milestones, with side helpings of food and travel.
Guardian's Egypt:
A well-presented treasure throve of Egyptian links.
Weather in Africa:
Local weather forecasts for destinations around Africa.
Hotels in Egypt:
Find hotels in Egypt with special online rates.

Add a Business Listing - Add a Destination Guide - Add a Place to Stay.


If you find Travel Notes useful, please take a moment to like us on Facebook and share with your friends on social media.
Africa Index - Africa Tourism - Africa Travel Websites.