Passwang Pass, Mümliswil-Ramiswil, Switzerland by Sven Fischer on Unsplash.
Travel Notes: Europe - Switzerland Travel Notes.

Short URL: https://tnot.es/CH
Switzerland Travel and Tourism on Travel Notes
Find Switzerland Travel and Tourist Information with links to official travel and tourism websites and state resources for visitors to Switzerland.
About Switzerland
Whether you like it in French, German, or Italian, Switzerland is a beautiful country known for its Alpine scenery, sparkling lakes, and picturesque villages; great for multi-cultural experiences and outdoor adventures in summer and winter.
Countries neighbouring Switzerland: Italy, France, Germany, Austria and Liechtenstein.
Driving Distances in Europe
Driving From Bern - Driving From Geneva - Driving From Zurich.
Map of Switzerland
Switzerland is also called La Suisse in French; Schweiz in German; and Svizzera in Italian.
Geneva and Zurich are important cities in Switzerland, but Bern is the capital.
Four Days in Switzerland:
How to fit in a Grand Tour of Switzerland in just a few days.
There are four national languages in Switzerland, and English isn't one of them; although it is widely spoken.
German, or a Swiss dialect of it (Schwyzertdeutsch), is the most widely spoken.
French is the spoken language of the Romand cantons: Geneva, Vaud, Neuchâtel, Fribourg, Jura, and the western part of Valais.
Italian is mainly reserved for the southern canton of Ticino, but is still heard in the major cities.
The fourth national language, Romansh, is spoken by less than 1 per cent of the people: mainly in the mountainous canton of Graubünden (or Grisons, in French).
The capital of Switzerland, also spelt Berne, is on the Aare River towards the west of the country.
Bern was founded in 1191 and still has a medieval feel to it.
A bear is the emblem of Berne, and the bear pit - maintained since 1513 - is a popular tourist attraction.
Bern is quieter than Zurich or Geneva, but there's still more to the capital than a bear pit and the houses of parliament.
Situated on Lac Leman, or Lake Geneva, the city is in the French-speaking part of Switzerland, right on the border with France.
Geneva is widely recognised as the city of peace and major international negotiations. The Red Cross was set up here.
Geneva also hosts the UN European headquarters, the World Health Organisation and the High Commission for Refugees.
Zurich is the largest city in Switzerland and the financial capital of the country.
A comfortable city to walk around, Zurich has a lakeside location with a view of snow-capped mountains in the not too distant background.
Also known as the Little Big City, the Swiss stock exchange is located in Zurich and the elegant shops in Bahnhofstrasse still smell of money.
View the Zurich Tourism Webcam for the latest weather conditions in Zurich and a panorama of the rooftops around the Limmat.
Where to Stay in Zurich
Hotel Alexander, Zurich Old Town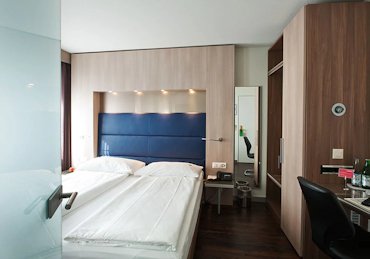 Hotel Alexander, Zurich Old Town: Niederdorfstrasse 40, Zurich, Switzerland.
Centrally located, three-star hotel in Zurich's Niederdorfstrasse, just five minutes from Zurich main station (Hauptbahnhof).
The Hotel Alexander is a family-run hotel on the car-free Niederdorfstrasse, in the heart of Zurich Old Town. If you arrive by car, the hotel can reserve a parking space for you in their underground car park.
As one of the most mountainous countries in Europe, Switzerland has plenty of Alpine resorts and mountain peaks to choose from.
Tourist Mountains
The Matterhorn is in Valais (Wallis), above Zermatt, while the Jungfrau and the Eiger are in the Bernese Oberland, near Interlaken.
The Eiger is notorious for its fearsome North Face.
Gimmelwald
Not to be confused with Grindlewald, Gimmelwald is a tiny, timeless, sleepy village at the far end of the Lauterbrunnen valley; accessible by train and car from Interlaken.
Alex visited Gimmelwald during his four country tour of Europe, fell in love with the place, bought the domain name and created this wonderful tribute. Meet the people through Alex's eyes and find out how to get to this little part of Alpine paradise.
Grindelwald
Grindelwald is an Alpine village in the Bernese Oberland. Its world-famous attractions include the Eiger, the Jungfraujoch and the longest glacier in the Alps - protected by the UNESCO Natural World Heritage.
Where to Stay in Grindelwald
Hotel Kreuz & Post
Hotel Kreuz & Post: Dorfstrasse 85, Grindelwald, Switzerland.
Located in the centre of Grindlewald, close to the famous Jungfraujoch railway station and beautiful shops, hosts Martin and Helena offer a traditional first class service in an establishment oozing Alpine charm.
The four star Hotel Kreuz & Post has been an institution in Grindelwald for many years, enchanting gourmets, hedonists, nature lovers, alpinists and sports lovers from all over the world.
Romantik Hotel Schweizerhof Grindelwald
Romantik Hotel Schweizerhof Grindelwald: Swiss Alp Resort 1, Grindelwald, Switzerland.
Located in the Jungfrau Region of Switzerland, this is a classic chalet hotel on a grand scale; in a quiet but central position within easy walking distance of the ski-lifts and Grindelwald's centre.
Genuine, uncomplicated and stylish at the same time, the Romantik Hotel Schweizerhof offers a piece of Swiss hotel history; an ideal base to explore of the impressive Grindelwald mountain world.
Interlaken
Situated between Lakes Brienz and Thun, in the Bernese Oberland, Interlaken is a popular resort all year round.
You can even see the Jungfrau peak from the town.
Lucerne - Lake Lucerne Region.
The old wooden bridge in Luzern was destroyed by fire, but has been beautifully restored and is attracting throngs of tourists once again.
Note the different names for the city: Basel in German; Bale in French and Basilea in Italian.
Often overlooked by visitors to Switzerland, Basle is on the border with Germany and France and is an important cultural centre.
By Car
There are no tolls on the motorways in Switzerland, although you will need to buy a vignette to stick in the windscreen if you drive your own car in the country. These are available at service-stations and at the border -- Switzerland is not in the European Union. If you hire a car in Switzerland, there will already be one in the windscreen.
By Train
Travel by rail is very convenient in Switzerland, and the trains - cog-railways - take passengers up some of the steepest, snowiest slopes; even in winter.
If a train doesn't go there, to Saas Fe for example, then yellow PTT busses will. You can catch them from post-offices in the smallest villages and near train station in the larger towns.
By Boat
There are also many lakes in Switzerland and you can travel between the towns on a boat.
On Lake Contstance (Bodensee in German) you can go across the lake; from Romanshorn and Arbon, to Germany or Austria.
If you're in Lausanne, an interesting day trip is across Lake Geneva to Evian, France - but don't lose all your money in the casino.
Swiss Tourism
The Matterhorn and Switzerland are inseparably linked to each other. The pyramid shaped colossus of a mountain, which is very difficult to climb, is said to be the most-photographed mountain in the world.
There are over a thousand castles dotted around Switzerland. Although the descriptions and further information are written in French, at least you can view the photographs.
Swiss Telephone Book:
You can search the whole of Switzerland if you think that someone has moved.
Switzerland Forum:
An online forum for English-speakers who live, have lived, or are thinking about living in Switzerland.
If you're in Switzerland and want to get away for a week or two, these are some of the travel options on offer.
Helvetic Tours:
Part of the Kuoni Group - available in French and German.
Hotelplan:
Founded in 1935, you'll usually find a Hotelplan office near some of the larger Migros chains.
Kuoni:
Founded by Alfred Kuoni in 1906, the holding company is headquartered in Zurich and has subsidiaries around the world. In 2001, Kuoni won the World Travel Award as best Tour Operator for the 4th time in a row.
Travelhouse:
Known as RBM, before 1st January 2005, they now claim to be the fourth largest travel group in Switzerland.
TUI:
Book last minute holidays, flying out of Zurich or Geneva, or choose to tour one of Europe's other major cities.
Vogele Reisen:
Founded in 1988 as a sister firm of the Charles Vogele clothing retailer, soon to be swallowed up by TUI along with Imholz - for Kuoni to come along and buy a 49% stake in the group. The Vogele catalogue does have a few more exotic destinations to choose from, than the average sun and sand package holiday company.
Switzerland Travel Guides - Switzerland Maps.
Weather in Europe:
Local weather forecasts for destinations around Europe.
Travel Notes Online Guide to Travel
Africa - Asia - Caribbean - Europe - Middle East - North America - Oceania - South America.

The Travel Notes Online Guide to Travel helps visitors plan their trip with country and city travel guides, local tourist information, reviewed web sites, and regular travel articles.
Travel and Tourism Guides on Travel Notes
Travel Professionals Based in Switzerland.
If Travel Notes has helped you, please take a moment to like us on Facebook and share with your friends on social media.


Travel & Tourism With Industry Professionals.
Ukraine.