Royal Bafokeng Stadium in Phokeng (near Rustenburg) hosted six World Cup matches; five in the group stage and one in the Second Round.
2010 World Cup Finals fixtures played at Royal Bafokeng Stadium.
Saturday, 12th June 2010
Tuesday, 15th June 2010
Group F
New Zealand vs Slovakia (1:1)
Saturday, 19th June 2010
Group D
Ghana vs Australia (1:1)
Tuesday, 22nd June 2010
Group A
Mexico vs Uruguay (0:1)
Thursday, 24th June 2010
Group E
Denmark vs Japan (1:3)
Second Round
Saturday, 26th June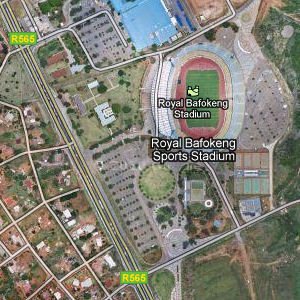 Phokeng - Royal Bafokeng Stadium.
The Rustenburg Local Municipality is one of the five local municipalities that form the Bojanala Platinum District Municipality in the North West Province.
Rustenburg is 120km from Johannesburg and 116km from Pretoria.
Rustenburg Tourism:
The Rustenburg Tourism Information and Development Centre is located on Van Staden Street (Mandela Ave).
South Africa Travel Notes:
South Africa tourist information with details about travel to and around the country. Where to stay and what to see is made easier with insider tips and hand-selected South Africa links, by dedicated editors and visitors to TravelNotes.org - The Online Guide to Travel.
2010 World Cup Finals - Knockout Stage.
Please take a moment to like us on Facebook and share with your friends on social media.