Travel Notes: Oceania Travel Guides.
Short URL: https://tnot.es/Ocean
Oceania Travel and Tourism on Travel Notes
Find Oceania Travel and Tourist Information with links to official travel and tourism websites and state resources for visitors to Oceania.
Visiting Oceania
Travel Notes guides visitors around every country in Oceania; linking a collection of websites together like island atolls in the immense sea of the world wide web.
Map of Oceania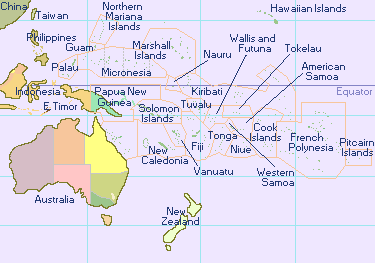 From Australia to Western Samoa, travellers and tourists can find out more about Oceania at Travel Notes with travel articles, discussions and links.
Oceania is a geographic region located in the Pacific Ocean, consisting of thousands of islands spread out over an area of millions of square kilometers.
It is one of the five continents recognized by the United Nations.
Australia, New Zealand and Papua New Guinea along with the main island groups of Micronesia, Melanesia and Polynesia combine to create Oceania, one of the most diverse and fascinating areas on the planet.
Oceania by Country
American Samoa - Australia - Cook Islands - East Timor - Fiji - French Polynesia - Guam - Kiribati - Mariana Islands - Marshall Islands - Micronesia - Nauru - New Caledonia - New Zealand - Palau - Papua New Guinea - Pitcairn Islands - Solomon Islands - Tokelau - Tonga - Tuvalu - Vanuatu - Wallis & Futuna - Western Samoa.
Cultures and Languages
Oceania has a diverse range of cultures and languages, with Indigenous people of the region having inhabited the islands for tens of thousands of years before European colonization.
The region has a rich history of trade and migration, with different groups of people moving across the islands for thousands of years.
Economy
The economy of Oceania is heavily reliant on agriculture, tourism, and mining, with Australia and New Zealand being major players in the global economy.
Natural Treasures
Oceania is home to some of the world's most beautiful natural landscapes, including the Great Barrier Reef, Uluru, and Milford Sound.
The Pacific Ocean is the largest geographical feature on earth, more so than all the land areas of the world combined. Yet its depths and its islands remains a mystery to most of us on this planet.
If you have ever dreamt of being on a deserted island, or desired to have the turquoise horizon to yourself with soft sand beneath your toes, then the Pacific Islands are for you.
Maps of The Pacific Region
Given the small size of the South Pacific Islands and the large region of the South Pacific, many maps of the South Pacific Islands are generalised to increase readability, at the expense of absolute positional boundaries.
Established in 1983 as the Tourism Council of the South Pacific, the South Pacific Tourism Organisation (SPTO) is the mandated organisation representing Tourism in the region.
If there's an independent authority on travel in the South Pacific, it's David Stanley; author of the original Moon Handbook to the South Pacific.
Each country within Oceania offers its own unique culture, cuisine, and natural beauty.
Popular Destinations Within Oceania
Whether you're looking for adventure, relaxation, or cultural experiences, Oceania has something to for everyone.
Bora Bora, French Polynesia.
A stunning island in the South Pacific, known for its turquoise lagoon, white-sand beaches, and luxury resorts.
Great Barrier Reef, Australia.
Vast coral reef system off the coast of Australia, renowned for its marine life and coral formations.
Milford Sound, New Zealand.
A breathtaking fjord in the southwestern part of New Zealand's South Island, known for its stunning landscapes and waterfalls.
Rotorua, New Zealand.
A geothermal wonderland with bubbling mud pools, steaming geysers, and natural hot springs.
Sydney Opera House, Australia.
A stunning architectural masterpiece and a symbol of Australia's cultural identity.
The Blue Lagoon, Fiji.
A natural geothermal spa with crystal-clear blue waters and lush tropical surroundings.
Uluru (Ayers Rock), Australia.
A large sandstone rock formation in the heart of Australia's Outback, sacred to the indigenous Anangu people.
South Pacific Resorts
Surf the best beachfront, honeymoon, scuba diving resorts and hotels in Fiji, Cook Islands, Tahiti, Samoa, Vanuatu, New Zealand and Australia.
Pacific Islands Travel Guides - Pacific Maps.
Weather in The Pacific:
Local weather forecasts for destinations around the Pacific region.
Travel Notes Online Guide to Travel
Africa - Asia - Caribbean - Europe - Middle East - North America - Oceania - South America.

The Travel Notes Online Guide to Travel helps visitors plan their trip with country and city travel guides, local tourist information, reviewed web sites, and regular travel articles.
South America.
Travel and Tourism Guides on Travel Notes
If Travel Notes has helped you, please take a moment to like us on Facebook and share with your friends on social media.


Travel & Tourism With Industry Professionals.
Online Travel Resources

Advertise - Affiliates - Airlines - Airports - Business Listings - Car Hire - City Guides - Cruises - Favourite Places - Flights - Hostels - Hotels - Lodging - Rail Travel - Round The World - Timeshares - Topsites - Tours - Travel Blogs - Travel Directory - Travel Insurance - Vacation Rentals.