Noumea, New Caledonia by Jeremy Bezanger on Unsplash.
Travel Notes: Oceania - New Caledonia Travel Notes.

Short URL: https://tnot.es/NC
New Caledonia Travel and Tourism on Travel Notes
Find New Caledonia Travel and Tourist Information with links to official travel and tourism websites and state resources for visitors to New Caledonia.
About New Caledonia
New Caledonia is a little bit of France in the South Pacific.
New Caledonia was given its Latin name for Scotland by the British navigator James Cook, who sighted the island in 1774.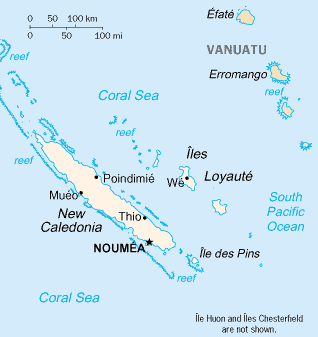 An overseas territory of France, New Caledonia has a few dependencies of its own.
These are: the Loyalty Islands, east of New Caledonia; the Isle of Pines, to the south-east; the Chesterfield Islands, to the west; and the Huon Islands, to the north-west.
New Caledonia Travel Guides - Pacific Maps.
Who Goes There?
You could, if it's on your stop-over itinerary to Australia.
It's surprising how many people are content to soak up the cosmopolitan atmosphere of the French-style cafe society in the capital, Noumea, without looking around the rest of the island.
Visiting local villages and eating something new is what New Caledonia is about; if you make the effort to tour the island.
Weather in The Pacific:
Local weather forecasts for destinations around the Pacific region.
Travel Notes Online Guide to Travel
The Travel Notes Online Guide to Travel helps visitors plan their trip with country and city travel guides, local tourist information, reviewed web sites, and regular travel articles.

Join Michel on Meta-Travel.
Airlines and Airports.

Add a Business Listing - Add a Destination - Add a Place to Stay - Add URL.



Affiliates - Oceania Tourism - Oceania Travel Websites.
If you find Travel Notes useful, please take a moment to like us on Facebook and share with your friends on social media.