Chuuk Lagoon, Federated States of Micronesia by Marek Okon on Unsplash.
Travel Notes: Oceania - Micronesia Travel Notes.
Short URL: https://tnot.es/FM
Micronesia Travel and Tourism on Travel Notes
Find Micronesia Travel and Tourist Information with links to official travel and tourism websites and resources for visitors to Kosrae, Pohnpei, Chuuk and Yap.
About Micronesia
Micronesia encompasses several island groups, including the Federated States of Micronesia (FSM), the Republic of the Marshall Islands (RMI), the Republic of Palau, Guam, and the Commonwealth of the Northern Mariana Islands (CNMI).
Each of these groups has its own political status and government.
Map of Federated States of Micronesia
The Federated States of Micronesia are situated in the middle of the Pacific, just north of the Equator.
The Federated States of Micronesia are Kosrae, Pohnpei, Chuuk, and Yap.
The capital of the Federated States of Micronesia, Palikir, is located on Pohnpei.
The Federated States of Micronesia (FSM) is a country located in the western Pacific Ocean.
Located to the north of Papua New Guinea and to the east of the Philippines, Micronesia is comprised of four main islands and 607 small islets spread out over a large area of the Pacific.
The four main islands are Yap, Chuuk (formerly known as Truk), Pohnpei, and Kosrae.
Brief History
The history of the Federated States of Micronesia is complex and varied, with a long tradition of cultural and economic exchange with neighbouring countries.
In 1947, the United States established a trusteeship over the islands of Micronesia, including what is now FSM.
In 1986, FSM gained full independence from the United States and formed a compact of free association, which allows for a close relationship with the US while still retaining full sovereignty.
Economy
Although the country has a small tourism industry, the economy of the Federated States of Micronesia is largely dependent on fishing and agriculture.
Government
A federal republic, the Federated States of Micronesia has a president as the head of state and a unicameral legislature, known as the Congress of the Federated States of Micronesia.
The Federated States of Micronesia is a sovereign nation and a member of the United Nations, with a population of approximately 115,000 people.
Language
The official language of FSM is English, although other Micronesian languages such as Chuukese, Kosraean, Pohnpeian, and Yapese are also spoken.
Natural Beauty
The Federated States of Micronesia is known for its stunning natural beauty, including coral reefs, clear blue waters, and lush tropical vegetation.
Visiting The Federated States of Micronesia
Getting There
To get to the Federated States of Micronesia, you will need to fly into one of its international airports: Pohnpei International Airport, Chuuk International Airport, or Yap International Airport.
There are no direct flights from major cities, so you may need to connect through Guam or Hawaii.
Tourist Attractions and Activities
Micronesia's most reserved and traditional lifestyle is unspoilt beauty.
Popular activities in FSM include fishing, kayaking, and visiting traditional villages to learn about local customs and culture.
Trip Planning
When planning your trip to Micronesia, be sure to pack lightweight, breathable clothing, as the weather in FSM is tropical and can be quite humid.
It's also important to respect the local customs and traditions, such as removing your shoes before entering a home or place of worship.
Moen Island, in Chuuk, is the largest community in the Federated States of Micronesia.
The main island of Weno (formerly Moen) is the capital and commercial centre of Chuuk.
Chuuk, with its vast, shallow, beautiful lagoon is a mecca for wreck divers.
Truk Lagoon
A major shipwreck site from World War Two, Truk Lagoon is unquestionably the world's best shipwreck diving destination.
With so many wrecks so close together, Chuuk is a diver's paradise.
Odyssey Adventures:
132 foot live-aboard vessel based in Weno, Chuuk. The Odyssey boasts nine comfortable, fully carpeted staterooms with private air conditioning controls, windows or large portholes and private toilet, shower and sink.
Truk Blue Lagoon Resort:
The hotel's low two story design of 54 modern, spacious, air conditioned rooms blends perfectly with the island's tropical and serene atmosphere.
Truk Lagoon:
On February 17th and 18th 1944, the U.S. navy launched a devastating air attack on the Japanese Imperial Fleet, situated inside the sheltered waters of Truk Lagoon. Divers can explore the wrecks in safe, easy diving conditions.
Kosrae is the second largest and eastern most island in the Federated States of Micronesia.
Kosrae is a fairly quiet island, ten miles by six, of peaceful villages and a traditional lifestyle.
A somewhat secluded island, Kosrae is known for its pristine coral reefs.
Visitors can go snorkeling or scuba diving to see a variety of marine life, including sea turtles and colorful fish.
Getting There
Near Tafunsak Village, in the north of the island, Kosrae International Airport handles direct 737 flights to and from Honolulu and Guam, with connections through Majuro and Pohnpei.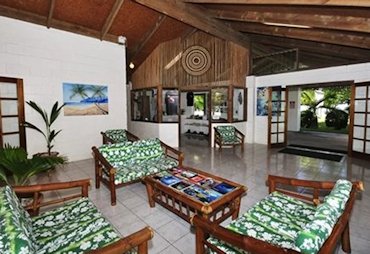 This 18-room complex emphasizes comfort, convenience and consideration. Striking tropical gardens surround the restaurant and bar, with an inviting swimming pool nearby for leisurely dipping.
Guests at the Kosrae Nautilus Resort enjoy friendly, comfortable surroundings just a stone's throw from their own private beach.
Known for its lush rainforests and ancient ruins, Pohnpei has some of the most diverse scenery among the islands of Micronesia.
Map of Palikir
Due to the high rainfall, you can find rushing rivers, tranquil fresh water pools, and even spectacular waterfalls.
Visitors can hike to the top of Sokehs Ridge for a panoramic view of the island, or explore the ancient city of Nan Madol, which consists of stone ruins built on a series of artificial islands.
A Tour of Pohnpei:
Mark Haun's images, descriptions, and sounds gathered while spending a year as a student missionary, teaching high school, at the Pohnpei Seventh-day Adventist School.
Yap has lost nothing as the modern world passes it by.
Yap is known for its stone money, which are large circular stones that were used as a form of currency by the island's inhabitants.
Visitors can see these stones in the villages of Gagil and Balabat, and also learn about the traditional navigation techniques used by the Yapese people.
Where to Stay in Yap
Manta Ray Hotel:
As Yap is world famous for it's large population of manta rays, the motif of the entire hotel is marine life. Each room bears a fish name, and is decorated accordingly, with photographs and paintings of that fish; right down to the hand carved key.
The Pathways Hotel:
Situated on a hillside overlooking a bay below in a tropical garden setting, this family-owned and operated eco resort offers nine individual cottages interconnected by wooden walkways and swing bridges.
Yap Pacific Dive Resort: Colonia.
This intimate retreat of 20 rooms and two Grand Suites is styled in unique 1880's Victorian architecture, offering all the amenities of a 5-Star Hotel.
Banking in Micronesia:
Locally owned and FDIC insured, the Bank of the Federated States of Micronesia has branches in Pohnpei, Yap, Kosrae and Chuuk.
FSM Government:
Home page of the National Government of the Federated States of Micronesia (FSM), its departments, and overseas missions.
Micronesia Travel Guides - Pacific Maps.
Weather in The Pacific:
Local weather forecasts for destinations around the Pacific region.
Travel Notes Online Guide to Travel
Africa - Asia - Caribbean - Europe - Middle East - North America - Oceania - South America.

The Travel Notes Online Guide to Travel helps visitors plan their trip with country and city travel guides, local tourist information, reviewed web sites, and regular travel articles.
Nauru.
Travel and Tourism Guides on Travel Notes
If Travel Notes has helped you, please take a moment to like us on Facebook and share with your friends on social media.


Travel & Tourism With Industry Professionals.