Short URL: https://tnot.es/KI
Kiribati, formerly the Gilbert Islands, is made up of thirty three atolls and coral islands, and one volcanic island.
Quick Links
Kiribati Travel and Tourist Information with links to official travel and tourism websites and state resources for visitors to Kiribati.
International Dateline, Kiribati Language, Micronesia, Tarawa.
Around 20 of the Kiribati islands are permanently inhabited.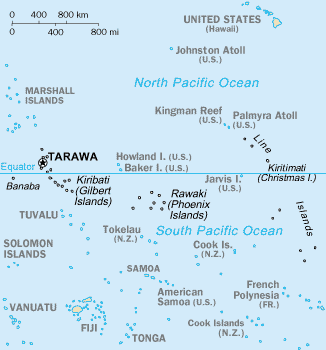 With such a large area of sea between the islands of Kiribati, it's not surprising that fish exports are a major source of currency.
The capital of Kiribati, Bairiki, is situated on Tarawa but Kiritimati, or Christmas Island, is the largest of the Kiribati group.
Battle of Tarawa
On November 20th, 1943, five thousand US marines stormed the beaches of Tarawa; a seemingly invincible Japanese island fortress barely the size of the Pentagon parking lots.
Before the first day ended, one third of the Marines who had crossed Tarawa's deadly reef under murderous fire were killed, wounded, or missing.
In three days of fighting, four Americans would win the Medal of Honour and six-thousand combatants would die.
Straddling the Equator at the International Date Line, Kiribati proclaimed that all of its territory lies in the same time zone as its Gilbert Islands group; even though the Phoenix Islands and the Line Islands, under its jurisdiction, lie on the other side of the International Date Line.
The official language of Kiribati is English, although many of the islanders speak the native I-Kiribati, formerly known as Gilbertese.
In 1991, Britain agreed to pay for the damage done to Banaba Island by large-scale phosphate mining. Residents of Banaba even had to be resettled on Rabi Island; a part of Fiji.

Add a Business Listing - Add a Destination Guide - Add a Place to Stay.


If you find Travel Notes useful, please take a moment to like us on Facebook and share with your friends on social media.
Oceania Index - Oceania Tourism - Oceania Travel Websites.