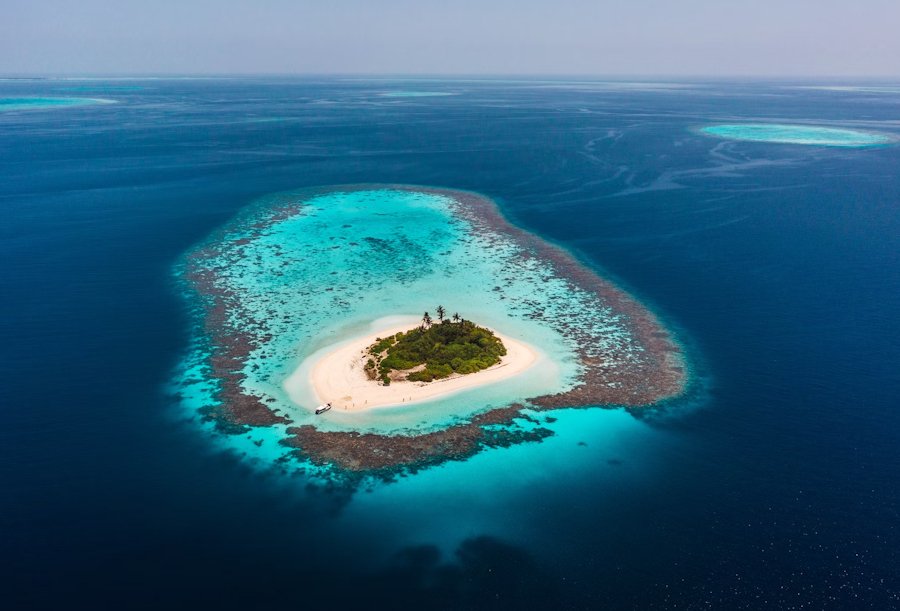 Surrounded by Sea by Roberto Nickson on Unsplash.
Travel Notes: Oceania - Tokelau Travel Notes.

Short URL: https://tnot.es/TK
Tokelau Travel and Tourism on Travel Notes
Find Tokelau Travel and Tourist Information with links to official travel and tourism websites and state resources for visitors to Tokelau.
About Tokelau
Tokelau, an overseas dependent territory of New Zealand, is made up of three coral atolls: Atafu, Fakaofo, and Nukunonu; roughly midway between Hawaii and New Zealand.
The Tokelau Islands were not visited by the Europeans until 1765.
Originally settled by Polynesian emigrants from surrounding island groups, the Tokelau Islands were made a British protectorate in 1889.
The Tokelau Islands were administered as part of the Gilbert Islands until they were transferred to New Zealand administration, from Western Samoa, in 1925.
In 1948, the islands were included within New Zealand's territorial boundaries.
The territory's name was officially changed from the Tokelau Islands to Tokelau in 1976.
Tokelauans are citizens of New Zealand. Only about 1,500 people live there and as most of the food is imported it helps if you can catch fish.
Due to Tokelau's small size (three villages), isolation and lack of resources the people rely heavily on aid from New Zealand to maintain public services.
Tokelauans principal sources of revenue come from the sale of copra, postage stamps, souvenir coins, and handicrafts.
Although Tokelau and New Zealand have agreed to a draft constitution as Tokelau moves toward free association with New Zealand, a UN sponsored referendum on self governance (in October 2007) did not produce the two-thirds majority vote necessary for changing the political status.
Tokelau lies some 480 km north of Samoa and has no ports or airports; so boats have to anchor offshore; while a dinghy transports people and cargo to and from the land.
The cargo ship MV Tokelau used to operate from Apia (Samoa) around two times a month; although schedules were always subject to change.
It took about a day and a half from Apia to Fakaofo, where the ship then travelled between the three atolls for about a week before making the return voyage.
Journeys between the atolls took about a day.
The MV Tokelau only had one cabin with two single beds, so the chances were that it would already be reserved and you'd have to sleep on deck.
Tokelau's New Ferry Service
The MV Mataliki, capable of transporting up to 60 international passengers at a time, replaced the old fery service in February 2016.
Tokelau Sailings
If you're interested in sailing to Tokelau, even on your own yacht, you'll still need a visitor's permit in advance and should contact the Tokelau Apia Liaison Office (TALO) in Apia, Samoa.
Where to Stay in Tokelau
The only place to stay (and eat) is the Luana Liki; unless you can get a bed in someone's home.
Pacific Islands Travel Guides.
Weather in The Pacific:
Local weather forecasts for destinations around the Pacific region.
Travel Notes Online Guide to Travel
Africa - Asia - Caribbean - Europe - Middle East - North America - Oceania - South America.

The Travel Notes Online Guide to Travel helps visitors plan their trip with country and city travel guides, local tourist information, reviewed web sites, and regular travel articles.
Tonga.
Travel and Tourism Guides on Travel Notes
If Travel Notes has helped you, please take a moment to like us on Facebook and share with your friends on social media.


Travel & Tourism With Industry Professionals.