Hallstatt, Austria by Willian Justen de Vasconcellos on Unsplash.
Travel Notes: Europe - Austria Travel Notes.
Short URL: https://tnot.es/AT
Austria Travel and Tourism on Travel Notes
Find Austria Travel and Tourist Information with links to official travel and tourism websites and state resources for visitors to Austria.
About Austria
Austria, Osterreich in German, is an Alpine country; once you get out of Vienna.
Driving From Graz, Driving From Innsbruck, Driving From Salzburg, Driving From Vienna.
Map of Austria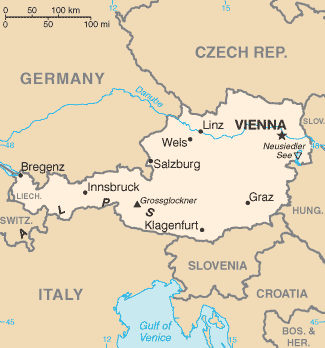 Countries neighbouring Austria:
Hungary, Slovakia, Czech Republic, Germany, Switzerland, Liechtenstein, Italy and Slovenia.
Austria Travel Guides - Austria Maps.
Weather in Europe:
Local weather forecasts for destinations around Europe.
The Danube runs across the north of the country, from Passau through Linz and Vienna and out towards Bratislava. The rest of the country is very mountainous, especially in the south and west.
Of Austria's numerous lakes, two of them form borders with her neighbours.
In the west, Lake Constance, or Bodensee, is shared with Germany and Switzerland; while Neusiedlersee, south-east of Vienna, adjoins Hungary in the east.
Austria's Bodensee town is Bregenz, in Voralberg, and the region is popular with cyclists in the summer; crossing between Germany and Switzerland.
There's also some cycle activity around the Neusiedlersee - Ferto, in Hungarian. The area makes a great escape from the capital in the summer, and it's also a bird sanctuary.
Enter Austria:
Getting to Austria, and other information for tourists.
Austrian Regions:
Austria is divided into nine provinces.
Austrian Cities:
The main attractions for visitors to Austria.
Austrian Culture:
Austria's illustrious history leaves a lot of memories behind. Uncover the delights of former glory.
The official language of Austria is German, although many people speak English.
Learn German in Vienna
Alpha Sprachinstitut is a private language school specialised in German as a foreign language, for visitors to Vienna.
Austrian News:
News from Austria. A selection of Austrian news resources online.
Travel Notes Online Guide to Travel
The Travel Notes Online Guide to Travel helps visitors plan their trip with country and city travel guides, local tourist information, reviewed web sites, and regular travel articles.

Join Michel on Meta-Travel.
Airlines and Airports.

Add a Business Listing - Add a Destination - Add a Place to Stay - Add URL.



Affiliates - Europe Tourism - Europe Travel Websites.
If you find Travel Notes useful, please take a moment to like us on Facebook and share with your friends on social media.