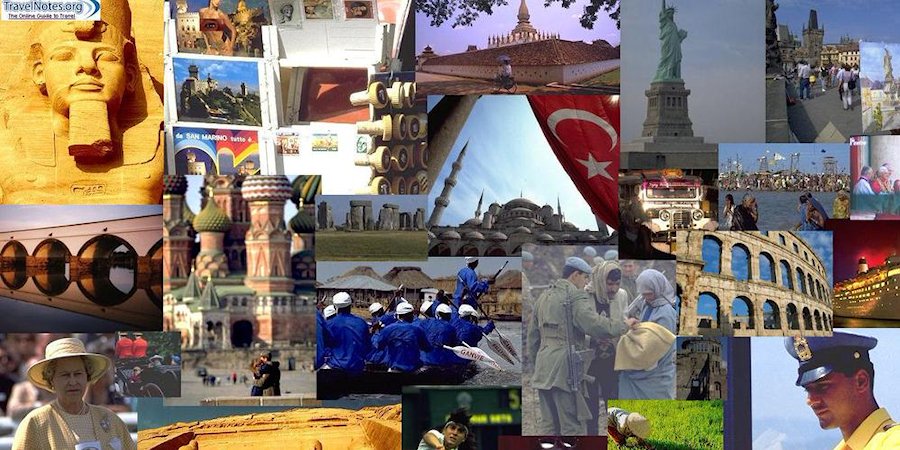 Travel Photography by Michel Guntern.
Travel Notes: Travel Photography Tips on Travel Notes.
Travel Photography on Travel Notes
As a travel photographer Michel has visited over 120 countries, some 220 UNESCO World Heritage Sites and more than 100 of the World Heritage Cities.
With a keen interest in photo-journalism, Michel had numerous travel articles and photographs published and syndicated around the world in traditional media before moving into the Internet medium in 1996.
We're upjdating our image pages to expand on the back story.
Visit them to find out more about the locations behind the pictures.
Browse our Photo Galleries for the right image to decorate your home or office.
Art lovers around the world can turn award-winning travel photography into museum-quality masterpieces, with a wide range of custom frames and mats.
Africa Photo Gallery:
From Algeria to Zimbabwe, pyramids to safaris, Africa has so much to offer the adventurous traveller.

Asia Photo Gallery:
From Afghanistan to Vietnam, Islam to Buddhism, you're sure to find a place for your soul in Asia.

Caribbean Photo Gallery:
From Anguilla to the Virgin Islands, getting hitched to dropping anchor, it's all a breeze in The Caribbean.

Europe Photo Gallery:
From Albania to Vatican City, Scandinavia to the Mediterranean, Europe is culturally eclectic and full of lavish history.

Middle East Photo Gallery:
From Bahrain to Yemen, old world to oil world, the Middle East blends desert sand with capital gain; and brews a nice cup of coffee.
North America Photo Gallery:
From Alabama to Yukon, theme parks to National Parks, it's bigger and better in North America (or so they say).
Oceania Photo Gallery:
From Australia to Western Samoa, the rugged outback to island paradise, it's worth flying halfway around the world to find the perfect solution.
South America Photo Gallery:
From Argentina to Venezuela, lazing on beaches to trekking in the Andes, Latin America is a world of wonderful contrasts.

Top Travel Pics Group:
Created to promote the work of travel photographers through travel photography contests and community discussions.

Travel Notes Calendar Pics:
Some of our favourite images from our Travel Notes Wall Calendar over the years.

World Heritage Sites in Pictures:
We could probably call the UNESCO World Heritage Sites and World Heritage Cities the mother of all lists of places to see before you die.
Royalty-Free and Rights-Managed Images
Travel Pics - Rights Managed Images:
All images are licensed on a non-exclusive, rights managed basis.





Travel Notes Online Guide to Travel
Africa - Asia - Caribbean - Europe - Middle East - North America - Oceania - South America.

The Travel Notes Online Guide to Travel helps visitors plan their trip with country and city travel guides, local tourist information, reviewed web sites, and regular travel articles.
Museum-quality Travel Photography Prints can instantly transform your home or office into a spectacular location.
Browse our Collection of Travel Photos for more inspiring travel images featuring some wonderful travel destinations and find out more about the story behind the pictures.
Travel and Tourism Guides on Travel Notes
If Travel Notes has helped you, please take a moment to like us on Facebook and share with your friends on social media.


Travel & Tourism With Industry Professionals.
Travel and Tourism News.