Museum-quality travel photography prints can instantly transform your home or office into a spectacular location. Browse our collection of travel pics for prints and posters.
Shop for framed prints and canvases featuring original photography. These uniquely created travel images are also available to print on home decor products and other merchandise.
Description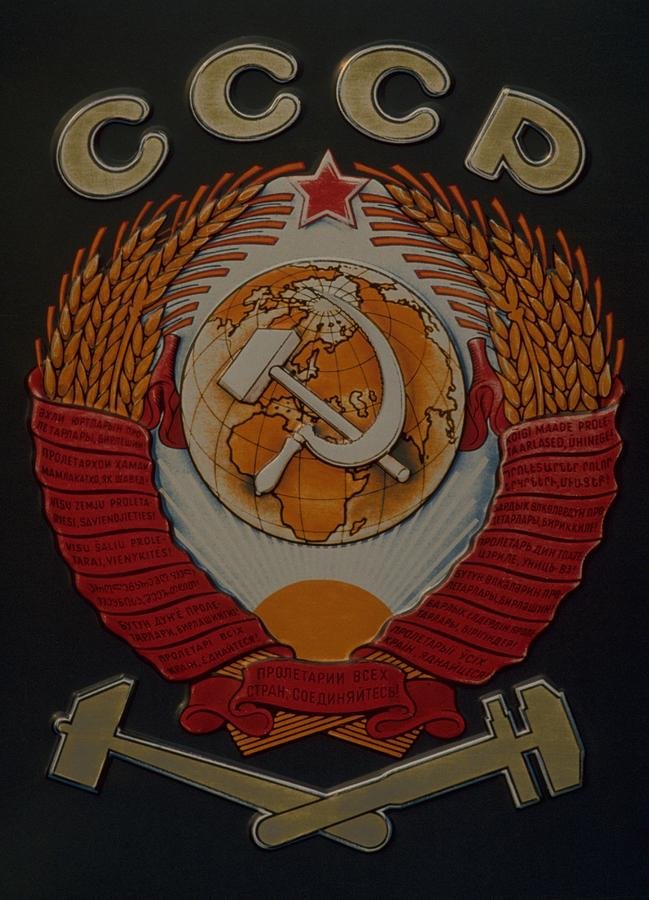 When I travelled by rail from Moscow to Saint Petersburg in April, 1992 I was glad to see the Soviet State Railway Emblem still on the train.
The dissolution of the Soviet Union had taken place in December 1991 and Russia was now briefly a member of the Commonwealth of Independent States, or CIS.
The State Emblem of the Soviet Union (some call it a coat of arms) shows a five-pointed red star above the traditional hammer and sickle over a globe, with ears of wheat around it.
There is a rising sun under the globe, and a red ribbon around the two wreaths of wheat with 'Proletarians of the world, unite' written in the official languages of the Soviet Republics.
If you're interested, the languages are Turkmen, Tajik, Latvian, Lithuanian, Georgian, Uzbek, and Ukrainian on the left; Estonian, Armenian, Kyrgyz, Moldovan, Azerbaijani, Kazak and Belarusian on the right; with Russian joining them all together at the base.
Between July 1956 and September 1991, there were fifteen union republics: Armenia, Azerbaijan, Belarus, Estonia, Georgia, Kazakhstan, Kyrgyzstan, Latvia, Lithuania, Moldova, Russia, Tajikistan, Turkmenistan, Ukraine and Uzbekistan.
Photo by Michel Guntern.
@TravelNotesPhotos on Instagram @TravelTweet on Twitter.
Soviet Railway Emblem Image Licensing - Russia Prints and Posters.
Location Scouting
Things to do on Location
Russia Tourism:
Russia travel and tourist information with links to official travel and tourism websites and local resources for visitors to Russia.
Travel Notes Online Guide to Travel
The Travel Notes Online Guide to Travel helps visitors plan their trip with country and city travel guides, local tourist information, reviewed web sites, and regular travel articles.
If our travel photography hits the sweet spot, please take a moment to like us on Facebook and share with your friends on social media.