Victoria Falls, Zimbabwe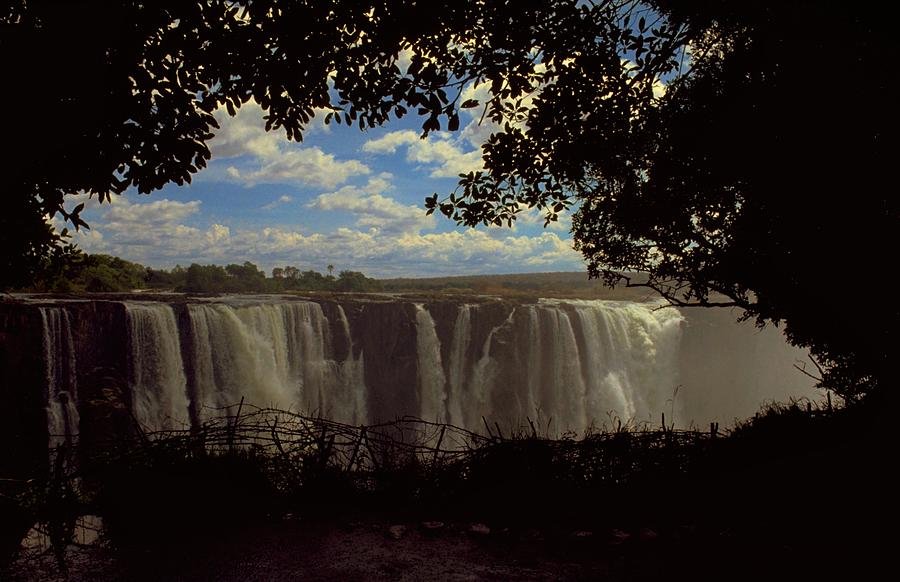 Travel Photography - The Back Story
Victoria Falls in full flow; as seen from the Zimbabwean side of the Zambezi River, in southern Africa.
With a width of 1,708 metres and height of 108 metres Victoria Falls is the world's largest sheet of falling water and forms the natural border between Zambia and Zimbabwe.
The spray from the falls can be seen for miles around and the constant roar of water crashing down a series of basalt gorges is truly thunderous; so much so that the Kololo tribe living in the area referred to this natural wonder as 'Mosi-oa-Tunya', or 'Smoke that Thunders'.
When David Livingstone explored this part of Africa on 16th November, 1855, he chose to name the majestic falls in honour of the British Queen, Victoria.
Both names are inscribed on the UNESCO World Heritage List although there have been some concerns in UN corridors about the rapid rise of tourist development in a national park area near the Zambian town of Livingstone.
Most Western tourists used to visit from the Zimbabwean side, while staying as guests at the Victoria Falls and Elephant Hills hotels.
The falls can be reached from Livingstone in Zambia, or Victoria Falls in Zimbabwe.
Getty Images:
Scenic View of Lake Against Sky.
Photo by Michel Guntern.
Museum-quality Travel Photography Prints can instantly transform your home or office into a spectacular location.
Browse our Collection of Travel Photos for more inspiring travel images featuring some wonderful travel destinations and find out more about the story behind the pictures.
Plan Your Visit to Victoria Falls, Zimbabwe
Location Scouting
Things to do on Location
Zimbabwe Tourism:
Zimbabwe travel and tourist information with links to official travel and tourism websites and local resources for visitors to Zimbabwe.
Travel Notes Online Guide to Travel

The Travel Notes Online Guide to Travel helps visitors plan their trip with country and city travel guides, local tourist information, reviewed web sites, and regular travel articles.

Travel and Tourism with Industry Professionals
If our travel photography hits the sweet spot, please take a moment to like us on Facebook and share with your friends on social media.


Increase Bookings & Reach More Customers.