Museum-quality travel photography prints can instantly transform your home or office into a spectacular location. Browse our collection of travel pics for prints and posters.
Shop for framed prints and canvases featuring original photography. These uniquely created travel images are also available to print on home decor products and other merchandise.
Description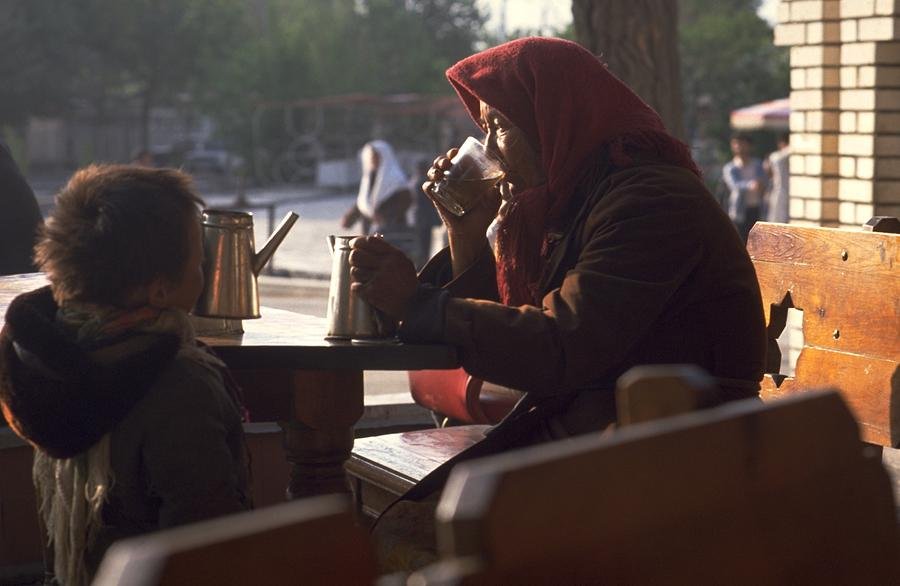 A young boy watches an old Uzbek woman, probably his grandmother, put a steaming hot glass of tea to her lips; in Tashkent, Uzbekistan.
The youngster holds a pot aloft and offers the woman, with a red woolen scarf over her head, another refill. It is a sunny April day in Central Asia, but far from warm.
Open-air Uzbek tea houses can be found in many of Tashkent's parks. Although it isn't grown or produced in Uzbekistan, tea is considered the country's national drink.
Photo by Michel Guntern.
@TravelNotesPhotos on Instagram @TravelTweet on Twitter.
Tea in Tashkent Image Licensing - Uzbekistan Prints and Posters.
Location Scouting
Things to do on Location
Uzbekistan Tourism:
Uzbekistan Travel and Tourist information with links to official travel and tourism websites and local resources for visitors to Uzbekistan.
Travel Notes Online Guide to Travel
The Travel Notes Online Guide to Travel helps visitors plan their trip with country and city travel guides, local tourist information, reviewed web sites, and regular travel articles.
If our travel photography hits the sweet spot, please take a moment to like us on Facebook and share with your friends on social media.