Helping Mum in Mozambique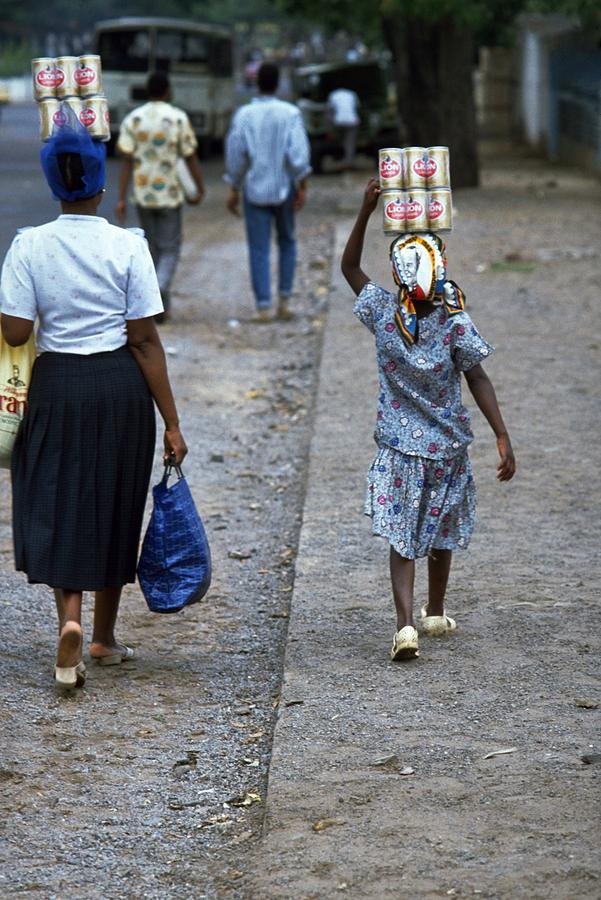 Travel Photography - The Back Story
Mother and daughter walking home from the market in Maputo, Mozambique with tins of Lion Lager on their head.
It is not uncommon to see women carrying things on their head in Africa, but this candid street scene shows the first time I saw a little girl help her mother take the beer home, presumably for her father.
Usually the children carry water, or firewood to their destination.
Once this little girl gets better at carrying loads on her head, she will no doubt be able to walk upright with her hands free like mum.
Photo by Michel Guntern.
Museum-quality Travel Photography Prints can instantly transform your home or office into a spectacular location.
Browse our Collection of Travel Photos for more inspiring travel images featuring some wonderful travel destinations and find out more about the story behind the pictures.
Plan Your Visit to Maputo, Mozambique
Location Scouting
Things to do on Location
Mozambique Tourism:
Mozambique travel and tourist information with links to official travel and tourism websites and local resources for visitors to Mozambique.
Travel Notes Online Guide to Travel
The Travel Notes Online Guide to Travel helps visitors plan their trip with country and city travel guides, local tourist information, reviewed web sites, and regular travel articles.
If our travel photography hits the sweet spot, please take a moment to like us on Facebook and share with your friends on social media.
Travel and Tourism with Industry Professionals