Snowy Scene at St Petersburg's Peter and Paul Cathedral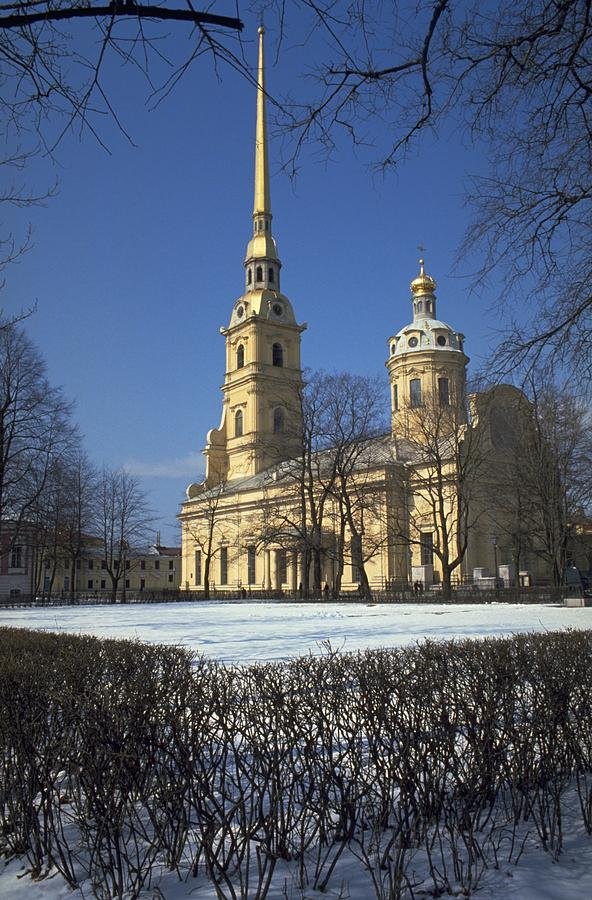 Travel Photography - The Back Story
Commissioned by Peter the Great, the Cathedral of Saints Peter and Paul is located inside the Peter and Paul Fortress in Saint Petersburg, Russia.
Built on Zayachy Island, between 1712 and 1733, the cathedral's bell tower is the world's tallest Orthodox bell tower. It also acts as a lightning rod protecting the cathedral.
The cathedral houses the remains of most of the Russian emperors and empresses from Peter the Great to Nicholas II; including Catherine the Great, Empress of Russia for 34 years.
The Historic Centre of Saint Petersburg and Related Groups of Monuments was declared a World Heritage Site by UNESCO in 1991.
Getty Images:
Church on Snow Covered Landscape.
Photo by Michel Guntern.
Museum-quality Travel Photography Prints can instantly transform your home or office into a spectacular location.
Browse our Collection of Travel Photos for more inspiring travel images featuring some wonderful travel destinations and find out more about the story behind the pictures.
Plan Your Visit to St Petersburg, Russia
Location Scouting
Things to do on Location
Russia Tourism:
Russia travel and tourist information with links to official travel and tourism websites and local resources for visitors to Russia.
Travel Notes Online Guide to Travel

The Travel Notes Online Guide to Travel helps visitors plan their trip with country and city travel guides, local tourist information, reviewed web sites, and regular travel articles.

Travel and Tourism with Industry Professionals
If our travel photography hits the sweet spot, please take a moment to like us on Facebook and share with your friends on social media.


Increase Bookings & Reach More Customers.