Short URL: https://tnot.es/TR
Turkey Travel and Tourism on Travel Notes
Find Turkey Travel and Tourist Information with links to official travel and tourism websites and state resources for visitors to Turkey.
About Turkey
Although a member of NATO and UEFA, most of Turkey lies on the Asian continent, as Anatolia.
Driving From Istanbul - to Europe.
Countries neighbouring Turkey are: Greece, Bulgaria, Georgia, Armenia, Iran, Iraq and Syria.
Only 3 per cent of Turkey, known as Thrace Turkey, is actually in Europe.
Visitors to Turkey, arriving in Istanbul, will probably cross the Bosphorus and enter Asia Minor.
Weather in Asia:
Local weather forecasts for destinations around Asia.
Turkey Tourist Visas
As of 10th April, 2014 Turkish visa stickers issued on arrival were abolished. Visitors now need an e-visa before they arrive in Turkey.
TURSAB - Association of Turkish Travel Agencies:
The Association of Turkish Travel Agencies is a professional organization established by Law in 1972.


The Blue Mosque
Istanbul may not be the capital of Turkey, which is Ankara, but it is the historic centre that bridges the two continents of Europe and Asia, at Galata.
Istanbul is still overcrowded, although it has cleaned up its act in recent years. The pedestrian zone bustles with young Turks talking into mobile phones and watching each other from outdoor restaurant tables, Italian style - granted the coffee is a little thicker, but the atmosphere is sweet.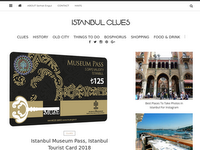 Istanbul Clues:


Serhat Engul is a licensed Istanbul tour guide who uses plenty of visual aids to make sure that you understand the historical significance and architecture of the city.
Accommodation in Istanbul
Hotels in Istanbul:
Find hotels in Istanbul with special online rates.
Hotel Spina: Istanbul.
Utangac Sokak No 19.

Official Website:
Hotel Spina.

Located in Sultanahmet, this 19th century, wooden hotel adds a little Ottoman flavour to your stay in Istanbul.

The 24 reasonably priced rooms are atmospherically designed and there's a wonderful view of the Blue Mosque from the restaurant terrace.
Hotel Hippodrome:
Located in Istanbul's old city, Sultanahmet, within easy walking distance of the Blue Mosque, Hagia Sophia, Topkapi Palace, Hippodrome, Underground Cistern and bazaars. Rooms are with Cable TV, mini-bar, direct dial telephone, hair dryer, shower and W.C. Free airport transfers.
Istanbul Tourist:
Comprehensive guide to Istanbul with an accommodation guide and tourist tips, instant online reservation service, guides to city tours, restaurants, night shows, shops, movies, concerts, fairs and festivals.
Many charter tourists to Turkey head to the Mediterranean and Aegean coasts, and often miss out on a visit to Istanbul.
Granted, there is a lot of history and pleasure in cruising around the coastal resorts of Antalya, Alanya, Bodrum, Izmir and Marmaris.
Summer season starts in May and runs until the end of October the town never sleeps.
Republic of Turkey:
All the facts and figures from the Embassy of the Republic of Turkey, Washington, DC.
Marmaris
Marmaris is a beautiful holiday resort located on the south coast of Turkey.
By Sukru Dulger.
Marmaris Day Trips:
When you are in Marmaris there are many activities that you can join in with to have a more colourful holiday experience during your stay in this beautiful Turkish town
Marmaris Excursions:
Arranging daily tours and excursions in Marmaris, as well as sightseeing excursions to Ephesus, Pamukkale, Rhodes and Dalyan.
Sirince
Sirince is a quiet, beautiful village surrounded by vineyards and olive groves, located in the hills 8 kilometres (5 miles) from Ephesus. The architectural legacy remains fully intact. Some tourism has arrived in recent years, but not so much as to destroy the traditional village rhythms.
By Nisanyan Houses.
Travels in Turkey:
Bob Cromwell's travel tips, after eight trips to Turkey. Train schedules, suggested places to visit and background information. While buses are cheaper and go almost everywhere, don't overlook the overnight trains.
Turk Travel:
Directory of useful information for visitors to Turkey. Includes some outside links, in the Turkey City Guide section, and contact numbers for bus stations and emergency services.
Bodrum Ferry
If you don't have your own yacht, there is a ferry to Kos, Rhodes, Marmaris and other Turkish destinations.
Zoe Yacht Bosphorus Cruises:
Spend a half-day soaking up breathtaking views of Istanbul and the Bosphorus Strait; travelling to the picturesque fishing village of Anadolu Kavagi, near the mouth of the Black Sea.
The Hittite Empire (1900-1200 BC), covered most of Asia Minor and rivalled Egypt as a Middle Eastern power, until it was destroyed by invaders known as the Sea Peoples, towards the end of the 12th century BC; along with the western Anatolian city of Troy.
Turkish Odyssey:
A delightful guide to Turkey's past. History blends effortlessly with useful tips and places of interest.
Mustafa Kemal Ataturk was virtually unknown until 1919, when he took the lead in thwarting the victorious Allies' plan to partition the Turkish core of the Ottoman Empire.
Ataturk: The Biography:
The first full-scale biography in over twenty years of the controversial founding father of the Turkish Republic. Andrew Mango strips away the myth, to show the complexities of one of the most visionary, influential, and enigmatic statesmen of the century.
Ataturk divided the Allies, defeated the last Sultan and secured the territory of the Turkish national state, becoming the first president of the new republic in 1923.
Mustafa Kemal Ataturk:
Without him, there might never have been a Republic of Turkey.
Antalya:
If you want to get away from the beaches, there are many historical sights in the region.
60km from Antalya airport, Side is a rich region with culture, history, unpolluted miles of beach.
Cappadocia Online:
Europeans discovered the region of Cappadocia in the early 18th century and sometimes it seems as though little has changed.
Mount Ararat (Agri Dagi)
Mentioned in the Bible as the place where Noah's ark came to rest, Mount Ararat is Turkey's highest peak (5,122m), and is situated in the Eastern Highlands; near the border with Armenia and Azerbaijan.
Clothing
When visiting Marmara, the Aegean and Mediterranean, during the warmer months of June to mid-September, take light, cotton summer clothing and cardigans for the evening.
For the Black Sea, Central and Eastern Anatolia, warmer clothing should be taken for cool evenings at high altitudes.
In winter, woollens and rain-proofing are needed as most of the country is cold and rainy. The Mediterranean coastal region doesn't get very cold but Central and Eastern Anatolia is snowy in the higher regions.
Remember to bring comfortable shoes when visiting archaeological and historical sites.
By TWARP Tours.
Maxi Turkey:
Get tips on travel in Turkey by talking to the Turkey travel community.
Language Learning:
Online resources to help you learn Turkish before you travel to Turkey.
Turkish Culture:
Language, religion, mythology and art, if you would like to get to know Turkey better here is where to start.
Turkey News
Hurriyet Daily News:
The latest news from Turkey.
ANZ Guesthouse:
Family run guesthouse, near Ephesus, that is part hostel and part budget hotel; with reasonably priced, Ottoman-style rooms and a rooftop restaurant.
Anzac House Hostel:
Anzac House Youth Hostel is situated in Canakkale, 300km south of Istanbul, about 6 hours by bus. Travellers come to Canakkale to tour the WW1 battlefields of Gallipoli and the ancient city of Troy. Internet access and friendly staff.
Cappadocia Museum Hotel:
Located in Uchisar, the Cappadocia Museum Hotel reflects the history of the region on a wide scale and also displays historical artefacts around the hotel and in the traditional arched and rock carved rooms.
Lotus Motel: (Antalya-Side)
With swimming pool, private beach, bar, authentic Turkish cuisine, personal service, free pickup and drop off at Antalya airport. Rich breakfast for two included.

Travel Professionals Based in Turkey.
Become a Member to Add Your Turkey Listing.

Add a Business Listing - Add a Destination Guide - Add a Place to Stay.


If you find Travel Notes useful, please take a moment to like us on Facebook and share with your friends on social media.
Asia Index - Asia Tourism - Asia Travel Websites.