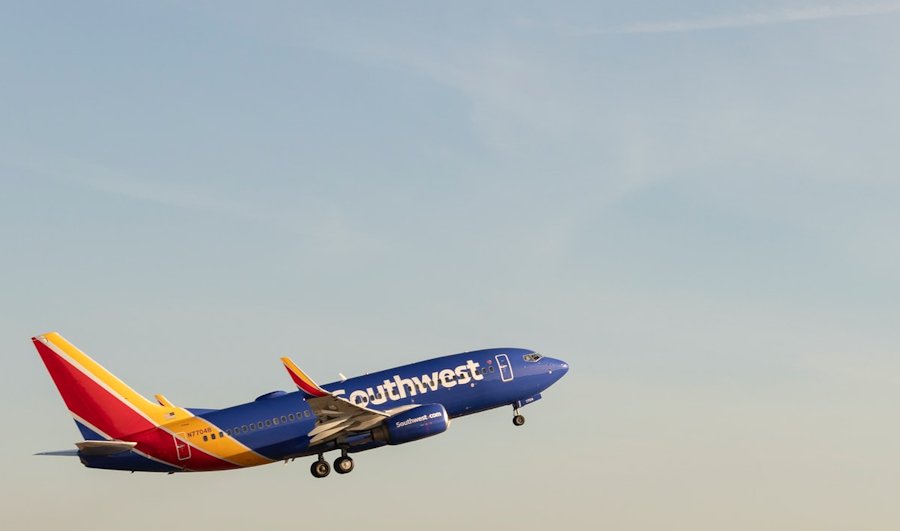 Southwest Airlines by Sven Piper on Unsplash.
Travel Notes: Airline Directory - South African Airways to Swiss International.
The airline directory on Travel Notes helps you find the airline schedule that's right for you and makes searching for cheap flight tickets a lot easier.
You can also find airline codes and links to official airline websites, courier companies, scenic flights, country information, airports, official tourist offices, and foreign embassies.
International Airlines and Airline Codes
Singapore Airlines: (SQ)
Singapore Airlines has grown from a regional airline into one of the world's leading carriers with a top-ranked travel gateway, Singapore's Changi Airport, at the centre of their extensive route network.
Sky King: (RU)
Turks & Caicos Islands. From Providenciales to Grand Turk, South Caicos, Cap Haitian, Puerto Plata, Freeport and Nassau.
Slingair Heliwork: (Scenic Flights)
Scenic flights in the remote Kimberley and the Bungle Bungles in North Western Australia.
Sobelair: (Q7)
Belgian charter company covering a large set of destinations - only in French and Dutch.
SriLankan Airlines: (UL)
The national airline of Sri Lanka flies to 26 destinations in 20 countries: Abu Dhabi, Bangkok, Beirut, Chennai, Colombo, Delhi, Dubai, Frankfurt, Hong Kong, Karachi, Kuala Lumpur, London, Maldives, Mumbai, Muscat, Paris, Singapore, Stockholm, Sydney, Tokyo, Trivandrum and Zurich.
Stabo Air Charters: (SBO)
Zambia. A wide range of aircraft for you to choose from for flights to any part of Zambia and the sub region.
Star Alliance: (Alliance)
With a Star Alliance flight leaving every 12 seconds, to one of 729 destinations in 124 countries, flexibility is guaranteed -- Air Canada, Air New Zealand, All Nippon Airways, Austrian Airlines, bmi British Midland, Lauda Air, Lufthansa German Airlines, Mexicana Airlines, SAS, Singapore Airlines, Thai, Tyrolean Airways, United Airlines, and Varig.
Sunflower Airlines: (PI)
Fiji's largest domestic airline providing daily services to the country's major tourist destinations:
Nadi to Kadavu, Labasa, Malololailai, Mana, Rotuma, Savusavu, Suva and Taveuni.
Suva to Labasa and Rotuma.
Taveuni to Labasa and Savusavu.
Sunshine Air Charter: (Air Charter)
Florida air charter to anywhere in state or The Bahamas.
Sunshine Air Tours: (Air Tours)
Los Angeles to Grand Canyon day tours.
Sunshine Express Airlines: (CQ)
Local airline serving Australia's Sunshine Coast. The Sunshine Coast Airport has easy access to Noosa, Coolum, Maroochydore, Mooloolaba, Nambour and Caloundra.
SVG Air: (Air Taxi)
The airline of St. Vincent and the Grenadines operates charter flights throughout all the islands of the Eastern Caribbean and as far as Guyana, Jamaica and Venezuela.
Swiss International Air Lines: (LX)
Based in Basel, Swiss have taked over where Crossair left off and now fly to 126 destinations world wide -- many of them previously covered by Swissair.
Swissair: (SR)
Swissair stopped flying on March 31st, 2002 -- after serving Switzerland for 71 years.
Swisswings: (RQ)
Swisswings, formerly Air Engiadina, terminated flight operations in the morning of 8th April, 2002.
Flight Search - Fly For Less
How Many Air Miles:
Interactive Distances between major world cities, in miles or kilometres.
Air Help - Claim compensation for your flight delay or cancellation.
Travel Notes Online Guide to Travel
Africa - Asia - Caribbean - Europe - Middle East - North America - Oceania - South America.

The Travel Notes Online Guide to Travel helps visitors plan their trip with country and city travel guides, local tourist information, reviewed web sites, and regular travel articles.
Car Hire - Cruises - Flights - Hotels.
Travel and Tourism Guides on Travel Notes
If Travel Notes has helped you, please take a moment to like us on Facebook and share with your friends on social media.


Travel & Tourism With Industry Professionals.
Arrivals and Departures.