Ilha do Ibo, Mozambique by Dimitry B on Unsplash.
Travel Notes: Africa - Mozambique Travel Notes - Updated 14 August, 2023.
Short URL: https://tnot.es/MZ
Mozambique Travel and Tourism on Travel Notes
Find Mozambique Travel and Tourist Information with links to official travel and tourism websites and state resources for visitors to Mozambique.
About Mozambique
Known for stunning beaches and a vibrant mix of cultures, Mozambique's popular tourist destinations include Bazaruto Archipelago, Inhambane, and Maputo.
Countries neighbouring Mozambique: South Africa, Swaziland (Eswatini), Zimbabwe, Zambia, Malawi and Tanzania.
Map of Mozambique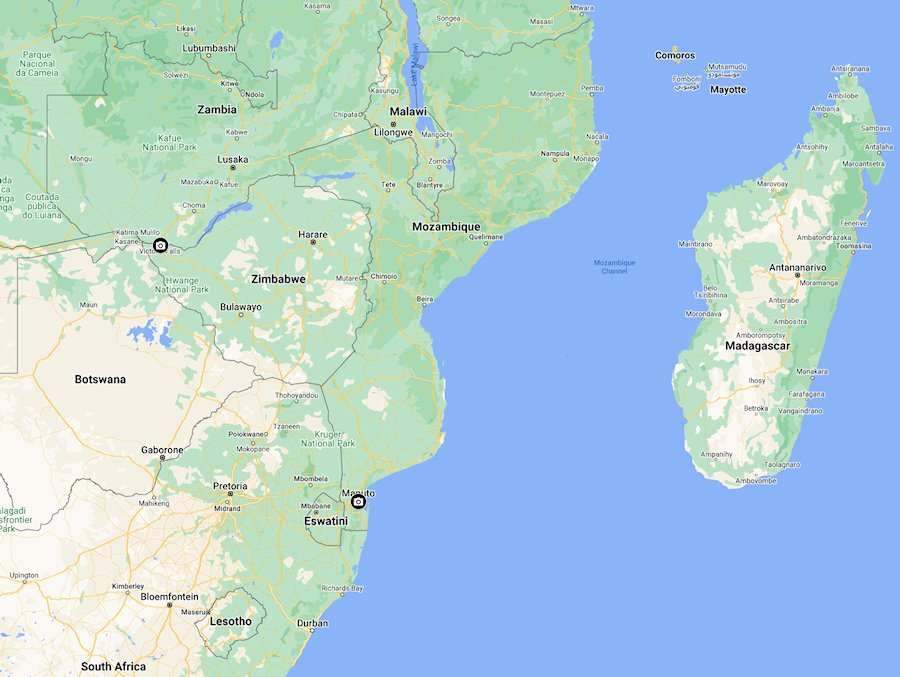 In the Middle Ages, Arab traders visited the area; exporting gold from the great Shona kingdom of Zimbabwe out of present-day Beira, then known as Sofala.
Vasco da Gama looked in on Mozambique in 1498, and set the way for Portuguese expansion.
The Portuguese had little interest in the interior, and overpowered the Arab coastal towns in an attempt to control the profitable trade in gold, ivory, and eventually slaves.
This concentration on maritime trade by the Portuguese, and their lack of thought for the outlying land area is the root of Mozambique's infrastructure problems today - civil war didn't help either.
Portugal failed with its colonisation incentives to whites, while compelled labour and austere measures also eroded the indigenous economy and culture.
Frelimo
Frelimo launched a guerrilla campaign against the Portuguese, from bases in Tanzania, during the 1960's and the country went from bad to worse.
Renamo
After Rhodesian independence, South Africa became Renamo's backers.
Only with the collapse of the Soviet bloc and the ending of Apartheid could Frelimo and Renamo get together to formally end the civil war in 1992.
Although Mozambique's 2,800-km coastline has several good natural harbours, the country's internal infrastructure needs enormous improving.
The rail system is really five separate networks connecting the interior and neighbouring landlocked countries with the ports and coastal towns of Maputo, Beira, Nacala, Inhambane, and Quelimane.
Many of Mozambique's dirt roads become a sludge in the wet season.
The Tete corridor, connecting Malawi with Zimbabwe through north-western Mozambique, was kept open during the civil conflict.
The capital of Mozambique is easily reached from Swaziland.
Maputo, formerly called Lorenco Marques (after the Portuguese trader who visited the region in 1544), was founded in the late 18th century.
The name Maputo was given after independence.
Things To See In Maputo
The Portuguese built a fortress here, in 1787, while Mousinho de Albuquerque Square is a more modern landmark.
Where to Stay in Maputo
Polana Serena Hotel
Polana Serena Hotel: Avenida Julius Nyerere 1380, Maputo, Mozambique.
Built in 1922, this magnificent hotel is one of the best places to stay in Maputo. It's also a great place to meet for a drink and admire the ocean.
Guests at the Polana Serena Hotel loved the pool, great views and spacious rooms.
A commonwealth of Portuguese-speaking countries was formed on July 17th, 1996, to preserve the Portuguese language, co-ordinate diplomatic efforts, and improve co-operation among its members: Angola, Brazil, Cape Verde, Guinea-Bissau, Mozambique, Portugal, and Sao Tome and Principe.
Portuguese for Travellers:
Teach yourself basic Portuguese before you travel to Mozambique.
Travel Advice for Mozambique
British High Commission in Maputo:
Av Vladimir I Lenine 310, (CP 55) Maputo.
Embassy of Italy in Mozambique:
Av. Kenneth Kaunda 387, Maputo, Mozambique.
Embassy of Mozambique in Washington DC:
1990 M St, NW, Suite 570, Washington, DC 20036.
US Embassy in Maputo:
Avenida Kenneth Kaunda 193, Caixa Postal 783, Maputo.
Mozambique Travel - Mozambique Maps.
Weather in Africa:
Local weather forecasts for destinations around Africa.
Travel Notes Online Guide to Travel
Africa - Asia - Caribbean - Europe - Middle East - North America - Oceania - South America.

The Travel Notes Online Guide to Travel helps visitors plan their trip with country and city travel guides, local tourist information, reviewed web sites, and regular travel articles.
Namibia.
Travel and Tourism Guides on Travel Notes
If Travel Notes has helped you, please take a moment to like us on Facebook and share with your friends on social media.


Travel & Tourism With Industry Professionals.