Short URL: https://tnot.es/CV
Cape Verde Travel and Tourism on Travel Notes
Find Cape Verde Travel and Tourist Information with links to official travel and tourism websites and state resources for visitors to Cape Verde Islands.
About Cape Verde
The volcanic archipelago of Cape Verde is a closely knit group of 10 islands and 5 islets in the Atlantic Ocean, some 600km west of Senegal. Only Pico do Cano, on Fogo, is active.
Cape Verde Island Groups
The northern Barlavento group of Cape Verde includes Santo Antao, Sao Vicente, Santa Luzia, Sao Nicolau, Sal, and Boa Vista.
The southern Sotavento group embraces Sao Tiago, Brava, Fogo, and Maio.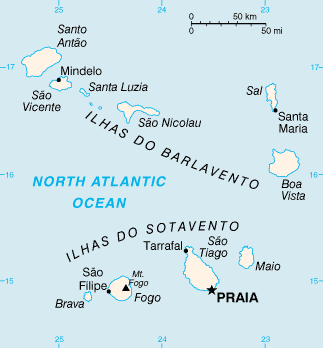 The Portuguese colonised the islands in the 1460's, although they did very little with them until the slave trade took off in the mid 1500's.
Cape Verde became independent on July 5th, 1975.
Cape Verde Economy
Services for ships and airplanes remain a significant economic activity in a place with very little arable land and barely enough rainfall to water it.
Weather in Africa:
Local weather forecasts for destinations around Africa.
The capital of Cape Verde is on the southern tip of Sao Tiago; Sao Tiago being the largest and most populous island of Cape Verde.
Cape Verde Island Information:
If you enjoy fine beaches, beautiful scenery, vibrant cultures and have a sense of adventure, Cape Verde will not disappoint.
Hotels in Cape Verde:
Find hotels in Cape Verde with special online rates.
Hotels in Praia
Pestana Tropico Hotel: .
The Pestana Tropico Hotel (413 Prainha), a 4-star unit located in Cidade da Praia's most noble area, has always been looked on as 'the' hotel in the Cape Verde capital.
A commonwealth of Portuguese-speaking countries was formed on July 17th, 1996, to preserve the Portuguese language, coordinate diplomatic efforts, and improve cooperation among its members: Angola, Brazil, Cape Verde, Guinea-Bissau, Mozambique, Portugal, and Sao Tome and Principe.
Portuguese for Travellers:
Teach yourself basic Portuguese before you travel to Cape Verde.

Add a Business Listing - Add a Destination Guide - Add a Place to Stay.


If you find Travel Notes useful, please take a moment to like us on Facebook and share with your friends on social media.
Africa Index - Africa Tourism - Africa Travel Websites.