Short URL: https://tnot.es/CG
Congo Republic Travel and Tourism on Travel Notes
Find Congo Republic Travel and Tourist Information with links to official travel and tourism websites and state resources for visitors to Republic of Congo.
About Congo Republic
The River Congo is the longest navigable waterway on the whole of Africa, and serves as the natural border between Republic of Congo and the Democratic Republic of the Congo.
Countries neighbouring the Republic of Congo are Gabon, Cameroon, Central African Republic, Democratic Republic of the Congo and Angola.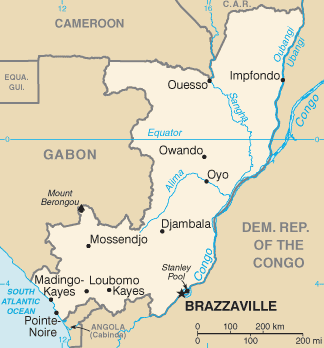 The River Congo is not totally navigable due to rapids, but it is still a major trading and transportation artery for the Republic of Congo and neighbouring countries; a journey into the heart of Africa itself.
Weather in Africa:
Local weather forecasts for destinations around Africa.
The French explorer and colonial administrator in Africa, Pierre Savorgnan de Brazza, of France, first visited the area between 1879 and 1880.
The Italian-born, naturalised Frenchman signed treaties with local rulers, effectively placing the territory under French protection and putting in motion the establishment of French Equatorial Africa.
In 1884, Pierre Paul Francois Camille Savorgnan de Brazza founded the city of Brazzaville.
Brazzaville was the main city of the French (Middle) Congo and became the seat of government for the federation, and the capital of Congo after independence.
The French failed in attempts to tie their territories together after the Second World War, and began to grant them independence.
In 1960 the Middle Congo became the independent Republic of Congo.
Hotels in Congo:
Find hotels in the Republic of Congo with special online rates.
Hotels in Brazzaville

Mikhael's Boutique Hotel:
67 Nelson Mandela Avenue, Brazzaville, Congo.
The comfortable rooms at Mikhael's Boutique Hotel in Brazzaville are minutes away from Basilique Sainte-Anne, and close to Brazzaville Cathedral.
Guests rated Mikhael's Hotel number one in Brazzaville, with a friendly and professional team, and a great location for the airport.
An important port on the Republic of Congo's narrow access to the Atlantic Ocean; not only for the Republic of Congo, but its rail connection with Brazzaville is used by the Central African Republic too.
The first European to explore the area was Diogo Cao, in 1482. The Portuguese navigator marked his discovered territories with the Portuguese royal arms inscribed upon four pillars.
Three of these markers have been recovered, and placed in museums.

Add a Business Listing - Add a Destination Guide - Add a Place to Stay.


If you find Travel Notes useful, please take a moment to like us on Facebook and share with your friends on social media.
Africa Index - Africa Tourism - Africa Travel Websites.