China Railway Station by Chengwei Hu on Unsplash.
Buying train tickets for travel in China can often be a problem, with five-day waits and people camped at the station.
And what if you can't speak Chinese?
1. Travel by Train in China:
Window tables were piled high with food and soft drinks for the two-day rail journey and in the restaurant-car kitchen staff sweated and chopped vegetables.
2. Train Carriage Commune:
The whole carriage was like a commune, for two days everybody would eat and sleep together; sharing their lives with no barriers; sixty bunks to a carriage.
3. Meeting The Passengers:
Chee Lu was a 26 year-old medical graduate travelling to Shanghai for two week's holiday.
4. Why Go to Shanghai:
Two young girls were travelling to Shanghai on business. They worked in a Friendship store, but it took some effort to coax any English out of them.
5. First Stop at Huaihua:
The train had travelled for nearly nine hours before its first stop at Huaihua Shi.
6. Reveille to Piped Music:
By nine o'clock most of the morning greetings were over, the window seats were taken, and faces next to the glass watched a moving scene hardly change.
7. Jinhua to West Lake:
Fresh supplies were bought; a selection of biscuits, preserved prunes, cakes, Cola, and orange juice were passed around the hard-sleeper commune.
8. Approaching Shanghai:
People packed their bags, stored away remaining provisions, and the two girls coloured their faces; to the amusement of some of the wrinkled Mao survivors.
9. Visiting Suzhou:
I walked in some of the famous gardens before losing a couple of hours in the bazaar; the restaurant and trading area around the Taoist temple Xuanmiao Si.
10. Shanghai Character:
Couples went to the Yu Gardens and Wuxingting Teahouse to photograph each other; old men in blue to watch them and smile at the changing face of China.
11. Last Night in Shanghai:
It's rules and lack of initiative that plague the traveller trying to secure simple but essential things like accommodation and travel in China.
12. Shanghai to Beijing:
There appeared to be no queuing system in the ticket office and, like everything else in China, everyone pushed to get attended to first.
13. Ticket Office For Foreigners:
If at first you don't succeed, try, try, try again. The nineteenth-century proverb is so apt for buying train tickets in China; where persistence pays off.
14. Night Before Departure:
It is not advisable to wait until the night before departure to buy a train ticket in China, but in Shanghai I needed to take this route to reach Beijing.
15. One More Card to Play:
When we had the office to ourselves again, I finally secured a ticket to a town an hour away from Beijing. And after all my troubles, at a local price.
16. On The Train to Tianjin:
People on the platform at Wuxi scurried like ants in the sun. Barrows of food and drink were pushed under the noses of the more affluent passengers.
17. Nanjing & Yangtse River:
On the east bank of the Yangtse, Nanjing is famous for the overthrow of the Yuan Dynasty by a peasant rebellion led by Zhu Yuanzhang.
18. No Rest on Sunday:
It was Sunday, but men and women in straw-hats busied themselves in the fields, flailing rice and tying up the stems. Children helped too; carrying water.
19. Late Sleepers, Early Risers:
I struggled to sleep again; the old man below me sucked and slurped his noodles. Even after I presumed him to have finished, he sucked at his teeth.
20. Arrival in Tianjin:
I had a telephone number of a girl in Tianjin, so I thought I might as well spend the day in town before catching an evening train on to Beijing.
22. Family Sun:
Family Sun lived on the fourth floor of a concrete block. He greeted his neighbours with his foreign pet close at heel, they looked up and smiled at me.
23. Next Stop, Beijing:
The Tianjin waiting room was like a cattle station. Passengers for various trains waited in allocated rows behind metal gates.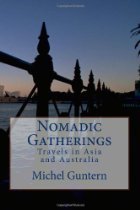 Travel Notes Online Guide to Travel

The Travel Notes Online Guide to Travel helps visitors plan their trip with country and city travel guides, local tourist information, reviewed web sites, and regular travel articles.

Chapter Six: The Northern Capitals.
Travel and Tourism with Industry Professionals
If you enjoy Nomadic Gatherings, please take a moment to share it with your friends on social media.


Increase Bookings & Reach More Customers.