Shanghai, China by Denys Nevozhai on Unsplash.
Nomadic Gatherings: Chapter Five: China Travel - Why Go to Shanghai.
An older couple were returning to Shanghai with an American visa in their passport.
They were going to emigrate to join their son and his wife, and all the other Chinese, in San Francisco.
I wasn't sure if they were leaving in two weeks or two months, but they were clearly very happy.
Two young girls were travelling to Shanghai on business. They worked in a Friendship store, but it took some effort to coax any English out of them while they giggled and hid behind each other.
Another man spent most of the time on his bunk, behind a book. He didn't even attempt to socialise with the others.
He descended and sat on the lower bunk for a while, looked around, wiped his face on a green and white striped flannel, and then climbed back up to his own space.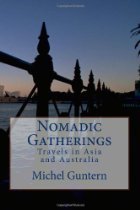 Nomadic Gatherings - by Michel Guntern.
Travel Notes Online Guide to Travel

The Travel Notes Online Guide to Travel helps visitors plan their trip with country and city travel guides, local tourist information, reviewed web sites, and regular travel articles.
Travel and Tourism Guides on Travel Notes
If you enjoy Nomadic Gatherings, please take a moment to share it with your friends on social media.


Travel & Tourism With Industry Professionals.
Turn The Page: First Stop at Huaihua.