At Work by Mimi Thian on Unsplash.
Chapter Five: China Travel - One More Card to Play.
On the train to Suzhou, I had met a girl who was travelling to Tianjin; an hour away from Beijing.
I had one more card to play.
"The train to Suzhou in the morning. Number 124, I believe. Does that go to Tianjin?"
"Yes, and it is one hour away from Beijing."
She had the look of an outplayed poker player.
"Do you have a hard-sleeper to Tianjin then, please?"
Someone else came in with a ticket request and was given a pink ticket-reservation form to fill in.
The phone rang, and she shouted into it. It was going to be more than a quick brush-off, so she motioned for me to wait.
When we had the office to ourselves again, I finally secured a ticket to a town an hour away from Beijing.
And after all my troubles, at a local price.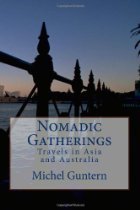 Nomadic Gatherings - by Michel Guntern.
Travel Notes Online Guide to Travel

The Travel Notes Online Guide to Travel helps visitors plan their trip with country and city travel guides, local tourist information, reviewed web sites, and regular travel articles.
Turn The Page: On The Train to Tianjin.
Travel and Tourism Guides on Travel Notes
If you enjoy Nomadic Gatherings, please take a moment to share it with your friends on social media.


Travel & Tourism With Industry Professionals.