Shanghai Skyline by Siyuan Hu on Unsplash.
Chapter Five: China Travel - Shanghai Character.
Back at the Yangtse mouth, the streets of 'Old Shanghai' around Yu Gardens and the Wuxingting Teahouse had character, but the main Nanjing Lu, from the Peace Hotel to the Park Hotel, did not.
Couples went to the Yu Gardens and Wuxingting Teahouse to photograph each other, and old men in blue to watch them and smile at the changing face of China.
Tourist groups passed through like sheep, led by their pendant-carrying shepherd.
The German, Italian, American, and French contingents all wore name-tags; lest they forget their identity.
They were all told what to look at, and their pictures only varied by the changing faces in front of the same sights.
The Chinese photographers that set up stands at these locations, would earn no living from the zoom-lens carrying foreign crowds. They looked on indifferently.
In the evening, the embankment of Shanghai's muddy river, known as The Bund, was a processional affair in semi-darkness.
No artists sat by Calor-gas lights with their work; this was not the Cote d'Azur.
The little glows of light were the Chinese photographers again, waiting to flash expose courting couples who wanted a permanent reminder of their time together.
On walls in the darkness, boy cuddled closely to girl. Girl had her head close to his chest. There was very little hand exploration, lips were often silent; certainly not connecting in their public solitude.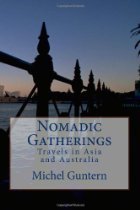 Nomadic Gatherings - by Michel Guntern.
Travel Notes Online Guide to Travel

The Travel Notes Online Guide to Travel helps visitors plan their trip with country and city travel guides, local tourist information, reviewed web sites, and regular travel articles.
Turn The Page: Last Night in Shanghai.
Travel and Tourism Guides on Travel Notes
If you enjoy Nomadic Gatherings, please take a moment to share it with your friends on social media.


Travel & Tourism With Industry Professionals.