Shanghai Station by K Hsu on Unsplash.
Chapter Five: China Travel - Approaching Shanghai.
Two hours away from Shanghai, the beds were tidied and the carriage swept.
People packed their bags and stored away any remaining provisions, and the two girls coloured their faces; to the amusement of some of the wrinkled Mao survivors.
I no longer saw them as young sisters of mine, but adorable young women. We shook hands at the station, but I wanted to kiss them.
The old man would show me to the right bus for my hotel.
"Don't change money with the boys from the north," he warned. "They are bad boys."
"How can I tell north from south?"
"They have deep-set eyes. And noses!" Jenny explained.
"We may never see each other again," Li Tzu mourned.
"Probably not."
Jenny gave me her name and address in Chinese characters.
"I can't read or write that," I teased.
"But you can photocopy it," she pleaded.
I promised her at least a postcard from another land, and then we were lost in the crowd.
"Taxi, Taxi. You want hotel?"
The ticket-collector tried to keep the hawking crowds at bay. More waited behind metal barriers.
I followed my leader through the mayhem.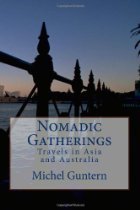 Nomadic Gatherings - by Michel Guntern.
Travel Notes Online Guide to Travel

The Travel Notes Online Guide to Travel helps visitors plan their trip with country and city travel guides, local tourist information, reviewed web sites, and regular travel articles.
Turn The Page: Visiting Suzhou.
Travel and Tourism Guides on Travel Notes
If you enjoy Nomadic Gatherings, please take a moment to share it with your friends on social media.


Travel & Tourism With Industry Professionals.