Chapter Five: China Travel - Shanghai to Beijing.
The hard-sleeper train to Tianjin didn't have the same atmosphere as the thirty-six hour ride from Canton.
It was slower and stopped more.
I had wanted to get the sleeper to Beijing, but my attempts through the CITS were met by at least a five-day delay, and perhaps still no certainty of a ticket.
"Try the station same day, or after three p.m. the day before," was all the help I could get from the harassed woman behind the counter.
There appeared to be no queuing system and like everything else, everyone pushed to get attended to first.
Scraps of paper and FEC notes were waved at the helpless clerks.
Questions were shouted, train times were sought after, and the telephone never seemed to stop ringing.
Unlike British Rail, the phones were usually answered and words shouted down the line. Probably:
"It's no use telephoning, can't you see I'm busy? You will have to come in person to find out!"
The assembled mass at the counter had probably called earlier to hear the same reply.
Now they were frustrated.
"You told me to come in, but I can't see the timetable for all the people clambering around the glass-topped counter," I pictured them shouting back.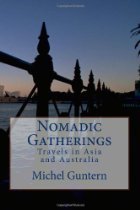 Nomadic Gatherings - by Michel Guntern.
Travel Notes Online Guide to Travel

The Travel Notes Online Guide to Travel helps visitors plan their trip with country and city travel guides, local tourist information, reviewed web sites, and regular travel articles.
Turn The Page: Ticket Office For Foreigners.
Travel and Tourism Guides on Travel Notes
If you enjoy Nomadic Gatherings, please take a moment to share it with your friends on social media.


Travel & Tourism With Industry Professionals.