Suzhou by Bernd Dittrich on Unsplash.
Chapter Five: China Travel - Visiting Suzhou.
Shanghai didn't have the sleaziness that the name had conjured up in my mind.
Suzhou was much more interesting.
The canals were blacker than Venice, but life was on the bridges.
At Wannian Bridge, an impromptu gathering of traders sold live chickens and sugar cane. Below, vegetables were brought direct from the fields and sold to buyers on the quayside.
I walked through some of the famous gardens before losing a couple of hours in the bazaar; the restaurant and trading area around the Taoist temple, Xuanmiao Si (Temple of Mystery).
Police with whistles moved-on illicit vegetable sellers from behind the temple.
The protesting crowd picked up their crops-for-sale and carried them on their shoulders to another back-street pitch around the corner.
I sat down at an open-air stall and ordered two slices of fried, battered bread and a bowl of noodle soup.
Passers-by seemed pleased to see me eating 'local'.
One young couple passed, looked back, smiled, talked to each other, and returned to join me.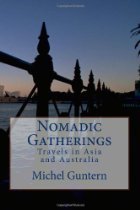 Nomadic Gatherings - by Michel Guntern.
Travel Notes Online Guide to Travel

The Travel Notes Online Guide to Travel helps visitors plan their trip with country and city travel guides, local tourist information, reviewed web sites, and regular travel articles.
Turn The Page: Shanghai Character.
Travel and Tourism Guides on Travel Notes
If you enjoy Nomadic Gatherings, please take a moment to share it with your friends on social media.


Travel & Tourism With Industry Professionals.