Find out more about Virginia before you travel. Order tourist brochures then research things to do and places to stay in Virginia.
Book a Rental Car - Check out Flights - Compare Hotel Rooms.
Choose a City in Virginia
US Hostels:
Ideal for backpackers and those travelling on a budget: dorms, shared accommodation and private rooms.
Become a Virginia City Guide:
You really know the Virginia scene - where to eat, where to stay, and what to do. Tell our visitors more about the sights and delights and how to make the most of their time in Virginia.
Virginia at a Glance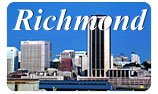 Richmond, Virginia:
Metro Richmond has over 13,000 available hotel rooms, from five-star hotels like The Jefferson to economy accommodations for travellers on a budget.
From theme parks to Colonial and Civil War history to world-class NASCAR racing, Richmond, Virginia is a unique location for the business and leisure traveler. Filled with a sense of old world charm, Richmond's tree-lined streets frame the historic monuments dedicated to heroes from all walks of life.
Sited in an area rich with history and easily accessible via interstate to many attractions you could visit Richmond anytime, but to make the most of the city try to come during the Spring or Autumn when the weather is at its most pleasant.
Virginia Beach, Virginia:
Virginia Beach is right next to Williamsburg - home of the Old Country and Busch Gardens - making the area an ideal vacation spot.
It turns out that Virginia Beach is an older, smaller version of Myrtle Beach, complete with the usual suspects - saltwater taffy, t-shirt shops and calabash buffets. The big difference between the two areas, besides size, is rejuvenation.
The best time to visit Virginia Beach is during the summer months. Keep in mind that it will be very crowded during this time of year, and that most hotels will be booked to full capacity - so book ahead.
Williamsburg, Virginia:
You can easily stay in the historic area and sample the delights of a bygone age at one of the Colonial Taverns; these properties in the heart of Colonial Williamsburg are exquisitely furnished with 18th century reproductions.
Sited in Virginia's famed Historic Triangle alongside Jamestown and Yorktown, Colonial Williamsburg is the largest living museum in America. But, beyond the obvious charms of time traveling with costumed guides, this gem of a town offers shopping, nightlife, nearby Busch Gardens, and outdoor activities galore.
Summer is the busiest time of year as visitors come to visit and experience the many historic attractions in and around the area.
Virginia @ Travel Notes:
Travel and tourism links for Virginia.
Alexandria, Virginia
Old-World Charm in Alexandria: by Andrea Rouda.
The perfect spot for a relaxing getaway from Washington DC lies just across the Potomac and six miles south: Old Town, Alexandria.
Blacksburg, Virginia
Charm With Service: by Lauren Murphy and Nick Schulz.
If the neighbourly coziness of a traditional Bed and Breakfast freaks you out a little but you find Holiday Inns cold and institutional, the Clay Corner Inn might be just the right fit for you and yours.
Virginia Beach, Virginia
A Taste of Virginia Beach: by Wendy Schatzman.
Virginia is the third-largest seafood producing state in the country. In addition to great seafood, there are many other tastes of Virginia Beach to be savoured.
Williambsburg, Virginia
Williamsburg Shopping: by Elizabeth Sommer Spratt.
If the mosh pit-like craziness of your local malls is sucking the holiday spirit out of you, try a day or weekend trip to a more serene shopping Mecca - Williamsburg, Virginia.
Write For Travel Notes
Submit a Virginia Travel Article:
If you're on the road or have just returned from somewhere in Virginia, send us your updates for publication.
Sightseeing Tours, Events and Attractions.
Virginia Travel Guides:
Browse Amazon's best-selling list of books on travel in Virginia.
Backpackers:
Budget accommodation around the United States and Canada.
Travel by Car:
Driving distances between major cities in the United States.
Travel Industry
Add Your Tours - Add Your Property

Add a Business Listing - Add a Destination Guide - Add a Place to Stay.


If you find Travel Notes useful, please take a moment to like us on Facebook and share with your friends on social media.
North America Index - North America Tourism - North America Websites.