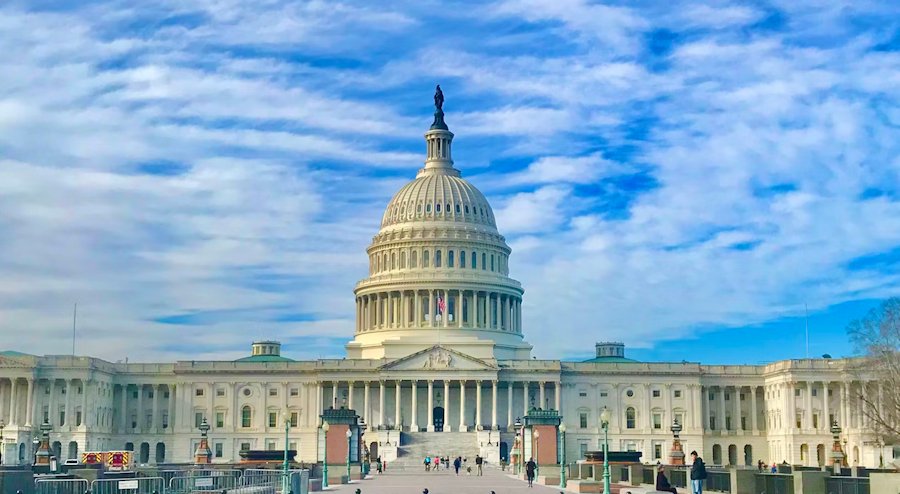 Capital Building, Washington DC by Maria Thalassinou on Unsplash.
Travel Notes: North America - United States - District of Columbia Travel Notes.
Short URL: https://tnot.es/usDC
Washington DC Travel and Tourism on Travel Notes
Find District of Columbia Travel and Tourist Information with links to official travel and tourism websites and state resources for visitors to Washington, DC.
About Washington DC
Washington DC is a popular tourist destination with many attractions and things to do.
Start with the National Mall, US Capitol, and Smithsonian Museums.
The District of Columbia is named after Christopher Columbus; the 'Discoverer of America'.
Map of District of Columbia
The city of Washington extends alongside the District of Columbia (DC), the federal district of the United States.
The Pentagon is actually across the river in Virginia.
The District of Columbia, also known as Washington, D.C., is a federal district located in the mid-Atlantic region of the United States.
It is not a state, but rather a federal district that serves as the capital of the United States.
District of Columbia
The District of Columbia was created in 1790 to serve as the permanent capital of the United States, and it was named in honor of George Washington, who was the first president of the United States.
The city was designed by Pierre Charles L'Enfant, a French architect and city planner, and its layout features wide boulevards and grand public buildings.
The District of Columbia has a population of over 700,000 people and is known for its diverse population and vibrant cultural scene.
Federal District
The location of the federal district, at the head of navigation of the Potomac River, was chosen by George Washington; after America gained independence from Great Britain and needed a capital.
The city has a rich history and is a center for politics, business, and education.
It is also a popular tourist destination, with millions of visitors coming each year to see its many landmarks and attractions.
Pentagon
The Secretary of Defence, Joint Chiefs of Staff, the National Guard and the Armed Services together make up the Department of Defense in The Pentagon.
Pentagon Tours are available on a limited basis for U.S. citizens on Tuesdays and Thursdays at 10 a.m. and 1 p.m.
Pentagon tour guides will conduct tours for up to 20 people during each time slot.
U.S. citizens who would like to tour the Pentagon must Request a Tour at least two weeks in advance and will require clearance to enter the Pentagon by the Pentagon Forces Protection Agency.
Washington, D.C.
Washington, D.C. is home to many important landmarks and institutions, including the White House, the U.S. Capitol Building, the Supreme Court, and the Smithsonian Institution.
It is also the location of important federal agencies such as the Department of State and the Federal Bureau of Investigation (FBI).
If you are planning to visit the District of Columbia, there are many things to see and do in and around Washington DC.
Georgetown
Georgetown is an historic neighborhood in Washington, D.C.
Home to many shops, restaurants, and bars, Georgetown DC is a great place to stroll around and explore.
National Mall
The National Mall is a large open park in the heart of Washington, D.C.
It is home to many important monuments and memorials, including the Lincoln Memorial, the Washington Monument, and the Vietnam Veterans Memorial.
National Zoo
The National Zoo is home to over 1,800 animals, including giant pandas, elephants, and lions.
Admission to the zoo is free, but some attractions, such as the panda exhibit, require a fee.
Smithsonian Institution
The Smithsonian Institution is the world's largest museum complex, with 19 museums and galleries, as well as the National Zoo.
Admission to all Smithsonian museums is free, making it a great way to spend a day on the nation's capital.
The White House
The White House is the official residence of the President of the United States.
Although tours of the White House are not currently available, you can still see it from the outside and take a photo in front of its famous fence.
U.S. Capitol Building
The U.S. Capitol Building is the home of the U.S. Congress and is one of the most recognizable buildings in Washington, D.C.
You can take a tour of the Capitol Building, including the Rotunda, the Crypt, and the Old Supreme Court Chamber.
Washington Museums
Museums, monuments, and misuse of power are a magnet for tourists to the nation's capital.
The National Gallery of Art is one of the world's top art museums, with a collection that includes works by artists such as Leonardo da Vinci, Vincent van Gogh, and Pablo Picasso.
Admission to the museum is free.
The National Museum of Crime & Punishment is located across from the Verizon Center at 575 7th St. NW between E and F Streets in downtown D.C.
Washington Sightseeing
The US Capitol sits on a hill, and is probably the first place you'll see on leaving Union Station.
Pennsylvania Avenue leads to the White House, or amber down The Mall and take in the museums on your way down to Washington Monument.
Washington Scandal:
Washington's other side; a list of homes, and offices that are unique to American politics.
Diplomatic Missions in Washington, D.C.
Embassies:
If you are going to Washington, and you're not too interested in the museums or politics, then maybe you're looking for another country's Embassy.
Map of Wahington, DC
The Dupont Circle and Adams-Morgan districts can also be safely visited.
The metropolitan subway system also extends into Maryland and Virginia.
Washington, DC:
Explore America's cosmopolitan capital city at Washington.org.
DC Travel Tips
With its rich history, vibrant culture, and many attractions, Washington D.C. a great place to visit.
Think about visiting Washington, D.C. in the Spring or Autumn, because in the Summer the tourists outnumber the residents.
Where to Stay in Washington DC
Crowne Plaza Crystal City
Crowne Plaza Crystal City: 1480 Crystal Drive, Arlington, VA.
Located in Crystal City, close to Washington National Airport, the hotel offers 308 rooms with modern amenities, two onsite restaurants, a seasonal pool, innovative event space and superior service.
Explore Arlington, VA by staying at the Crowne Plaza Crystal City when visiting the nation's capital.
Fairmont Washington
Fairmont Washington: 2401 M Street Northwest, Washington, DC.
Located in the fashionable West End and adjacent to the historic Georgetown, this hotel offers the finest meeting space, luxurious accommodations, dining options and personal service.
Welcoming guests in capital style, the Fairmont Washington will draw you back time and time again.
Four Seasons Washington
Four Seasons Washington: 2800 Pennsylvania Avenue, Washington, DC.
Unequalled attentiveness and elegance attract business and leisure guests, dignitaries and celebrities alike to this legendary Pennsylvania Avenue retreat in prestigious Georgetown.
The award-winning restaurant at the Four Seasons Washington showcases regional and seasonal ingredients, highlighted by a wine list ranked among the best in the world.
Hay Adams Hotel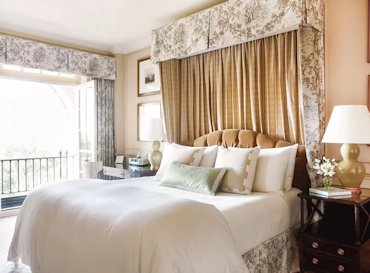 Hay-Adams Hotel: 800 16th Street Northwest, Washington, DC.
Welcome to The Hay-Adams, where nothing is overlooked but the White House.
Conveniently located across from the White House this is one the finest historic hotels in Washington DC, featuring luxury accommodations in a boutique setting.
Steeped in rich history and surrounded by the most iconic institutions of the nation, the Hay-Adams is the hotel of choice for discerning guests and modern luxury travellers.
Hotel Monaco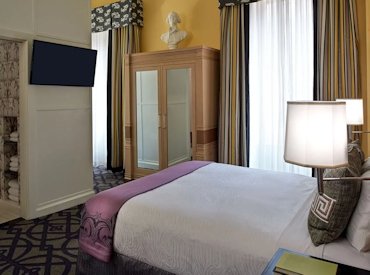 Hotel Monaco: 700 F Street Northwest, Washington, DC.
Located in Penn Quarter, just blocks away from the White House, Washington Convention Center and the National Gallery of Art, the hotel is surrounded by classical 19th-century architecture that houses the hip shops, art galleries, restaurants, and nightlife of this vibrant neighbourhood.
Built in 1839 as DC's General Post Office, the refurbished 184-room Kimpton Hotel Monaco is not your average hotel.
Melrose Georgetown Hotel

Melrose Georgetown Hotel: 2430 Pennsylvania Avenue NW, Georgetown, Washington, DC.
Where traditional style meets contemporary classic in comfortability, décor and creative culinary initiatives, this boutique style hotel offers immediate access to the city's top attractions.
Close to Foggy Bottom Metro Station and legendary attractions, the Melrose Georgetown Hotel is an ideal destination for travelers seeking an immersive DC experience.
Washington Paza Hotel
Washington Plaza Hotel: 10 Thomas Circle Northwest, Washington, DC.
Located downtown on Thomas Circle, the hotel sits in the city's trendiest neighborhood, and is only minutes from the iconic attractions of the Nation's Capital.
Discover the modern elegance of the newly-renovated Washington Plaza; a balance of cosmopolitan sophistication and casual grace.
If you're a fan of Mariott Hotels you're not short for choice in Washington, DC:
Marriott Bethesda:
The Bethesda Marriott offers superior accommodations and facilities in suburban Maryland; ten miles north of Washington DC.
Marriott Bethesda North:
This stunning new hotel and conference centre is located in the heart of fantastic shopping and dining as well as many flourishing business districts.
Marriott Crystal City at Reagan National Airport:
Conveniently located less than a mile from Ronald Reagan National Airport in Crystal City, the hotel connects to the Metro stop and underground shopping.
Marriott Crystal Gateway:
The Marriott Crystal Gateway is a mile from Ronald Reagan National Airport and easily accessible to the Metro, which reaches Washington, D.C.'s attractions and the airport.
Marriott Fairview Park:
This Marriott is located approximately nine miles from Arlington National Cemetery and 12 miles from Dulles International Airport.
Marriott Gaithersburg Washingtonian Center:
The 11-story Marriott Gaithersburg Washingtonian Center is located approximately one mile from the National Institute of Standards and Technology.
Marriott Key Bridge:
The Marriott overlooks the Capital and Georgetown from the Virginia side of the Francis Scott Key Bridge.
Marriott Suites Bethesda:
Contemporary, all-suite, suburban Washington DC hotel offering easy access to world-class dining, shopping, and entertainment.
Marriott Tysons Corner:
This Marriott is located approximately 14 miles from Dulles International Airport, Washington Monument, and the White House.
Marriott Wardman Park Hotel:
Renovated in 2001, this air-conditioned hotel comprises a total of 1,348 rooms, set over 10 floors.
Marriott Washington:
The Washington Marriott is just steps from historic Georgetown's finest restaurants and shops, and minutes from the monuments, memorials and museums.
Marriott Washington Metro Center:
In the heart of Washington's East End business district, the Marriott at Metro Center is one block to DC Convention Center and four blocks to the MCI Center.
DC Tours
Civil War:
Some of the most memorable battles were fought in the area. If this part of Americana interests you, then you will enjoy these pointers.
Washington DC Travel Guides - DC Maps.
About Washington, DC - Washington DC Weather:
Find out more about Washington, DC before you travel there.
Travel Notes Online Guide to Travel
Africa - Asia - Caribbean - Europe - Middle East - North America - Oceania - South America.

The Travel Notes Online Guide to Travel helps visitors plan their trip with country and city travel guides, local tourist information, reviewed web sites, and regular travel articles.
Florida.
Travel and Tourism with Industry Professionals
If Travel Notes has helped you, please take a moment to like us on Facebook and share with your friends on social media.


Travel & Tourism With Industry Professionals.