Find out more about Pennsylvania before you travel. Order tourist brochures then research things to do and places to stay in Pennsylvania.
Pennsylvania Hotel Reservations.
Book a Rental Car - Check out Flights - Compare Hotel Rooms.
Choose a City in Pennsylvania
US Hostels:
Ideal for backpackers and those travelling on a budget: dorms, shared accommodation and private rooms.
Become a Pennsylvania City Guide:
You really know the Pennsylvania scene - where to eat, where to stay, and what to do. Tell our visitors more about the sights and delights and how to make the most of their time in Pennsylvania.
Pennsylvania at a Glance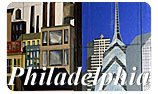 Philadelphia, Pennsylvania:
Philadelphia is a city surrounded by interesting towns, which also are considered part of the greater Philadelphia area. Despite your budget or your interest, there is something here for everyone.
Visitors to Philadelphia can now enjoy an array of lodging to fit all tastes and budgets. The hotel boom has created more than 4,000 new hotel rooms, offering lodging in every part of the city.
If you can stand the crowds, Philadelphia comes alive with patriotic frenzy and fireworks each Independence Day.
Pittsburgh, Pennsylvania:
For the visitor interested in history, Pittsburgh has found a way to develop into the future without destroying the past, and the same goes for hotels, too.
Pittsburgh is well into its third redevelopment renaissance, as home to nine members of the Fortune 500, with two new sports stadiums, a planned new convention center, the Andy Warhol Museum and a plethora of other cultural activities.
Pittsburgh Pirates baseball and Kennywood Park (home of an historic wooden roller coaster) make Spring and Summer a great time to try Pittsburgh. July and August averages are in the low seventies making Pittsburgh pleasant during the mid-Summer.
Pennsylvania @ Travel Notes:
Travel and tourism links for Pennsylvania.
Philadelphia, Pennsylvania
Craft Breweries Recall Past Glory: by Jack Curtin.
Philadelphia was the brewing center of the American Colonies. Look beyond stodgy history books and you'll discover that the Founding Fathers did as much work on the Declaration of Independence and the Constitution in local taverns as they ever did in Constitution Hall.
The City of Neighborhoods: by Julia Del Viscio.
The fifth largest city in the country, Philadelphia has more than 150 different neighborhoods, each with its own character and attractions.
From the historic district, to the Benjamin Franklin Parkway with its many museums, to the Italian Market area in South Philadelphia, the 'City of Neighborhoods' can accommodate almost any interest.
The Philadelphia Cheesesteak: by Jack Curtin.
Those of you who have experienced a 'Philly Cheesesteak' in some foreign region such as Iowa or Atlanta or distant California (where the item in question no doubt was something along the lines of milk-fed, free range beef, goat cheese and avocado in a tortilla wrap) may be wondering what all the fuss is about.
Pocono, Pennsylvania
Hiking The Poconos: by Priscilla Estes.
Sprawling four counties (Carbon, Pike, Monroe and Wayne), the Pocono Mountains boast seven state parks and 19 state forests, as well as game lands and the 70,000-acre Delaware Water Gap National Recreation Area.
Write For Travel Notes
Submit a Pennsylvania Travel Article:
If you're on the road or have just returned from somewhere in Pennsylvania, send us your updates for publication.
Sightseeing Tours, Events and Attractions.
Pennsylvania Travel Guides:
Browse Amazon's best-selling list of books on travel in Pennsylvania.
Backpackers:
Budget accommodation around the United States and Canada.
Travel by Car:
Driving distances between major cities in the United States.
Travel Industry
Add Your Tours - Add Your Property

Add a Business Listing - Add a Destination Guide - Add a Place to Stay.


If you find Travel Notes useful, please take a moment to like us on Facebook and share with your friends on social media.
North America Index - North America Tourism - North America Websites.