Al Ain Fort, Abu Dhabi by Saj Shafique on Unsplash.
Travel Notes: Middle East: United Arab Emirates - Al Ain Travel Notes.
Short URL: https://tnot.es/AAN
Al Ain Travel and Tourism on Travel Notes
Find Al Ain Travel and Tourist Information with links to official travel and tourism websites and state resources for visitors to Al Ain, UAE.
About Al Ain
Often called the 'Garden City' of the Emirates, Al Ain is located in the Eastern Region of Abu Dhabi, the capital of the United Arab Emirates.
Map of Al Ain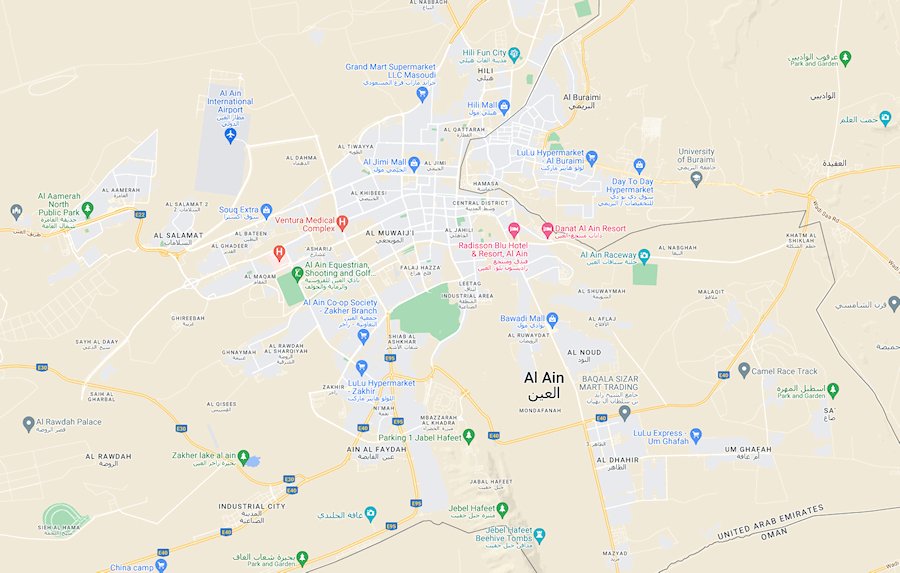 Al Ain (meaning spring, in Arabic) is an oasis city and the second largest in the emirate of Abu Dhabi.
Located about 160km east of Abu Dhabi, Al Ain is also about the same distance south-east of Dubai; just an hour and a half's drive.
There are also domestic and international flights to the Al Ain International airport.
Al Ain - Garden City of The Gulf
Archaeological discoveries date settlements in Al Ain to around 3,000 BC.
A visit to the Al Ain National Museum, with it's many and varied displays, will provide a fascinating insight to the history of the city and region.
Al Ain Palace Museum
The Al Ain Palace Museum was the former residence of Sheikh Zayed bin Sultan Al Nahyan, the founder of the UAE.
It has been converted into a museum and features exhibits on the history and culture of the UAE, as well as the personal effects of Sheikh Zayed.
Visiting Al Ain
Al Ain is best visited in winter, to appreciate the ancient archaeological sites and the hot springs in Jebel Hafiz.
There's also a zoo in Al Hain, where the Egyptian vulture flies in to feed on raw meat fed to the animals.
Where to Stay in Al Ain
Al Ain Rotana Hotel
Al Ain Rotana Hotel: Zayed Bin Sultan Street, Al Ain.
Situated in the heart of Al Ain, the hotel redefines efficient service with an effortless style, enveloped by the warmth of traditional Arabic hospitality and the splendour of modern luxuries.
Equipped with six restaurants, bars, and a lobby café, the Al Ain Rotana offers a variety of accommodation styles with facilities and services that will leave you truly relaxed.
Mercure Grand Jebel Hafeet: Jebel Hafeet, Al Ain.
Seven miles from the hot springs lake and camel racetrack, this hotel's hillside location offers great views of Al Ain.
The Mercure Grand Jebel Hafeet Al Ain is located on Hafeet Mountain, 10 miles from Al Ain Mall and approximately 13 miles from Al Ain Airport.
Emirates Travel Guides - Emirates Maps.
Travel Notes Online Guide to Travel
Africa - Asia - Caribbean - Europe - Middle East - North America - Oceania - South America.

The Travel Notes Online Guide to Travel helps visitors plan their trip with country and city travel guides, local tourist information, reviewed web sites, and regular travel articles.
Travel and Tourism Guides on Travel Notes
If Travel Notes has helped you, please take a moment to like us on Facebook and share with your friends on social media.


Travel & Tourism With Industry Professionals.
West Bank.